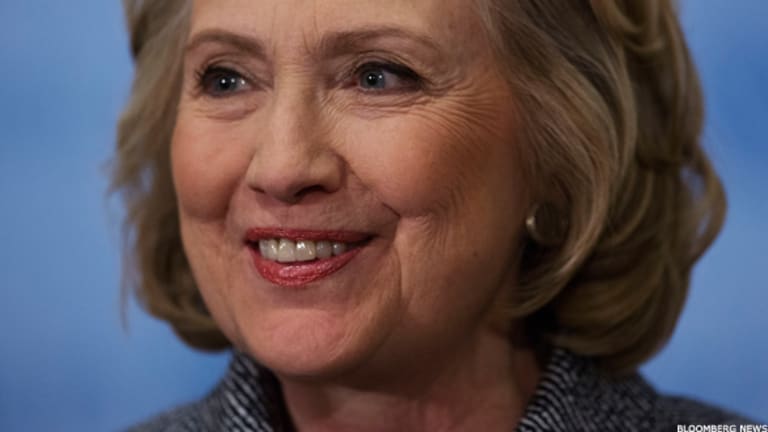 Celebrities Take to Twitter to Wish Hillary Clinton a Happy Birthday
Hillary Clinton has friends in high places -- just look at how many celebrities are turning out to help her celebrate turning the big 6-8.
Democratic presidential frontrunner Hillary Clinton turned 68 on Monday and is celebrating her birthday in style, with plenty of love from the rich and famous.
John Legend, Demi Lovato, Amy Schumer and Tony Bennett performed at Clinton's birthday celebration held Sunday evening in New York. According to People, the event invitation evidenced Clinton has few qualms about getting up there in years. "Some women don't like to discuss their ages, but I think that on your birthday, you should live it up!" she wrote in the invite. "This year, I'm excited to celebrate the fact that I'm running to be the youngest woman ever to be President of the United States."
Katy Perry, who celebrated her own birthday on Sunday, spent the weekend in Iowa campaigning with Clinton. The pop star took over Clinton's Instagram account and giving her a pretty indicative birthday gift -- a necklace with a charm that reads "POTUS." Perry also appears to be all about the hashtags #ImWithHer and #HillYeah.
Even though Clinton started the festivities early, the celebrations continue today, and celebrities took to Twitter to wish the former First Lady and Secretary of State Clinton a happy birthday. Her campaign has also sought to capitalize on the occasion asking supporters to sign Hillary's birthday card on social media and via email -- perhaps overdoing it a bit on the latter front.
Not among Clinton's social media well-wishers: her fellow presidential contenders. Republican candidate Marco Rubio actually decided it was a good day to go on the attack.
Donald Trump, while radio silent on Twitter, did say he wishes her "happy birthday with lots of love" in an appearance on Today.
Here are the A-listers taking to Twitter for #HBDHRC:
Bill Clinton, Hillary's husband and potential first First Gentleman of the United States.
Actress and writer Leena Dunham.
Basketball star Magic Johnson.
Documentary filmmaker Michael Moore.
Gossip blogger Perez Hilton.
Former television talk show host Sally Jessy Raphael.
Actress Kathy Najimy.
Actress-turned-activist Marlo Thomas.
Real Housewives of New York star Luann de Lesseps.
The next Republican Presidential debate starts at 8 p.m. ET this Wednesday, 10/28, but TheStreet.com will be covering it all week! Tune in for stories, videos, and more, and make sure to follow us at @TheStreet on Twitter for live commentary during the debate.
This article is commentary by an independent contributor. At the time of publication, the author held no positions in the stocks mentioned.