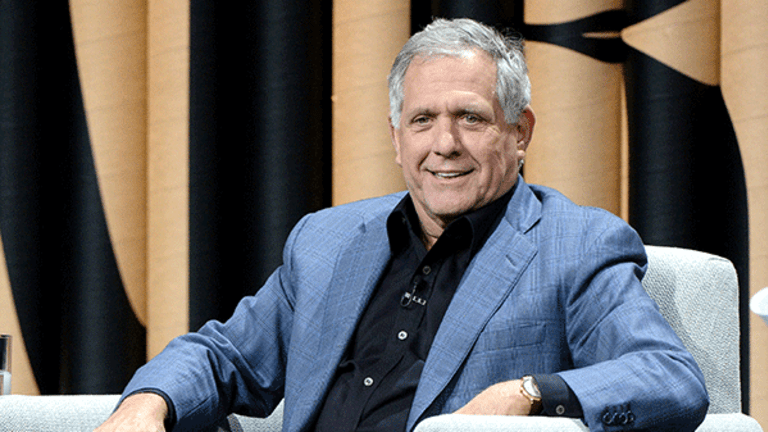 CBS Swallows AMC Networks, Viacom Unloads Paramount and More 2017 Media Predictions
As 2017 comes into view, we offer some media industry predictions at a time when content companies and pay-TV operators are playing musical chairs, hoping not to be left behind.
As 2017 comes into view, we offer some media industry predictions at a time when content companies and pay-TV operators are playing musical chairs, hoping not to be left behind.
When making predictions, it's generally safe to say the future is uncertain and change is coming. But for the U.S. media industry now, that assessment may be an understatement.
The traditional TV bundle has been on a gradual decline for the past five years. The total number of subscribers to a cable or satellite TV service dropped 1.4% year over year in the third quarter, down to 96.8 million from about 100 million in 2013, according to MoffettNathanson. The fraying-of-the-bundle, as industry executives call it, has prompted all sorts of actions on the part of major media companies.
Disney (DIS) - Get Report , the world's largest media conglomerate, has put its most valued networks on a string of multichannel streaming platforms, targeting the roughly 20 million U.S. households that don't subscribe to a pay-TV service. Those include Dish Network's (DISH) - Get Report Sling TV, Sony's (SNE) - Get Report PlayStation Vue and AT&T's (T) - Get Report DirecTV Now, soon to be joined by a Hulu offering and Google Unplugged from Alphabet (GOOGL) - Get Report .
In recent weeks, anxiety about the future of media content and distribution persuaded Time Warner (TWX) to agree to an acquisition by AT&T and 21st Century Fox (FOXA) - Get Report to reach for the 61% of London-based Sky, the European internet and pay-TV operator, that it doesn't already own.
But that's certainly just the beginning.
Here's are some predictions for the media industry in 2017:
1. CBS (CBS) - Get Report buys AMC Networks (AMCX) - Get Report :
Having had little to no chance to buy Starz given John Malone's overriding interest, CBS turns its sights to AMC Networks, having been freed of the burden of having to consider a merger with Viacom (VIAB) - Get Report .
Ever eager to extract more carriage fees from pay-TV operators, whether traditional or online, CBS CEO Leslie Moonves buys AMC's stable of quality networks on the cheap -- shares have fallen more than 33% over the past 12 months. CBS's Showtime Now streaming service also would benefit from an additional pipeline for movies and episodic series.
Having CBS as an owner would take some of the heat off of AMC's creative types, weighted down in recent quarters by Wall Street's rather unfair demand that it quickly generate a super-duper blockbuster show to fill the place of The Walking Dead when it eventually dies.
2. Viacom reverses course, sells stake in Paramount Pictures:
CEO Bob Bakish, then still carrying an "acting" tag before his title, made a pleasant public debut as the company's chief two weeks ago at the UBS Media and Communications Conference. Viacom investors were finally treated with a top executive who genuinely seemed to know and love his networks.
But Bakish's enthusiasm and eye for talent may not be enough to offset weak revenue growth at the company's cable TV networks amid the pressure of having to finance $11.9 billion in debt. To generate some much-needed cash and re-energize its flagging movie business, Viacom sells a 49% stake in its Paramount studio, something Bakish predecessor Philippe Dauman had explored.
3. Disney buys the rest of BAMTech, spins off ESPN:
As subscriber levels and profit margins continue to fall at ESPN, Disney CEO Bob Iger takes a majority stake in MLB Advanced Media spinoff BAMTech, the streaming services company, and combines it with his all-everything sports network, either as a separately traded spinoff or an acquisition target. Disney owns 33% of BAMTech, with an option to take majority ownership.
Disney spins out ESPN while retaining a minority interest of some kind to unlock future value in a network that specializes in live sports. (Privately held Hearst owns 20% of ESPN and also is Disney's partner in A+E Television Networks.) Now more than ever, Disney's future is tied to the synergies between its film studios, theme parks and consumer products businesses. As viewing habits have frayed over the past two years, ESPN's profits have slipped, making it more difficult to rationalize a film studio as majority owner.
Nonetheless, ESPN remains a strong and popular global brand, and a digital distribution company such as Amazon (AMZN) - Get Report , Apple (AAPL) - Get Report , Verizon (VZ) - Get Report or AT&T certainly would love to own part or all of it. As part of the spinoff, they'd also own BAMTech, a technology company fueling the launch of new streaming services the world over.
4. Dalian Wanda buys Sony's studio arm:
Chinese real estate and entertainment conglomerate Dalian Wanda has made no secret of its Hollywood ambitions and will overbid for any major studio willing to listen. After years of sluggish box office results, Sony may finally be willing. Whether lawmakers and regulators allow a deal is another story.
5. Lions Gate Entertainment (LGF) sells its stake in Epix to MGM:
Following the Dec. 8 completion of Lions Gate's $4.4 billion merger with Starz, it's likely to want to sell its 31% stake in premium movie channel Epix. Metro-Goldwyn-Mayer Studios, which owns just over 18% of Epix, is a natural buyer. MGM likely will jump at the opportunity to buy Lions Gate's stake, having made a series of smallish acquisitions in recent months to diversify away from the movie business. That leaves MGM as a partner in Epix with Paramount -- and whoever owns the studio.
6. Liberty Media (LMCA) creates a music powerhouse with Sirius XM Holdings (SIRI) - Get Report and Pandora (P) :
John Malone's Liberty Media puts together a music powerhouse that can challenge Spotify and Apple Music by engineering a deal for its 65% owned Sirius XM satellite radio service to buy Pandora. The focus is on the connected car. The combined company then allies with Live Nation Entertainment (LYV) - Get Report , the concert booking and ticketing company 34% owned by Liberty.
7. The Federal Communications Commission and Congress change rules to allow for content exclusivity:
This is the biggie and, therefore, left for last. A company such as Viacom now licenses a network -- MTV, say -- to any and every pay-TV operator willing to pay a certain price. Though each contract is a bit different, the underlying carriage fee for a given network is roughly the same. 
For decades, cable TV operators embraced that arrangement given that they held a monopoly on their service areas. Yes, satellite TV became a rival to cable in some markets but not in cities of any size. For cable TV operators, though, the monopoly days are ending with the advent of multichannel streaming platforms such as Sling TV and DirecTV Now.
What if media companies aren't required to make their networks available for all pay-TV operators? What if the only way to watch debut episodes of The Walking Dead is at CBS All Access? What if certain shows on TBS are only available on DirecTV Now?
Because of those rules, Cablevision spun off AMC Networks in 2011, two years after Time Warner spun off Time Warner Cable. There were no synergies. It's the biggest reason that some investors and Wall Street analysts are skeptical about AT&T buying Time Warner. What does AT&T gain if Time Warner's networks are as readily available on Comcast's (CMCSA) - Get Report X1 set-top box as they are at the in-house U-Verse?
If that happens, telecom and cable companies in addition to Amazon, Apple, Facebook (FB) - Get Report or Google would become acquirers, and content companies from CBS to Scripps Networks Interactive (SNI) to Time Inc. (TIME) would become targets.
And M&A bankers would become very happy.
Alphabet, Apple, Comcast and Facebook are holdings in Jim Cramer'sAction Alerts PLUS Charitable Trust Portfolio. Want to be alerted before Cramer buys or sells GOOGL, AAPL, CMCSA or FB? Learn more now.