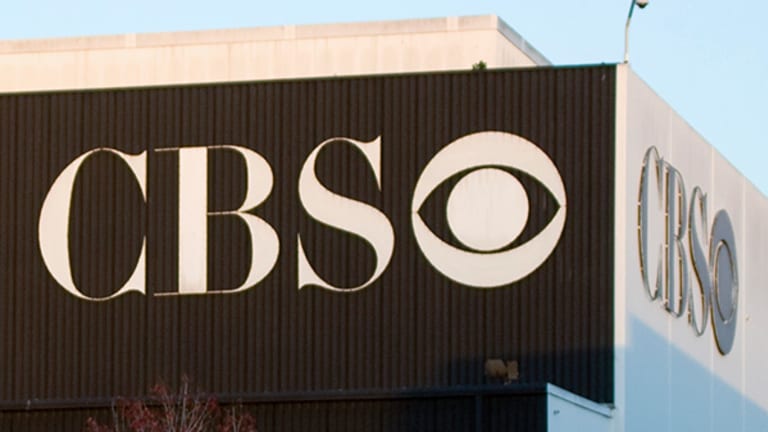 CBS Stock Has 40% Potential Upside -- and a Killer CEO in Moonves
Even analysts are overlooking these strong reasons CBS could leap 40%.
Even analysts are overlooking these strong reasons CBS could leap 40%.
NEW YORK (TheStreet) -- Many investors and analysts don't realize why CBS (CBS) - Get Report has so much upside potential. They see the company as only a mass media conglomerate that provides programs to global audiences.
That's a huge oversight.
What they overlook is the enormous value of its management, led by CEO Les Moonves. Moonves is to CBS what Steve Jobs was to Apple (AAPL) - Get Report.That's why at its annual meeting on May 22, Executive Chairman Sumner Redstone called Moonves "a super genius."
The CEO's brilliance shines especially bright in his focus on one of CBS's most valuable assets, its transmission revenue. Moonves knows that the big cable operators like Comcast (CMCSA) - Get Report and Time Warner (TWC) desperately need the programming that broadcast networks like CBS provide.
In the past, broadcasters would receive about 10% of the fees viewers paid to watch programs  Yet networks like CBS were responsible for nearly 40% of the paying viewers. Moonves caught on to that disparity and did something profitable about it.
He said to the cable companies, "If you want to carry our telecasts and programs you'll need to pay more, or we'll find other ways to satisfy our millions of viewers." Suddenly CBS had both leverage and clout.
To illustrate how much that can drive up future revenue, consider that at the beginning of 2014 the leading broadcast networks were paid about 75 cents per cable subscriber per month. Recently CBS negotiated a deal to be paid $2.00 from Time Warner Cable. That's a 266% increase, and Moonves claims that number will increase to $2.50 per cable subscriber. At that rate, the revenue increase per month leaps to 333%!
Earlier in May, CBS reported first-quarter earnings that beat analysts' estimates after buying back $2 billion of its stock and selling shares in its U.S. billboard division. CBS not only owns the most-watched television network in the U.S. It controls one of the world's largest libraries of entertainment content, making its brand one of the most recognized in the business.
It's the home of "I Love Lucy," "60 Minutes," "CSI," "NCIS" an "Undercover Boss," among many others.
That vast library of entertainment content generates a fortune in licensing fees and royalties. It's also one of the big bargaining chips CBS uses to leverage the lucrative transmission deals it's just beginning to execute.
Before looking at other sources of hidden value that CBS owns, let's examine a five-year price chart that gives a glimpse of how the stock has performed.
CBS data by YCharts

During most years, the stock corrected at least once before regaining momentum. Recently the price fell as low as $55.01 on May 9 before steadily moving higher.
Shares are up 71% since the beginning of 2013, and over 20% in the past 12 months. Yet at slightly more than two times trailing 12-month sales and about seven times free cash flow, shares appear undervalued.
Analysts remain quiet about CBS. The last upgrade was back in October, when FBR Capital rated it "outperform" according to Thomson/First Call.
The scope of the company's operations spans virtually every aspect of media and entertainment. The company has at least 17 different profit centers in its multiple businesses. With nearly $2 billion in levered free cash flow, it may increase its dividend payout -- currently representing only 16% of earnings.
CEO Moonves is betting big on his company as well. As of May 2, he owned over 1.26 million shares -- worth more than $75.6 million. My 12-month price target is $84. Buy on dips to $58.
>>Read More: Skype Will Soon Get Real-Time, Translated Voice Calls
>>Read More: Bank of America Exec Preaches Gospel of 'Too Big to Fail' Banking
>>Read More: Helping Apple Haters Understand Why Android Is Doomed
>>Read More: How the iPad Can Get Even Bigger
At the time of publication the author had positions in AAPL, CBS and TWC.
This article represents the opinion of a contributor and not necessarily that of TheStreet or its editorial staff.
Marc Courtenay is the founder and owner of Advanced Investor Technologies LLC as well as the publisher and editor of www.ChecktheMarkets.com.