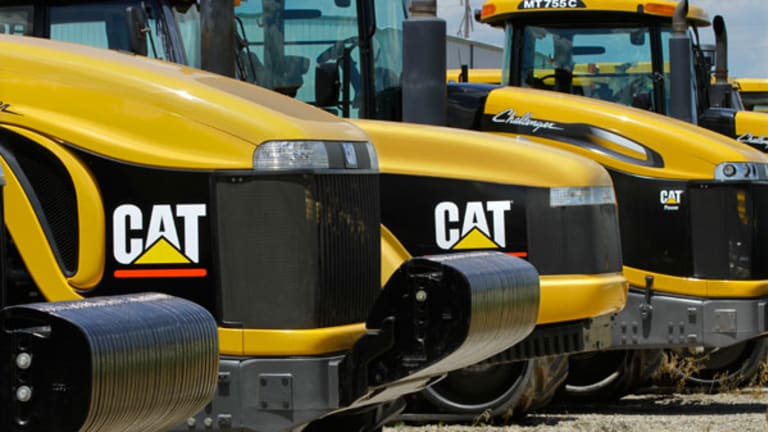 Caterpillar Will Plow Ahead, Despite Fraud Setback
Caterpillar had to write down an acquisition in 2013, but the long-term outlook is still bullish.
Least Favored in 2013: Featuring the year's shockers from Wall Street to Washington. Read Fed Policy shenanigans; Tech spies; SeaWorld tragedy; Caterpillar-China scandal; Bud Beer scandal; Bill Ackman's Herbalife; LIBOR rigging; Forex Scandal; and check out this video CEO Walk of Shame.

NEW YORK (TheStreet) -- Even though Caterpillar (CAT) - Get Report is based in Illinois, its most important market is arguably China.
The world's largest equipment maker, Caterpillar has more than 15,000 employees and more than 30 facilities in China.
It also has been operating there since 1978, but this history didn't prevent it from falling victim to massive fraud earlier this year.
In January, Caterpillar disclosed that it had discovered "deliberate, multi-year, coordinated accounting misconduct" at Siwei, a mining equipment company it acquired in 2012.
The discovery led to a $580 million writedown and a big hit to Caterpillar's quarterly earnings. Shares fell 1.5% following the announcement.
A Caterpillar board member said the deal received scant attention due to a much larger transaction taking place at the same time.
The board member said, "It came as a complete surprise to us. It was presented to us as a pretty straightforward transaction. It's a shame. It should have been investigated further."
The debacle certainly contributed to Caterpillar CEO Doug Oberhelman being a leading candidate for "Worst CEO of 2013."
Caterpillar has hardly been the only victim of fraud in China, though.
Billionaire hedge fund manager John Paulson lost nearly $650 million in an investment in Sino Forest Corp., which had the ticker "TRE." The company grossly overstated its timber holdings.
So pervasive is fraud in China that research firms such as Muddy Waters and Glaucus Research specialize in ferreting out and then disclosing it to the media, along with a recommendation to sell short the stock of whichever company is being exposed.
It was Muddy Waters that busted Sino Forest Corp. on June 2, 2011, saying that, "Like Madoff, TRE is one of the rare frauds that is committed by an establishment institution. In TRE's case, its early start as an RTO fraud, luck, and deft navigation enabled it to grow into an institution whose 'quality management' consistently delivered on earnings growth."
Muddy Waters wrote, "TRE massively exaggerates its assets ... by approximately $900 million."
But all of the fraud that has been uncovered in China so far has hardly diminished the importance of the country for the future of Caterpillar.
For the third quarter, Caterpillar's sales to China rose by almost 20%. China is undergoing a massive urbanization movement, which requires a tremendous amount of infrastructure work. Caterpillar is providing much of the construction gear, power systems and mining equipment needed for the development of the world's most populous nation.
For investors, Caterpillar is a bet on growth in China and other emerging-market nations. There are good odds to this bet, because the consumer class is expected to increase by 1 billion people around the world, according to a study by McKinsey Global Institute.
Heating, providing power, and producing the food for the more affluent diet demanded by these new members of the global middle class will require a great deal of equipment and machinery from Caterpillar.
A member of the Dow Jones Industrial Average, Caterpillar is down slightly in a year when the stock market is up strongly in double digits.
With a beta of 1.96, it is a volatile stock, moving up and down in price almost twice as the stock market as a whole.
Investors with a long-term horizon should consider buying on the dips to accumulate a position at a discount.
A recent article by George Acs at TheStreet explained how to profit from Caterpillar using covered call options. The dividend yield of 2.8% increases the total return, no matter how the shares are utilized.
Caterpillar shares were recently trading at a bit less than $87 a share, and the mean analyst 12-month price target for Caterpillar is $90.59.
Jonathan Yates does not have position in any of the stocks mentioned in this article.

This article is commentary by an independent contributor, separate from TheStreet's regular news coverage.
Jonathan Yates is a financial writer who has had thousands of articles appear in periodicals and Web sites such as TheStreet, Newsweek, The Washington Post and many others. Much of his career was spent working on Capitol Hill for Members of Congress in both the House and Senate, on both committee and personal staff.  He was also General Counsel for a publicly traded corporation.  He has degrees from Harvard University, Georgetown University Law Center and The Johns Hopkins University.