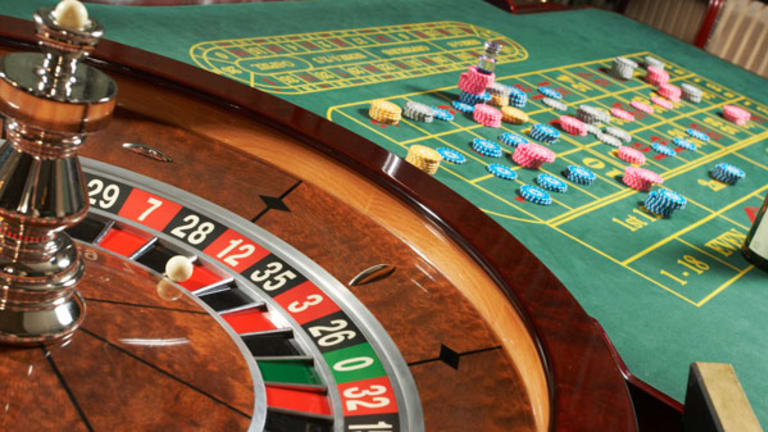 Casinos Will Win the Online Gaming Battle
If everything goes to plan, casinos could rake in the cash from online gambling, but which ones stand the best chance for success?
NEW YORK (TheStreet) -- While the moral debate continues to rage on, the fact is that online gambling is gaining traction in the United States.
This week, New Jersey joined Nevada and Delaware as the only states with legalized online gambling, and is certainly the biggest in terms of population. 
While one additional state is not earth-shattering, it could really begin to turn the tide in the gambling universe if it proves to be a success. 
If the New Jersey experience goes well, more states will likely start to legalize online gambling even though many political leaders claim to be focused on their moral compass, with their biggest concern being addiction problems. 
However, that hasn't stopped them from allowing the public to legally drink alcohol, smoke cigarettes or buy scratch-off lottery tickets, so my guess is that it ultimately won't stymie the nationwide legalization of online gambling, especially when considering the expected revenue. 
If the shift to online gambling eventually moves forward, will that spell the end to Atlantic City, Las Vegas and other physical casino buildings and resorts? I have my doubts. Many people don't go to Vegas just to get their gambling fix. They go for the ambiance with friends and family, or sometimes it's for business, events and seminars. 
Ultimately, the casinos will likely be the biggest winners. For now, online gambling Web sites have to operate through casinos. That may or may not change in the future, but it's a good sign for the casinos that have been slowly bleeding out. 
Revenue at Atlantic City is off some 40% from its peak in 2006, meaning the successful move to online gambling is all the more important. 
The biggest dilemma it faces is the tough regulation, with concerns over age restrictions and addiction issues. Aside from balancing out the revenue streams with the obvious problem that gambling can ruin some people's lives, politicians have to decide whether it's fair for a majority of the population to be held back from something because a minority of people can't control it. 
To me it seems like a when, not if scenario.
If you're in the camp that online gambling will eventually see its way through the regulations and onto tablet screens and smartphones, there are some casino stocks you should consider buying because they are the ones willing to jump through all of the legal and regulation hoops and then dominate the market share. 
Not all of them are on board as yet, according to a recent Bloomberg report. Some are all for the move, such as MGM Resorts International's (MGM) - Get MGM Resorts International (MGM) Report CEO Jim Murren, who said, "[Nevada needs to] be able to compact with other states to increase liquidity pools and increase overall visitation to all of the sites. I think that will happen." He is an advocate of making it legal across the country at some future point. 
MGM recently teamed up with Bwin.Party Digital Entertainment, the world's largest online gambling Web site. The company trades on the London Stock Exchange and has a primary focus on poker and sports betting, the former of which was the main reason MGM wanted to strike a deal. 
Alongside MGM in the push for online gambling is Gary Loveman, CEO of CaesarsEntertainment (CZR) - Get Caesars Entertainment Corporation Report. Like Murren, Loveman has a focus on nationwide legalization and considers online poker to be a very important business for his company.
Unlike MGM and CZR, WynnResorts (WYNN) - Get Wynn Resorts, Limited (WYNN) Report CEO Steve Wynn is hesitant about moving to the digitized world of online gambling and admits to failing "to see the business opportunity." 
While Wynn is unsure of the future, LasVegasSands' (LVS) - Get Las Vegas Sands Corp. (LVS) Report CEO Sheldon Adelson is outright against it. He called it a "social evil that must stop," with concerns over childhood gambling and addiction issues. 
Perhaps Adelson is more worried about not getting his share of the online pie, since a whopping majority of LVS's revenue come from overseas, with just 14% coming from the U.S. 
But maybe addiction issues are indeed Adelson's concern in the matter. From a shareholder's point of view, it seems like a good thing that most of the company's revenue come from outside the U.S. since LVS doesn't seem likely to jump on the online bandwagon anytime soon. 
Whether it's right or wrong, I think online gambling will eventually be legal across the U.S. The question for investors remains: Which companies will benefit the most from it and which ones won't? 
My bet would be on early adopters like MGM and CZR. While likely to hit some roadblocks along the way, they could cement a dominant position over companies such as WYNN and LVS, based on management's acceptance of the new gambling world order. 
At the time of publication the author had no position in any of the stocks mentioned.
This article was written by an independent contributor, separate from TheStreet's regular news coverage.
Bret Kenwell currently writes, blogs and also contributes to Robert Weinstein's Weekly Options Newsletter. Focuses on short-to-intermediate-term trading opportunities that can be exposed via options. He prefers to use debit trades on momentum setups and credit trades on support/resistance setups. He also focuses on building long-term wealth by searching for consistent, quality dividend paying companies and long-term growth companies. He considers himself the surfer, not the wave, in relation to the market and himself. He has no allegiance to either the bull side or the bear side.