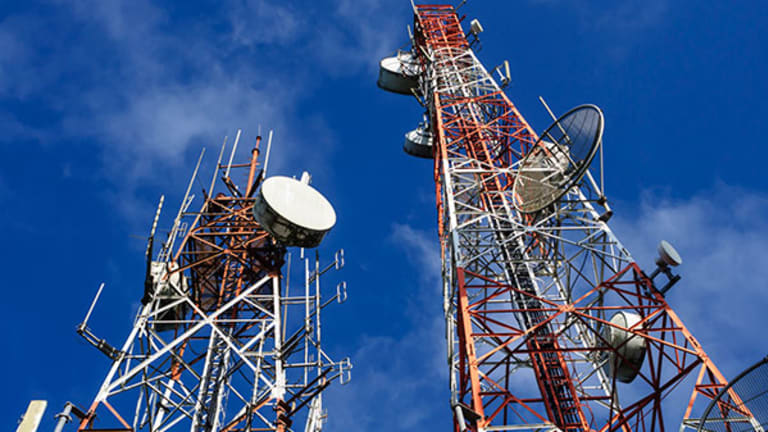 Cash is King and so Are Sinclair and Nexstar
Having cash to buy these little known, promising local broadcast companies with valuable "spectrum" sounds smarter than ever.
NEW YORK (TheStreet) -- We are now in the season when, from an investing perspective, cash is "king" once again.
GMO Chief Investment Strategist Jeremy Grantham channeled himself through a spokesperson recently and stunned members of the Value Investor Conference in London by confessing that the investment firm was 50% in cash.
GMO, the famous Boston-based contrarian investment firm, manages about $100 billion in assets mostly for institutions and the wealthy.
At the conference the GMO spokesman warned that it now considers all western stock and bond markets to be ominously overpriced. The firm believes that from current market levels most investors are likely to lose money, after factoring in inflation, over the next seven years or so.
The firm considers China to be in a dangerous bubble but it did say it still saw some opportunities in other emerging markets. It moved to 50% cash and cash equivalents awaiting better buying levels.
From an asset allocation standpoint, being 50% in cash may sound very bearish. From my viewpoint it looks opportunistic, and follows the "Jim Cramer model" of always having enough cash to buy the dips.
U.S. stocks are still expensive with a price-to-earnings ratio for the
S&P 500
somewhere around 16.5, up from 14.7 at the end of 2012. With third quarter earnings season about to begin the "E" in P/E, earnings, isn't looking too bright.
So the notion that we should be mostly invested in stocks right now may not be prudent. If you own stocks with ridiculously high P/E like
Amazon
(AMZN) - Get Amazon.com, Inc. Report
and
Netflix
(NFLX) - Get Netflix, Inc. Report
you may be "cruising for a bruising".
To illustrate my point Netflix is trading with a P/E of about 407 and a forward (1-year) P/E ratio based on anticipated earnings of almost 100. The current stock price trades at nearly 100 times next year's EPS.
My point about having cash right now can also be emphasized by a question. Would you rather own 20 shares of Netflix at $327-per-share now, or have $6,450 the next time NFLX corrects to a 52-week low? Its 52-week low was $57.40 on Friday.
If it goes down that low again and you have $6,450 in cash you'll be able to buy 112 shares. That's how investors can get rich investing in stocks, not by buying at stock or market highs. By the way, Netflix will report quarterly earnings on Oct. 21, and the current price appears to reflect the great EPS growth expected.
With many companies guiding downward and profit growth likely to be restrained for now, investors needs to look for stocks with the strongest EPS growth prospects.
According to Ned Davis Research, since June 28 (after the last market correction) companies with the best EPS growth outperformed weak ones by more than 4% between then and now.
One subsector that has done well the past year and still has promising upside with outstanding growth prospects are the local TV broadcasters that carry the local news and reruns of still popular sitcoms.
Two good examples are
Sinclair Broadcast Group
(SBGI) - Get Sinclair Broadcast Group, Inc. Class A Report
and
Nexstar Broadcast Group
(NXST) - Get Nexstar Media Group, Inc. Class A Report
. Both have boomed in the past 12 months.
Sinclair Broadcast is not a one-trick pony. It's a television broadcasting company that owns or provides programming, operating, or sales services to television stations in the United States.
It broadcasts free over-the-air programming, such as network provided programs, locally produced news shows, local sporting events, programming from program service arrangements, syndicated entertainment programs, and other locally produced programs.
Sinclair owns and operates programs or provides sales services to 162 television stations in 77 markets, after pending transactions.
Sinclair's television group reaches approximately 38.7% of U.S. television households and includes FOX, ABC, MyTV, CW, CBS, NBC, Univision and Azteca affiliates. In addition, Sinclair owns four radio stations." It was founded in 1986 and went public in 1995.
Sinclair will report its third quarter earnings Nov. 6.
The story with both Sinclair and Nexstar is extra-juicy because both companies have valuable spectrum that could be leased or sold to wireless companies. Analysts who are bullish on broadcasters believe the two companies have spectrum licenses that could be worth as much as the companies' total market value today! Sinclair has a $3.5 billion market cap and Nexstar is a much smaller $1.35 billion.
Here's the impressive 1-year price chart for both companies. Yet the few analysts who follow these companies say there may be a lot more upside within the next 2 years.
data by
Both companies' stock hit new 52-week highs on Oct. 4, yet Nexstar trades at a current P/E of less than 8 and a forward (1-year) P/E of only 12.56. Sinclair's two P/E ratios are 24.4 current and a low 11 for the year ahead.
Both stocks can suddenly correct especially on any news that the FCC may be considering proposals that limit the extent that broadcast companies can grow by acquisitions and mergers.
Also making a correction possible is that shares of both companies have skyrocketed since the beginning of September. Yet the stocks' valuations are not much higher than they were two years ago.
Sinclair pays a dividend with a yield-to-price of 1.73% and Nexstar's dividend yield is 1.07%. Even with the current surge higher, Nexstar trades at around 8 times 2014 estimated cash flow (EBIDTA earnings) and Sinclair at around 6 times 2014 EBIDTA cash flow.
The FCC may continue to sponsor auctions that allow wireless operators to buy spectrum for billions of dollars. Sinclair's spectrum alone is estimated to be worth $3 billion or $36 a share. Nexstar's spectrum may command a value of $800 million, or $25 a share.
So using a baseball analogy, this lucrative game might still have 4 innings or so to go. The FCC's most recent plan is to eventually hold an incentive auction to motivate broadcasters to return their spectrum in exchange for enormous, one-time payments.
This voluntary auction is scheduled for next year but may be delayed. Sinclair has stated it would rather lease spectrum than sell it while continuing to operate its profitable businesses, especially its local TV stations.
Nexstar may go a different route, or, be acquired by a bigger company like a major network such as
CBS
(CBS) - Get CBS Corporation Class B Report
.
Any way you slice it, the value of spectrum will be a powerful catalyst for the two companies stock for years.
With the expansion of Internet access across the country and around the globe, repositioning TV spectrum for the ongoing mobile smartphone and tablets tsunami should drive revenue and profits through the roof.
Watch this opportunity carefully, build up cash and consider buying some Sinclair and Nexstar on dips before everyone else discovers what the upside potential of these two overlooked spectrum stars is all about.
At the time of publication the author held no positions in any of the stocks mentioned.
This article is commentary by an independent contributor, separate from TheStreet's regular news coverage.
Marc Courtenay is the founder and owner of Advanced Investor Technologies, LLC, as well as the publisher and editor of www.ChecktheMarkets.com.
Courtenay holds a Master's of Science degree in Psychology from California Polytechnic State University, and is a former senior vice-president of Investments for two major brokerage firms. He's been a fiercely independent investment "investigator" and a consulting contributor to the investment publishing world for over 30 years. In addition to his role as an investment publisher and analyst, he serves as a marketing consultant to the investment media industries.
In his role as a financial editor, he specializes in unique investment strategies, overlooked stock investments, energy and resource companies, precious metals, emerging growth companies, the prudent use of option strategies,real estate related opportunities,wealth preservation, money-saving offers, risk management, tax issues, as well as "the psychology of investing". Because of his training and background in Clinical Counseling and Psychology, he enjoys writing about investor behavior, the ¿herd mentality, how to turn investment mistakes into investment breakthroughs and the stock market's behavioral trends and patterns.