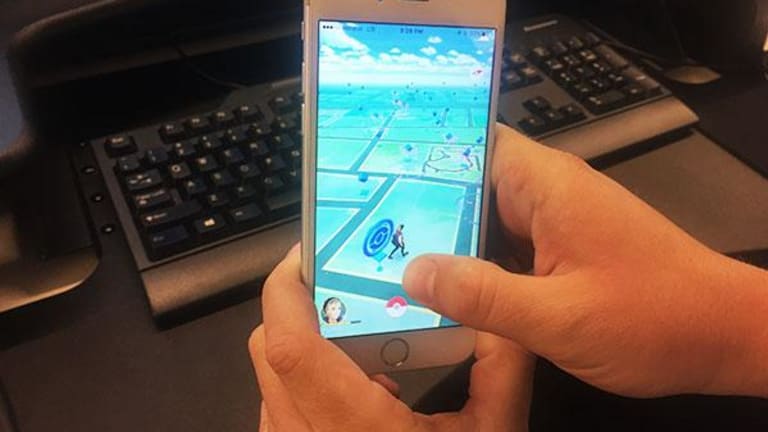 Publish date:
Cash in on Pokémon and Augmented Reality with these Four Stocks
Pokémon Go is a huge hit. A few blue-chip tech companies with sound fundamentals look poised to benefit from augmented reality now and in the future.
Pokémon Go is a huge hit. A few blue-chip tech companies with sound fundamentals look poised to benefit from augmented reality now and in the future.
When Pokemon Go was released earlier this month, millions of folks hurled themselves into the world of augmented reality (AR), a process whereby a digital world is layered over the real one. In the case of Pokemon Go, that digital world is rife with cute little animals and players are sent on hunting expeditions in public places (using their device's GPS and camera) to catch as many as possible. Not to be confused with virtual reality (VR), in which you could be standing alone in a closet and be transported to, say, court-side seats at a virtual Knicks game. By contrast, AR brings digital interactions to your actual location.
While the Pokemon Go craze has catapulted AR into the mainstream, the technology has been around for a while and consumers have been curious about it well before going on the prowl for Pokemon Pikachu or Squirtle. It's only logical, then, to ponder the myriad applications for this type of technology. One industry that stands to benefit is retail: A survey conducted earlier this year by the digital marketing agency Walker Sands found that 55% of consumers think virtual-reality applications will influence their buying decisions in some way, while a third claimed they would be more likely to shop with e-commerce retailers that offer VR features.
In 2012, Alphabet began working on an AR platform (named Tango) to inspire retailers toward investing more into virtual commerce. The online furniture retailer Wayfair recently introduced a new AR app, WayfairView, which lets users place full-scale, 3-D virtual models of the company's products in their homes by using the touch screen on their phone or tablet. Cosmetics company Sephora has a mobile app that allows users to "sample" virtual products, and Lenovo recently unveiled the first Tango-enabled smartphone.
At the Facebook F8 conference, Mark Zuckerberg shared his belief that over the next decade virtual reality will merge with augmented reality and become part of everyday life. "Eventually," he said, "we're going to have what looks like normal glasses that can [facilitate] both virtual and augmented reality."
The possibilities for this type of technology are vast. In a recent article in The New Yorker, AR was referred to as "the boy who cried wolf of the post-Internet world -- it's long been promised but has rarely been delivered in a satisfying way."
Now that AR has become larger than life, here are four stocks that could benefit:
1. Gamestop (GME) - Get Report
Gamestop is an omnichannel video game retailer that sells game hardware, software, accessories and consumer electronics products. Under our Peter Lynch-based investment model, GME earns high marks for its strong revenue base (sales of $9.27 billion), favorable price-to-earnings-to-growth ratio (yield-adjusted) of 0.57 and its 4.79% dividend yield (compared to 2.33% for the S&P 500). Our Kenneth Fisher model, which views companies with price-to-sales ratios below 0.75 as good values, considers Gamestop's ratio of 0.35 exceptional. Under our John Neff-based strategy, GME's price-earnings ratio of 8.24 (which is comfortably below the current market ratio of 15.0) and positive free cash flow get high marks.
In a recent interview on CNBC, CEO Paul Raines said that there has been a significant uptick in store sales since the release of Pokemon Go.
2. Facebook (FB) - Get Report
Facebook builds products that enable people to connect and share through mobile devices and personal computers, including Facebook, Instagram, Messenger, WhatsApp and Oculus. Our Validea Momentum Investor model favors the company's exemplary quarter-over-quarter earnings-per-share growth (EPS, 188.89%) and 49.35% earnings growth over the past five years. Facebook's stock performance compared with the market over the past year is strong (relative strength of 83). Our Martin Zweig-based investment strategy likes Facebook's long-term EPS growth rate of 129.44% (based on the average of three-, four- and five-year historical growth rates), and its debt-free balance sheet.
Facebook is a holding in Jim Cramer's Action Alerts PLUS Charitable Trust Portfolio. See how Cramer rates the stock here. Want to be alerted before Cramer buys or sells FB? Learn more now.
3. Verizon (VZ) - Get Report
Verizon provides communications, information and entertainment products and services to consumers, businesses and governmental agencies. The company earns a perfect score under our James O'Shaughnessy-based investment strategy given its substantial market cap ($227.74 billion) and solid, stable earnings (12-month trailing sales of $131.80 billion are well above the market mean). Cash flow per share of $8.47 is considered exceptional by this model's standards. Our Joel Greenblatt-based model favors the company's earnings yield of 9.84% and return-on-total-capital of 36.03%. Increased data usage driven by AR apps could significantly boost revenues, and Verizon's agreement to acquire Yahoo will give it access to more than one billion active monthly users.
4. Apple (AAPL) - Get Report
Apple designs, manufactures and markets mobile communication and media devices, personal computers and portable digital music players, and sells a variety of related software, services and applications. Products include iPhone, iPad, Mac, iPod, Apple TV and a portfolio of consumer and professional software applications and operating systems. Not surprisingly (given that Berkshire Hathaway purchased over 9 million shares in the first quarter of 2016), Apple earns high marks under our Warren Buffett-based investment model, based on its durable competitive advantage, earnings predictability and higher than average return-on-total capital (average of 27.6% over the last ten years). Our Peter Lynch-based model finds the company's price-to-earnings-growth ratio of 0.46 very favorable (anything under 0.50 is considered best case) and indicative of fair pricing. Earnings-per-share growth of 23.5% (based on three-, four- and five-year historical rates) is considered strong and sustainable. While the company has not officially acknowledged interest in the virtual reality market, CEO Tim Cook has been quoted as saying, "In terms of VR, I don't think it's a niche. It's really cool and has some interesting applications."
Apple is a holding in Jim Cramer's Action Alerts PLUS Charitable Trust Portfolio. See how Cramer rates the stock here. Want to be alerted before Cramer buys or sells AAPL? Learn more now.
At the time of publication, Reese was long GME, FB, VZ and AAPL, although holdings can change at any time. John P. Reese is founder and CEO of Validea.com, an investment research firm, and Validea Capital Management, an asset management firm serving affluent investors and companies. He is also co-author of two investing books, including The Guru Investor: How to Beat the Market Using History's Best Investment Strategies (Wiley). Under no circumstances does the information in this column represent a recommendation to buy or sell stocks. Reese appreciates your feedback. Click here to send him an email. TheStreet.com has a revenue-sharing relationship with Amazon.com under which it receives a portion of the revenue from Amazon purchases by customers directed there from TheStreet.com.