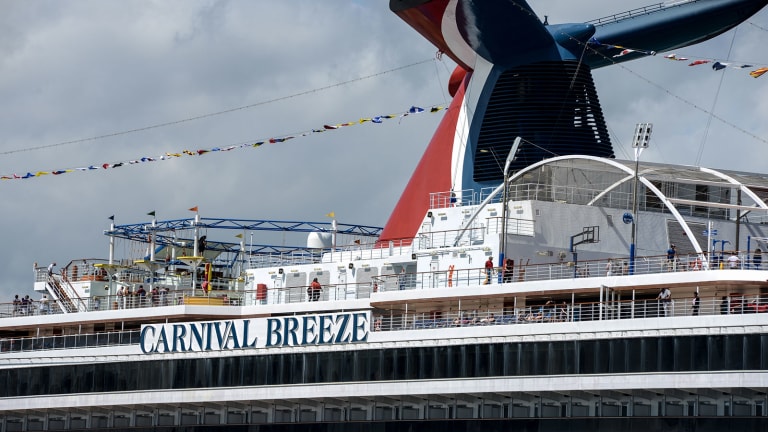 Carnival Sails Toward New Highs and You Should Come Aboard
The giant cruise line operator appears on course to keep beating earnings growth projections.
Good luck waiting for shares of Carnival Corporation (CCL) - Get Carnival Corporation Report , one of the world's largest cruise ship operators, to ever get cheap. Buoyed by high cruising demand, Carnival shares have surged some 19% so far in 2015, while climbing more than 20% in the past year 52 weeks, crushing the S&P 500 (SPX) index during both spans.
With shares of the Miami-based company, in the neighborhood of $54.50, now trading at a price-to-earnings ratio of 24 -- only four points above the S&P 500 index -- Carnival stock is not priced at such a premium to suggest it should be avoided, especially given the rate at which it continues to beat earnings and raise its forecast.
Investors waiting for a better entry point to buy CCL are likely to be disappointed. This point was affirmed by analysts at Barclays, who recently boosted their price target on the stock to $57 from $54 a share.
"Given an expanding booking curve and increasing visibility, we expect Carnival to continue its 'beat and raise' pattern throughout fiscal year 2016," noted Barclays. Despite the cautionary tone taken by Carnival management when discussing growth estimates for Europe -- owing to geopolitical challenges -- the cruise company expects to achieve yield improvements in almost all itineraries.
A closely-watched metric in the cruising industry, "achieving optimal yield" or "yield management" is the process of balancing customer supply and demand, while factoring inventory and capacity to improve profitability. For Carnival, thanks to higher-than-expected revenue yields, the company's quarterly earnings skyrocketed 85%: Fourth-quarter adjusted EPS was 50 cents, which beat Wall Street estimates by 9 cents.
What's more, Carnival's fourth-quarter net revenue yields (in constant currency) climbed 4%, exceeding its prior stated forecast of 3%. And it would seem management sees no significant signs of slowing down, having issued guidance that first-quarter net revenue yields were on track to increase in a range of 3.5% to 4.5% from the year-ago quarter (in constant currency).
The company expects adjusted earnings per share in fiscal 2016, which ends in November, will be in the range of $3.10 to $3.40, compared with $2.70 in fiscal 2015 and consistent with the average consensus estimate of $3.32. Consider, even on the low end of its range, this would still amount to an increase of 15%. As for fiscal 2017? The consensus has risen to $3.83 a share, suggesting a further  increase of 15%. And this may yet prove low, given Carnival's track record of beating estimates and raising its outlook.
All told, with Carnival now predicting rising earnings estimates for both fiscal 2016 and 2017 -- expensive or not -- CCL stock is one winner investors should hang on to. Not to mention, its 30-cent quarterly dividend that yields around 2.20% annually is a nice added bonus.
This article is commentary by an independent contributor. At the time of publication, the author held no positions in the stocks mentioned.