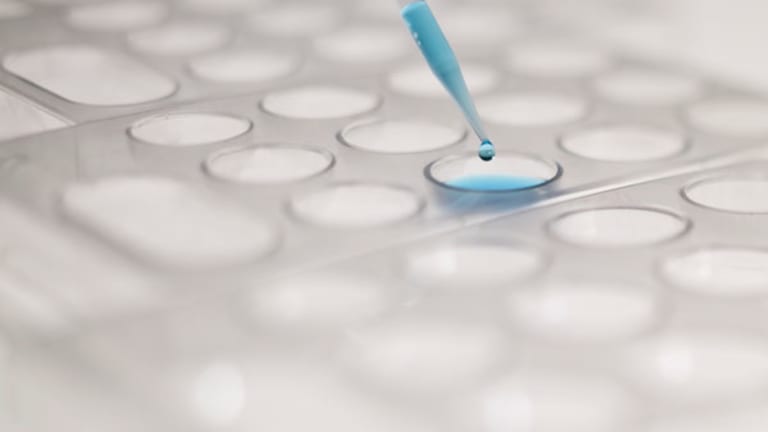 Carnevale: Is AmSurg a Perfect Obamacare Growth Stock?
AmSurg is currently trading at a sound valuation, which makes it particularly appealing in the age of Obamacare.
NEW YORK (F.A.S.T. Graphs) -- Affordable health care is a huge problem for America, and the jury is still out on whether the Affordable Healthcare Act, aka, Obamacare is a blessing or curse.
Regardless, I believe
AmSurg Corp
(AMSG)
is part of the solution, and therefore poised to prosper. AmSurg is a growth stock that is currently trading at a sound valuation.
Based on fundamentals, AmSurg Corp is very attractively priced today. The following earnings and price correlated F.A.S.T. Graphs (the orange line plots earnings, the black line price), reveals the stock is currently trading at a low valuation relative to its historical norms.
Price to sales is another important measurement of valuation. Currently, AmSurg can be bought at a price to sales of 1.12, which is approximately half the historically normal price to sales ratio.
Even though AmSurg is trading at a historically low valuation, thanks to its strong record of earnings growth, it has handily outperformed the
since 1998. A $1,000 investment on December 31, 1998, would have grown to $6,630.51. This represents a 14.2% compound annual rate of return, which highly correlates to the company's long-term earnings growth rate of 16.1%, adjusted by today's low valuation.
The consensus of eight analysts reporting to Standard & Poor's Capital IQ, expect AmSurg's earnings to grow at over 13.5% for the next five years. This above-average forecast growth is consistent with the realities of the state of health care in America today.
Thesis for Growth
The following company profile taken directly from the company's 2011 annual report summarizes AmSurg's business. The key phrase in the profile is "low-cost surgery services." Reducing health care costs is a huge plus in this demographically rich business opportunity.
AmSurg acquires, develops and operates ambulatory surgery centers in partnership with physicians. Headquartered in Nashville, Tenn., AmSurg operated 228 ambulatory surgery centers at Dec. 31, 2011. By focusing on the delivery of high-quality, low-cost surgery services that create high patient and physician satisfaction, AmSurg creates value for the three constituencies involved in every surgical procedure: the patient, the physician and the payor.
According to Christopher A. Holden, president, CEO and director, speaking to the Barclays Global Healthcare Conference on March 13, health-care reform is a net positive for the company's long-term growth and profitability. He reported that over the last three decades there's been a paradigm shift where the vast majority of all surgery is performed on an outpatient basis.
Most importantly, freestanding surgical centers like AmSurg operates can provide the same surgeries at approximately half the cost if done in a hospital outpatient department.
AmSurg claims an uncatchable market position in gastrointestinal (GI) procedures. Currently, it performs over 1.5 million procedures and over one million of those are in the GI area. The company claims to perform between 10% and 15% of all colon cancer screens in the United States. Nevertheless, the company is evolving into other high-growth areas such as multi-specialty.
Currently, AmSurg operates in 35 states. Moreover, the company is already the market leader in freestanding ASC (Ambulatory Surgical Centers) with approximately a 10% market share, and in ophthalmology they command approximately a 5% market share. Therefore, although it is one of the largest players in the market, there remains a lot of room for future growth.
Moreover, Holden reported the vast majority of surgery centers are still independent today. Corporate owner managers like AmSurg have less than 30% market share. Therefore, he believes "corporatizing" and consolidation provide growth potential at a rapid rate.
The demographic opportunity of our aging population is no secret. However, health-care reform presents many challenges for delivering the surging demand for health-care profitably. AmSurg offers a low-cost surgical alternative.
At the time of publication the author had no position in any of the stocks mentioned.
This article was written by an independent contributor, separate from TheStreet's regular news coverage.