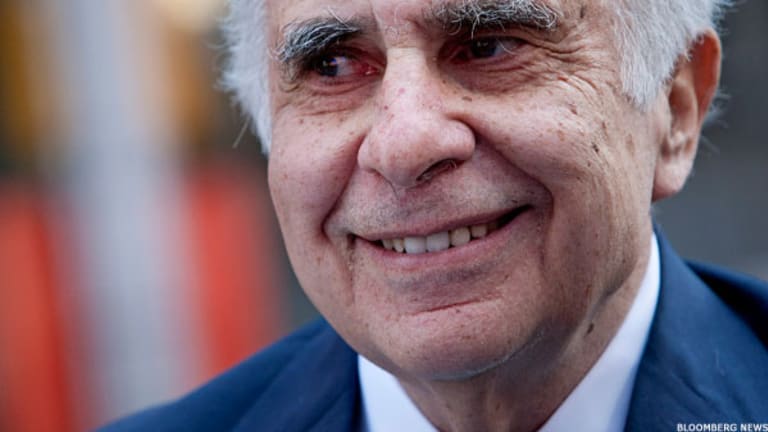 Icahn's Dell Bid: The Best Devil's Bargain
Why investors might like the risk and reward Carl Icahn is offering in a $15 a share bid for Dell.
NEW YORK (
) -- Among the various takeout bids, Carl Icahn's $15 a share proposal for
Dell
(DELL) - Get Dell Technologies Inc Class C Report
may represent the best deal for shareholders seeking to get their money's worth from a painful bet on the turnaround for the PC manufacturer.
Icahn's
, which Dell disclosed on Monday, comes amid mixed results for the activist in winning takeover battles and shareholder proxy campaigns.
In January 2012, Icahn walked away from a $15 a share
for scrap metal specialist
Commercial Metals
(CMC) - Get Commercial Metals Company Report
, in what capped a trifecta of deal duds for the activist investor, including a failed effort to buy
Clorox
(CLX) - Get Clorox Company Report
and a fruitless campaign for
Lions Gate Films
(LGF)
.
Also see: 6 Surprising Taxes Headed Your Way
Icahn has seen his M&A luck turn, with a successful acquisition of
CVR Energy
(CVI) - Get CVR Energy, Inc. Report
, and there is good reason to believe his offer for Dell may win investors' hearts and minds over offers proposed by private equity giants
Blackstone Group
(BX) - Get Blackstone Inc. Report
and
Silver Lake Partners
.
To be sure, Icahn's $15 a share proposal for up to 58% of Dell's shares trumps a $14.25 a share bid submitted by an investor group led by Blackstone and the initial $13.65 a share offer by Michael Dell and Silver Lake, which the company approved in early February. Still, analyzing prices may prove complicated given uncertainty of Dell's remaining equity value.
Icahn and Blackstone will also have to fill out details on their proposals and submit formal offers, which Dell said it intends to consider in takeover negotions.
The $15 a share proposal also comes with significant strings attached such as the assumed participation of large Dell shareholders
Southeastern Asset Management
and
T. Rowe Price
and a mélange of financing that includes about $5 billion from Icahn's coffers, a similar amount of bank financing and a seeming pillage of billions in the company's cash and accounts receivable.
All told, Icahn's proposal mixes a premium price with hard-to-notice pitfalls -- a classic move for the 77-year old activist, who constructed the Dell offer while managing other large investments such as recently acquired positions in
Herbalife
(BX) - Get Blackstone Inc. Report
,
Transocean
(RIG) - Get Transocean Ltd. Report
and
Chesapeake Energy
(CHK) - Get Chesapeake Energy Corporation Report
.
Blackstone's $14.25 proposal, in contrast, resembles a simple private equity buyout with a firm price and the requisite debt financing committed by
Morgan Stanley
(MS) - Get Morgan Stanley Report
. The Michael Dell and Silver Lake bid carries existing credit agreements, the participation of the company's largest shareholder and board approval.
"I would find the Icahn deal less attractive," said Howard Ward, chief investment officer at
Gamco Investors
,
in a
CNBC
interview when asked to contrast the Blackstone and Icahn Enterprises offers disclosed by Dell.
Making Icahn's case might be the hardest. Still there's a logical reason for shareholders to support Icahn's bid, beyond a price tag that trumps Blackstone and Silver Lake.
Icahn's last large foray into the tech sector was a multi-billion dollar breakup push for
Motorola
that led to the split of
Motorola Solutions
(MSI) - Get Motorola Solutions, Inc. Report
and
Motorola Mobility
and presaged the latter's eventual premium priced sale to
Google
(GOOG) - Get Alphabet Inc. Class C Report
in 2011.
Investors in the faltering hardware business would have to consider the breakup of Motorola and the sale of its handset unit as among the top turnarounds in the sector, in recent years.
Also see: Tax Audit Horror Stories: What To Do When The Unthinkable Strikes
Compared against the subsequent share price performance of
Nokia
,
BlackBerry
undefined
,
Hewlett-Packard
and even
Dell
(DELL) - Get Dell Technologies Inc Class C Report
, for that matter, Icahn's work stands out as particularly savvy.
Icahn was also a catalyst for a board revamp at
Yahoo!
(YHOO)
and the company's hotly-contested decision to exit the Web search market after chronic market share losses to Google. While Icahn cashed out unceremoniously from Yahoo! and left the company's board, Dan Loeb of
Third Point
carried an activist flame that smoked out more board members and led to the eventual appointment of Marissa Meyer.
The terms of Icahn's bid for Dell, while less certain than those offered up by private equity buyers, may be more appealing for the investor community at large.
To gain control of the company, Icahn Enterprises, Southeastern Asset Management and T. Rowe Price will have to roll their equity into the surviving shares of Dell. Ordinary shareholders will have the choice of cashing out their stock at $15 a share or remaining shareholders alongside buyout investors.
If all eligible shareholders agreed to the $15 a share price, 58% of Dell's outstanding shares will be acquired in the deal.
The Icahn offer counts on nearly $9 billion from Dell's coffers, mixed between $7.4 billion in cash sitting in Dell's bank account and $1.7 billion in factoring receivables. The $15 a share bid relies on just $5.2 billion in debt, a far smaller amount than competing bids, Icahn Enterprises notes in a March 22 offer to Dell's special committee.
Also see: 7 Things You Should Be Doing to Live to 100
The deal will hinge on convincing large investors to keep their skin in the game for upside in a turnaround. Meanwhile, investors either cashing out at $15 or holding Dell shares would be making full use of the PC-giant's undistributed cash stockpile.
Icahn, before outlining a bid under Dell's 'go-shop,' and Southeastern Asset Management highlighted a dividend recapitalization as a way to unlock the company's value for shareholders. While Icahn's now pressed further than a dividend recapitalization, such intent remains part of the activist's proposal.
It's a big contrast to the private equity bids, which would cash shareholders out at what many have characterized as an undesirable price tag and gives buyout investors all of the upside.
In Blackstone's proposal, non-participating investors still have an option to own a so-called 'stub' of publicly traded Dell shares
Given the significantly higher debt financing needed in the Blackstone or Silver Lake offer, one might question whether private equity investors are simply profiting from Dell's mismanaged cash stockpile, while offering what is essentially a take under from year-ago share prices.
Carl Icahn's $15 a share offer may be the riskiest proposal currently on the table for investors who have been hit with losses in the PC-maker. It also represents the best chance for investors who still want to bet on tech turnarounds.
Calls to Blackstone, Southeastern Asset Management and Icahn Enterprises seeking comment beyond Monday's statement from Dell weren't immediately returned. T. Rowe Price spokesperson Kylie Muratore declined to comment.
-- Written by Antoine Gara in New York