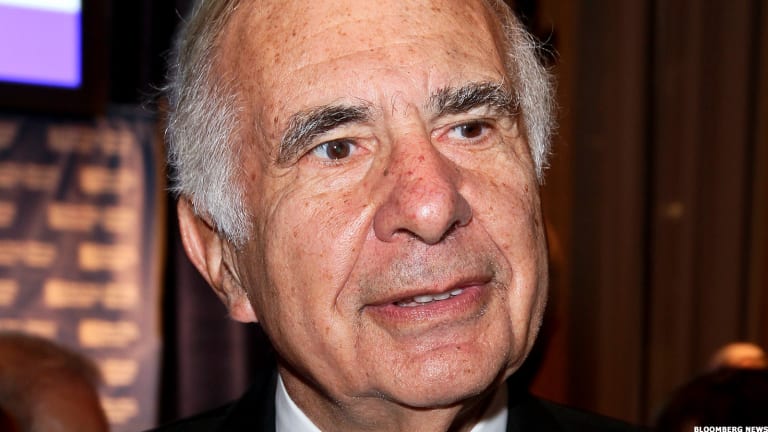 Carl Icahn Is Waiting for These 5 Stocks to Reach a Boiling Point
The billionaire activist investor has been sounding the alarm recently regarding the state of the market, but there are a few stocks that he's still confident have room to rise.
NEW YORK (TheStreet) -- Carl Icahn isn't loving much of what he's seeing in the market right now, but there are a handful of stocks that he's still confident about.
The billionaire activist investor has been sounding the alarm in recent weeks regarding the state of the market. He told Fox Business in a June 19 interview that he believes there is a bubble brewing, and he issued a warning that the current interest rate environment could prove troublesome in the future. "Interest rates are now at a low that, in the history of the Federal Reserve, they've never been held down this long, and I don't think that anyone will deny that this is uncharted territory and could be very, very destructive to our markets and our economy," he said.
On June 24, Icahn took his views to Twitter. "I believe the market is extremely volatile -- especially high yield bonds," he wrote. "If more respected investors had warned about the market in '07, we might have avoided the crisis in '08."
But Icahn isn't pulling all of his chips off the table in anticipation of impending doom.
At the start of the year, he raised eyebrows when he increased positions in three struggling stocks. And he continues to insist that Apple (AAPL) - Get Apple Inc. (AAPL) Report will climb as high as $240.
Icahn's most recent SEC holdings disclosure, corresponding to the first quarter of 2015, indicates that he has more than $32 billion in public equity investments. It lists 21 positions in total, although it is known that one -- Netflix (NFLX) - Get Netflix, Inc. (NFLX) Report -- is no longer current. He tweeted on June 24 that he sold off the last of his stake in the company.
So where is Carl Icahn betting? Here are his top five positions, each of which comprises 5% or more of his portfolio.
Icahn Enterprises
data by
Comprising nearly one third of his entire public equity portfolio, Icahn Enterprises (IEP) - Get Icahn Enterprises L.P. Report is Carl Icahn's top holding. His stake of almost 109 million shares as of March 31 would be valued at nearly $8.96 billion as of noon Monday. Icahn owns nearly 90% of his namesake holding company, of which he is chairman of the board. And the firm has done well over the years. According to a May investor presentation reported by ValueWalk, IEP has a total stock return of 1,485% since Jan. 1, 2000.
"Across all of our businesses, our success is based on a simple formula: we seek to find undervalued companies in the Graham & Dodd tradition, a methodology for valuing stocks that primarily looks for deeply depressed prices," the presentation says. "However, while the typical Graham & Dodd value investor purchases undervalued securities and waits for results, we often become actively involved in the companies we target."
Apple
Icahn bought into Apple (AAPL) - Get Apple Inc. (AAPL) Report in 2013 and has been shouting from the rooftops about the tech giant's potential ever since. He owned 52.8 million Apple shares as of March 31.
On May 18, Carl Icahn published another in a series of open letters written to Apple CEO Tim Cook since he first invested. "We again applaud you and the rest of management for Apple's impressive operational performance and growth. It is truly impressive that, despite severe foreign exchange headwinds and massive growth in investment (in both R&D and SG&A), the company will still grow earnings by 40% this year, according to our forecast," he wrote. "After reflecting upon Apple's tremendous success, we now believe Apple shares are worth $240 today."
He plugged Apple again that day when he announced his exit from Netflix on Twitter. "Sold last of our $NFLX today. Believe $AAPL currently represents the same opportunity we stated NFLX offered several years ago," he wrote.
CVR Energy
As of the end of first quarter, Carl Icahn held 71.2 million CVR Energy (CVI) - Get CVR Energy, Inc. Report shares, which would be valued at around $2.7 billion as of noon Monday. The stock has remained rather flat in 2015, but it has climbed significantly since Icahn first got involved a few years ago.
The billionaire activist investor took over CVR Energy in 2012 and has an 82% stake in the company. He worked to separate its refineries into CVR Refining (CVRR) in 2013. Today, Icahn maintains positions in the two entities and is the chairman of both.
The dust from Carl Icahn's CVR takeover hasn't quite settled. In February,
news broke
that the SEC is investigating whether CVR Energy made misleading disclosures to investors when defending itself against Icahn in 2012.
eBay
Icahn targeted eBay (EBAY) - Get eBay Inc. Report in early 2014, and things got ugly quickly.
In a push to convince eBay to spin off its PayPal, Icahn exchanged a series of public communications with the e-commerce giant and its managers, in one instance writing that CEO John Donahoe "seems to be completely asleep or, even worse, either naïve or willfully blind." He also wrote that "the complete disregard for accountability at eBay" was the most blatant he had ever seen.
By April 2014, eBay and Carl Icahn reached a truce, cutting off an impending proxy fight. And in September, eBay announced plans that it would spin off PayPal into a separate publicly traded company. Icahn entered into an agreement in January with eBay ensuring that one of its representatives would join its board of directors and have the ability to transition to PayPal's board once the spin-off is completed.
Icahn owned 46.3 million eBay shares as of the end of the first quarter, a position worth about $2.85 billion as of noon Monday.
Federal-Mogul Holdings
Carl Icahn has served as non-executive chairman of the board at Federal-Mogul Holdings (FDML) since 2008 and director since 2007. He has an 82% stake in the company, having bought more of the stock earlier this year.
As of March 31, he owned 138.6 million FDML shares, an investment worth about $1.51 billion as of noon Monday.
Headquartered near Detroit, Federal-Mogul manufactures and supplies powertrain components and vehicle safety products. The company has had a bit of a tough go on the market in 2015 and recently hit a new 52-week low.
This article is commentary by an independent contributor. At the time of publication, the author held no positions in the stocks mentioned.