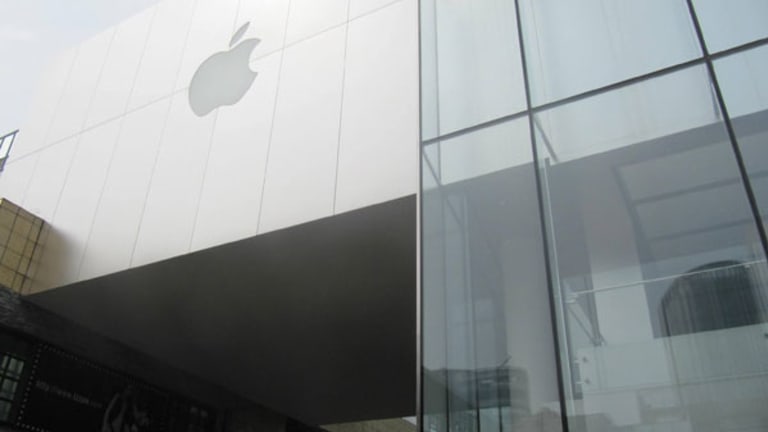 Carl Icahn Is Smarter Than You
The only reason to justify not buying Apple stock right now is believing you're smarter than the legendary investor.
NEW YORK (TheStreet) -- Two kicks at the can, that's what investors received. However, most didn't take a swing at either one. Two chances to buy Apple (AAPL) - Get Apple Inc. Report under the 200-day moving average.
Granted, the first was short-lived, but there's not much of an excuse to miss the second one when Apple traded two full days below the widely watched average.
Maybe the only reason to justify not buying is to believe you're smarter than the legendary investor Carl Icahn. You know he did his homework and more due diligence than you could possibly perform. The good news is it's not too late to exploit the still relatively cheap price of Apple's stock.
Bearish pundits predicting a slowdown in iPhone sales and death through margin squeeze are busy wiping egg off their collective faces. The new iPhone 5S and 5C models are breaking records with nine million new iPhones walking out the door and into iBuyer's eager palms.
While I believe
Microsoft
(MSFT) - Get Microsoft Corporation Report
is currently the biggest beneficiary of
BlackBerry's
undefined
self-destruction, it certainly doesn't hurt Apple to have one fewer competitor -- especially a company that at one time dominated the space and could come back from the dead.
Google's
(GOOG) - Get Alphabet Inc. Class C Report
Android platform won't shed a tear for BlackBerry, obviously. At the same time, it's a mistake to believe the difference in revenue for Google will be greater than an accounting rounding error. In other words, no measurable impact to Google's financials.
If you look back at Apple's history, it, too, once fell from grace only to come back stronger than ever. With that said, don't expect BlackBerry to sell quickly for $9. I wrote
lays out why I believe $9 is too cheap.
Unlike BlackBerry, Apple's current problem is supplying the market with enough product to fill the demand. Of course, scarcity could be part of Apple's strategy to ensure continued buzz about demand. It's early to tell, but at least one gold iPhone 5S was offered for
on
eBay
.
I looked at that auction and others on eBay and found relative "deals" closer to $2,500. If any doubt remained about Apple's dominance in the space, it left the building last week. Moving forward, investors can expect continued volatility, albeit use the volatility to their advantage.
Instead of buying Apple shares directly, investors can lower their risk while getting paid for their time by using options. With the price of one Apple share near $500, it's not easy for many investors to buy Apple without upsetting their diversification balance. Even with standard options it can be tricky.
Say hello to a new option product called mini-options. Instead of using a full lot of 100 shares per contract, mini options use 10 shares as their underlying contract size. This allows for greater investor flexibility.
In my
, I currently advise selling the November $450 Put option to collect premium while allowing some breathing room for Apple to move. This strike and expiration can be sold for about $7.35 per contract. Apple needs to decline below $442.65 at the expiration for this strategy to lose money. Otherwise, if Apple is $450 or higher at the expiration, the premium is your profit.
At the time of publication the author had no position in any of the stocks mentioned.
This article was written by an independent contributor, separate from TheStreet's regular news coverage.
Robert Weinstein is an active trader focusing on the psychological importance of risk mitigation, emotion and financial behavior of market participants. Robert co-founded the investing blog
, where he writes a journal about his trading activity and experiences.
In addition to
TheStreet
, Robert also contributes to
Real Money Pro
, providing real-time trading ideas for stocks, options and futures.