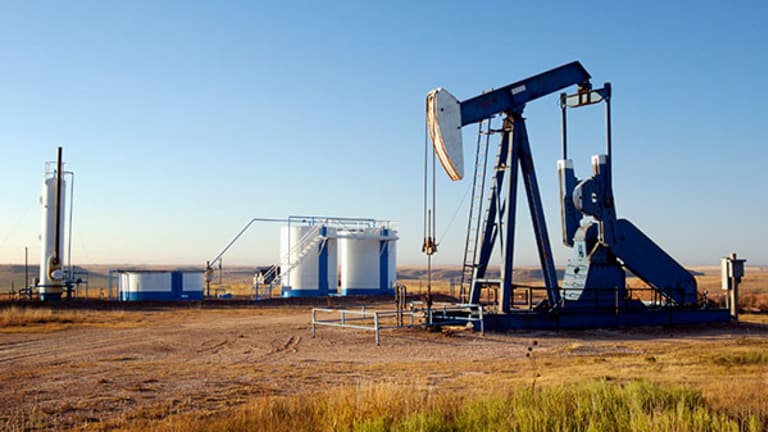 Capstone Poised for Strong Growth as Supplier to Oil and Gas Producers
Microturbines could be a bigger story in 2015, thanks to a growing demand for clean power generation that maximizes energy production.
NEW YORK (TheStreet) -- The pressure to maximize efficiency is growing for oil and gas producers, possibly setting up Captone Turbine (CPST) as a key supplier.
Capstone makes microturbines, a relatively, small refrigerator-size engine that can generate electricity and improve efficiency, and that can capture and reuse waste heat lost in any production process.
Companies are increasingly capturing and reusing thermal energy to produce heat and power for their facilities, a concept known in the energy community as cogeneration. At the same time, the push to lower carbon emissions is making the use of microturbines an obvious choice.
Capstone says its microturbines produce the lowest emissions of any fossil-fuel internal-combustion system and require low maintenance, because they have only one moving part. Additionally, different feedstocks, including wastes, can be used to power microturbines, allowing for greater financial flexibility to take advantage of pricing in natural gas, diesel, kerosene, propane or biogases.
For utilities, heat is an unavoidable byproduct of power plants, and so the ability to capture that heat while producing power is really getting the most out of an energy source and helping to lower their carbon footprint.
Considering microturbines can also lower emissions, decrease maintenance costs and add a sense of reliability to energy operations with aging infrastructure, there is added economic value for utilities to use turbines such as those offered by Capstone.
Because of their smaller size, roughly 15 to 300 kilowatts, microturbines can be scalable off the grid to help maximize energy production. For exploration and production companies that are struggling to lower production costs with declining oil and gas prices, microturbines help manage fuel output by converting heat from wellhead site gas or flared gas into electricity. That could lower operations costs and be an attractive source of power, especially at shale fields located in remote areas not easily connected to the grid.
Microturbines can also be used at coal sites, even closed mines which seep gas for years, to make emissions from the battle-scarred coal industry cleaner and put them to use as a power source.
They can even be used to power hybrid-electric vehicles, including trucks, buses and possibly even future cars because the on-board battery charger can allow for a full day of driving range without the need to stop to recharge.
Shares of Capstone trade for less than a dollar, making them a risky investment, as volatility with such penny stocks can be extreme. In addition, a wider-than-expected loss for its fiscal second quarter, which was announced late last week, driven in part by customer delays of orders, punished shares further.
Looking more closely at the company's financial results, however, Capstone did show improvements and sales volume and revenue. Additionally, the company has a $1.4 billion sales pipeline, and it announced its eighth consecutive quarter of double-digit gross margins.
According to comments made on Capstone's earnings call, Anadarko Petroleum (APC) , which is increasingly rumored to be an acquisition target because of its attractive oil and gas production profile, and WPX Energy (WPX)  are "loyal, big, repeat customers." That presence in the oil market is likely to grow dramatically.
Europe is showing positive signs for microturbine demand especially in Finland, France, Germany, Italy, Slovenia and the U.K. On Monday, the company announced it received an order for a microturbine to upgrade a food manufacturing plant in Sicily.
South America could also be a growth market for the company led by Brazil, Columbia and Ecuador.
Considering some of Capstone's customers delayed, not cancelled, several orders, the company's backlog remains robust. Thus, the share price seems out of line with the company's prospects during what is historically one of its strongest quarters of the year.
At the time of publication, the author had no positions in stocks mentioned.
This article is commentary by an outside contributor, separate from TheStreet's news coverage.