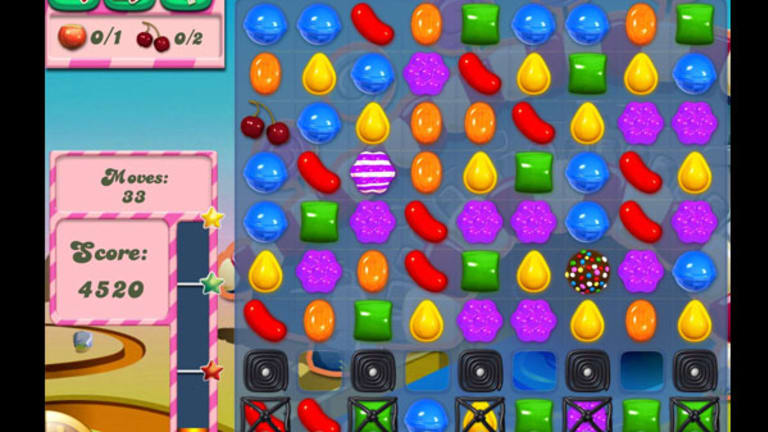 NEW YORK (TheStreet) -- On paper, I should be hot for the initial public offering of King Digital Entertainment. So why does it leave me so cold?
The numbers, as CEO Riccardo Zacconi might say, look bellissima. Dublin-based King put up $824.7 million in earnings before interest, taxes and non-cash depreciation and amortization charges last year -- a healthy 44% of its $1.88 billion in revenue, with a $567.6 million net profit.
At a $7.6 billion valuation, the midpoint of the pre-IPO range, $22.50 a share is not even 10 times trailing Ebitda -- comically low for a company that grew its sales 11-fold in 2013 and more than doubled not only its Ebitda but its Ebitda margin.
Its top product, the uber-popular Candy Crush Saga game, is ubiquitous, the #1 top-grossing game on mobile phones last year. Two stablemates, Pet Rescue Saga and Farm Heroes Saga, are also in the top 10 most-popular games for iPhone and iPad.  "What we have cracked is the monetization.of casual games,'' Zacconi brags in a video roadshow.
So why don't I like the deal? Three reasons, actually.
1. Concentration.
2. History.
3. The Curse of DiMaggio
The case that King Digital's story is just too good to be true begins with the fact that 95% of its sales come from just three of its 180 or so games, and 78% comes from Candy Crush Saga alone.
[Read: Facebook Is Gaining Ground on Google In a Big Way]

The next reason I just can't buy it is history -- there's too little of it, and too much.
For King itself, history is brief -- too brief. Its games exploded from basically nowhere in a year or two. In 2011, the now 11-year-old company had $63.9 million of sales, basically broke even and had barely grown since 2009.
Things heated up in 2012, and by 2013 the company made a big move to mobile. Sales went nuts. More than 70% of sales were on mobile devices last year -- players get short periods of play for free but pay to unlock new levels or extend their playing time.

For the industry, the history of one-hit wonders is nasty, brutish and long.
Look at the charts. Electronic Arts (EA) - Get Electronic Arts Inc. Report, Nintendo, Sony (SNE) - Get SONY GROUP CORPORATION SPONSORED ADR Report, Take-Two Interactive (TTWO) - Get Take-Two Interactive Software, Inc. Report -- all train wrecks since 2004 (in Nintendo's case, since 2007, the peak of the excitement over the Wii's new capabilites). And that's before we even begin to talk about Zynga (ZNGA) - Get Zynga Inc. Class A Report. Two years ago, Zynga was where King is now -- fast growing, profitable, its handful of top games the King of the Facebook Economy, just as King is now the putative Monarch of Mobile Commerce.
[Read: Marijuana Is Less Addictive Than Chocolate]

Then the buzz faded and Zynga did, too. Its stock, which peaked around $15, is now around $5, its market cap down to $4.5 billion, its paying-user base down to 1.3 million from 3.4 million when it went public in 2011. Not chicken feed, but a losing bet on its $10 a share IPO.
"King's most recent quarter saw sequential drops in revenue, Ebitda and a 7% decline in average monthly unique payers,'' Renaissance Capital analyst Will Preston told me in an email. "King is also way more dependent on a single game (Candy Crush was 78% of revenue in the most recent quarter, while Zynga's top game accounted for only 27% of revenue at IPO).''
It's a hit-driven business. In King we have an 11-year old company with no really big hits until last year that is making the argument it has a "platform'' -- one of the most overused words in tech, by the way -- that will not only pound out hits consistently, but will pound out lasting hits consistently.
That's actually the argument King chief creative officer Sebastian Knutsson makes in the company's video roadshow: The secret sauce of King is its designers' ability to pick from among its 180 games and pick the ones engineers can "Saga-fy" to make them compulsively playable on social networks, presumably for years.
"We take the best games ...and we put them into what we call the Saga envelope,'' Knutsson said. "We reconceive games from a two-minute skill game into a multi-year franchise that can work on social platforms.''
Really, Mr. Knutsson? How would you know given that this never happened in a material way before last year?
If anything, the evidence in King's prospectus points the other way.

Already, King has seen sequential slowdowns in users and in revenue -- not the sign of a company being built to last. Some writers have also harped on the fact that insiders are removing much of their initial investment in the company by selling shares, in addition to accepting special dividends --though private-equity firms Apax Partners and Index Ventures are keeping such large stakes I'm inclined to give them a pass on that. (Marc Benioff pulled money out of Salesforce.com (CRM) - Get salesforce.com, inc. Report pre-IPO, and that turned out OK.) The early signs of slowdown are definitely an issue, Preston said.
"This will definitely force King to answer similar questions that Zynga faced and likely keep investors cautious,'' Preston says.
The last thing is the most obvious -- the DiMaggio Factor.
The one thing anyone remembers about Yankees slugger Joe DiMaggio is that he made a very hard game look easy. So has King. Nearly anyone this side of Bill Gates would trade their commercial accomplishments for what Candy Crush has done in the last couple of years, just as everyone would like to hit one over the left field wall at Yankee Stadium once or twice. Attention should, in fact, be paid.
But the gaming industry isn't easy. It's fickle and hard, and trends change all the time. The only major game maker that's been close to a consistent stock performer is Activision Blizzard (ATVI) - Get Activision Blizzard, Inc. Report, the maker of World of Warcraft, just as no one has matched DiMaggio's 56-game hitting streak since 1941.
Can King crush those odds? Maybe (although the unanimity of the skepticism, including mine, is so off-putting it's almost a sign of hope). But the odds are what they are -- and for a $7.6 billion bet, they're pretty steep. If it works, Bazinga! Zacconi and Co. will have outsmarted everyone. But more likely, it's another Zynga.
At the time of publication the author had no position in any of the stocks mentioned.
This article represents the opinion of a contributor and not necessarily that of TheStreet or its editorial staff.
Tim Mullaney created the BW Web 20 model portfolio while serving as E-Business Editor of BusinessWeek. He was national economics correspondent at USA Today from 2011 to 2014.