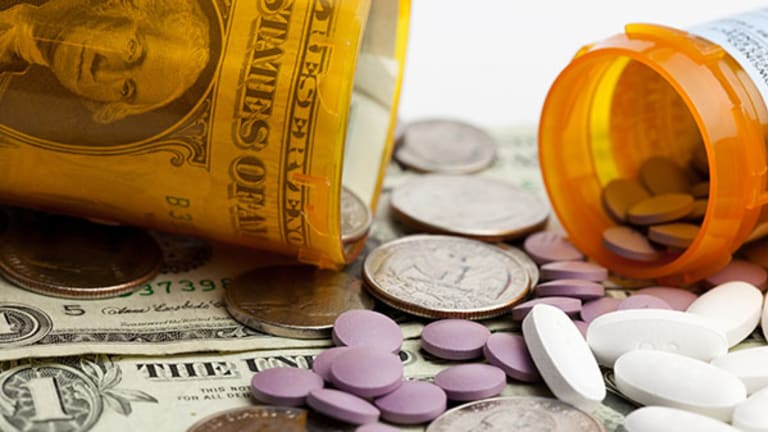 Publish date:
Cancer Therapy Stock Advaxis Will Benefit From IPO From Rival Aduro
Aduro is expected to IPO in early April. Advaxis, the other Listeria-based immunotherapy, will be a direct beneficiary as a result of the exposure from Aduro's IPO.
Aduro is expected to IPO in early April. Advaxis, the other Listeria-based immunotherapy, will be a direct beneficiary as a result of the exposure from Aduro's IPO.
NEW YORK (TheStreet) -- Aduro Biotech, which is developing listeria-based immunotherapy for pancreatic cancer, filed to raise $86 million in an initial public offering. With the hype surrounding biotech companies developing new immuno-oncology drug, I expect investor demand for the Aduro IPO will be strong.
Investors can referenceJuno's (JUNO) , another cancer immunotherapy company which priced its IPO at $24 last December and opened 63% higher at $39 per share. I believe bullish sentiment from Aduro's upcoming IPO will spill over to Advaxis (ADXS) - Get Report, the only other company with listeria-based cancer vaccines in clinical trials. Investors should view Aduro's IPO as a catalyst that will validate Advaxis' position as an undervalued immuno-oncology biotech stock.
Both Aduro and Advaxis are developing cancer immunotherapies that use genetically modified listeria (a type of bacteria) to stimulate an anti-tumor response. The body's immune system thinks it's attacking a simple bacterial infection but instead, it's actually targeting and killing cancer cells. 
The companies have engaged in some patent disputes. Advaxis holds an exclusive worldwide license from the University of Pennsylvania covering "the use of recombinant Listeria monocytogenes expressing proteins or tumor antigens as a vaccine for the treatment of infectious diseases and tumors."
Aduro's predecessor, Anza, challenged Advaxis' patent back in 2009, but the European Patent Office rebuked the decision, siding with Advaxis. The claims were directed to the method of preparation and composition of matter of recombinant bacteria expressing tumor antigens for the treatment of patients with cancer.
The following is from Aduro's recent S-1 filing:
"We are aware of certain U.S. and foreign patents owned by a certain third party with claims that are broadly directed methods of using Listeria-based vaccines to treat certain cancers, which expire in 2017. The patents expiring in 2017 may be construed to cover our LADD product candidate, CRS-207, as well as the product candidates licensed to Janssen, ADU-214 and ADU-741."
It's safe to assume that the above third party patents are Advaxis'. Aduro believes, however, that by the time the company commercializes a product, the discussed patent will have expired.
The 2009 court ruling and Aduro's disclosure on the third party patents verify the similar approaches between both companies. The legal motives will likely not materialize into anything and the discrepancy in each company's respective valuation is vast. Aduro is expected to be valued nearly four times more than Advaxis.
Is The Difference In Valuation Justified?
At a cancer conference last year, Aduro reviewed the data of a Phase II study involving 93 patients with advanced pancreatic cancer. A combination of GVAX Pancreas vaccine and Aduro's leading candidate CRS-207 significantly outperformed GVAX Pancreas alone, bumping up overall survival from 3.9 months to 6.1 months and one year survival probability for patients from 12% to 24% (below). The trial met the primary endpoint of overall survival at an interim analysis, was stopped upon recommendation from the Data Monitoring Committee and received breakthrough designation by the FDA.
As a result of Aduro's initial success with Listeria-based immunotherapy, Janssen, a subsidiary of Johnson & Johnson, licensed preclinical LADD platforms to originally develop combination therapies for prostate and then expanded the deal later on in October 2014 to lung.
Advaxis has formed its own collaborations with big pharmas, most notably Merck (MRK) - Get Report , to evaluate combination therapies.
Advaxis' approach to these deals has been different from Aduro's, whereby the asset was sold to big pharma. Aduro has received less than $50 million for 85% of its two preclinical candidates. Advaxis, on the other hand, has given up these financial incentives for sole discretion of their compound and the flexibility to negotiate potential agreements down the road. The $50 million in sacrificed upfront payments is part of the reason Advaxis is currently valued a quarter of Aduro.
Investment Thesis
The market will narrow this valuation gap because:
Aduro's technology, as explained above, is comparable to Advaxis'. Any positive data indicating Listeria-based immunotherapies are generating immune responses should affect both names.
Advaxis has partnered with big pharmas' checkpoint inhibitors: MedImmune's anti-PD-L1, MEDI4736, and Merck's PD-1 Advaxis' Lm-LLO monotherapy has proven low toxicity. As have the mentioned checkpoint inhibitors. Therefore, a strong possibility lies that combination regimen will also have low toxicity.
Advaxis stock has risen 315% in the last six months on two events that confirmed the small biotech was a legitimate player in immuno-oncology. Back in October 2014, Advaxis announced Dr. David Mauro as its new chief medical officer. Mauro, who was an executive director at Merck's oncology clinical development, left the large pharma for Advaxis. Shortly after, in December and again in February, institutions, notably Adage Capital and T. Rowe Price participated in Advaxis' private placements rounds. Institutional interest stands at around 45%, a figure that should rise with announcement of Aduro's IPO.
Aduro's IPO will bring much needed exposure to Listeria-based immunotherapies. Due to their proximities, anyone looking at Aduro will also be reading about Advaxis, including investors and analysts.
This article is commentary by an independent contributor. At the time of publication, the author held no positions in the stocks mentioned.