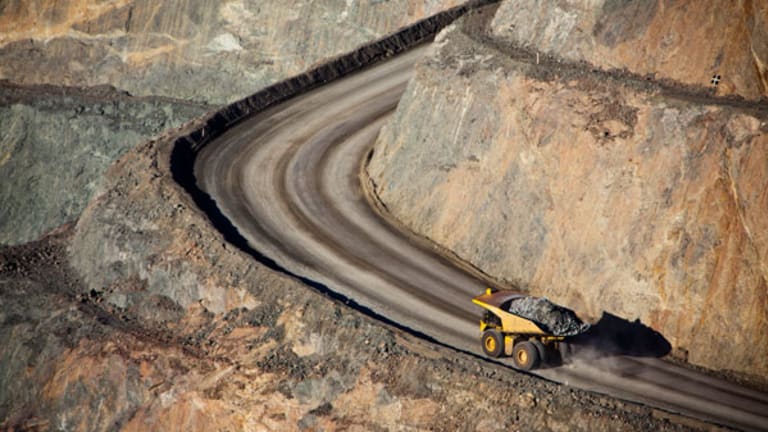 Publish date:
Canadian Mining for Long-Term Investors
Teck Resources, an undervalued miner with juicy yields, is poised for significant growth in the coming years.
Teck Resources, an undervalued miner with juicy yields, is poised for significant growth in the coming years.
NEW YORK (TheStreet) -- Teck Resources (TCK) is one of Canada's leading mining companies, the biggest producer of steelmaking coal in North America and the second largest player in the seaborne market, behind BHP Billiton (BHP) - Get BHP Group Ltd Sponsored ADR Report and Mitsubishi's BHP Billiton-Mitsubishi Alliance. Moreover, the Vancouver-based miner is also eying entry into the energy industry in the coming years.
Teck's shares have dropped by 30% this year, to $25.25 when markets closed on Christmas Eve. As a point of reference, S&P Metals and Mining ETF (XME) - Get SPDR S&P Metals & Mining ETF Report has delivered relatively better, showing a decline of 10% in 2013.
[Read:Cramer on Stealth Tech]
That performance doesn't seem pretty. But investors must consider Teck's move into the oil sector and its growth prospects amid the expected improvement in commodity prices in the long run. At current price levels, Teck's shares are looking attractive.
The stock isn't ideal for short term investors. The business will likely remain under pressure due to persistent weakness in the commodity markets. For long term investors, however, the miner's shares are undervalued. Teck shares are trading below their book value, at just 12 times the 2014 earnings estimates. Moreover, Teck gives a juicy yield of 3.4%, way above the industry's average.
In the last couple of years, traditional miners like BHP Billiton, Freeport-McMoRan Copper & Gold (FCX) - Get Freeport-McMoRan, Inc. (FCX) Report and Teck Resources have made inroads into North America's energy industry to capitalize on growing oil demand However, unlike other miners, Teck is solely focused on producing oil from the Canadian oil sands.
As its first big move into the oil industry, Teck has partnered with traditional oil giants Total (TOT) - Get Total SA Sponsored ADR Class B Report and Suncor Energy (SU) - Get Suncor Energy Inc. Report. The joint project mines the Fort Hills oil sands, one of the best undeveloped oil sands areas, with more than 3 billion barrels of bitumen. Teck holds a 20% interest in the project and will invest nearly $320 million this year.

The project will start operating in the fourth quarter of 2017 and will add 13 million barrels of oil annually to Teck's output. In other words, Teck will start earning a significant portion of its revenue from oil in the next couple of years.
[Read:Restaurant Stocks: A Year in Review]
Teck's long-term growth strategy has always been to become a diversified mining company. The miner's move into the oil sector is in line with this strategy. Moreover, due to the nature of oil sands development, the business will be essentially mining its oil assets through large "truck and shovel operations." This flows right into the company's core competency. A move into the oil sector might be risky for a traditional miner. But due to the similarity between this type of mine and Teck's core operations, in reality, it is a safe bet.
While Teck has a bright future ahead in oil, the commodity will not have any meaningful impact on the company's earnings until late 2017. Teck is essentially a diversified miner that gets half of its earnings from the steelmaking-coal business, 35% from copper and nearly 15% from zinc.

Due to the persistent weakness in metal prices for the last 18 months, the business has focused on cost-cutting measures. Meanwhile, Teck has deferred some of its major projects with substantial capital requirements, such as the restart of its Quintette coal mine. Through this delay, the company will be able to maintain its healthy balance sheet as it continues to invest on more attractive projects, such as the Fort Hills oil sands.
Despite witnessing a major drop in realized prices, Teck Resources continues to sell record volumes of output. The companies operating in the metals and mining sector have struggled due to a challenging business environment, but Teck has managed to deliver impressive results in the previous quarter.
As expected, for the three months ending in September, the company's operating profit dropped by 38% from the corresponding period last year to C$500 million. The profit decline was due to lower prices for coal and other commodities. More importantly, however, Teck managed to achieve record coal sales of 7.6 million tons, showing a 36% increase from last year.
[Read:3 Things to Know Before Swiping Your Debit Card]
The impressive growth in sales points towards strength in demand. For the full year, Teck now expects to touch the high end of its previous annual guidance of 24.5 million to 25.5 million tons. However, due to the persistent weakness in the prices of steelmaking coal, there will not be a significant improvement in profit in the near term. To boost its profitability, the business is now focused on its $330 million cost reduction program.
The demand for steelmaking coal will increase in the coming years as China and India experience significant growth in hot metal production. The realized prices are expected to grow by 17% in the next four years, which will considerably improve Teck's income.
Furthermore, Teck has a reasonable balance sheet. Although its long term debt to equity ratio is 40%, which is more than twice as large as the industry's average, the company has just $323 million of debt due through 2016. The business has solid liquidity, with cash reserves of $2.25 billion, and $2 billion in revolving credit. Teck currently has a BBB credit rating from the leading rating agencies.
At the time of publication the author had no position in any of the stocks mentioned.
This article was written by an independent contributor, separate from TheStreet's regular news coverage.