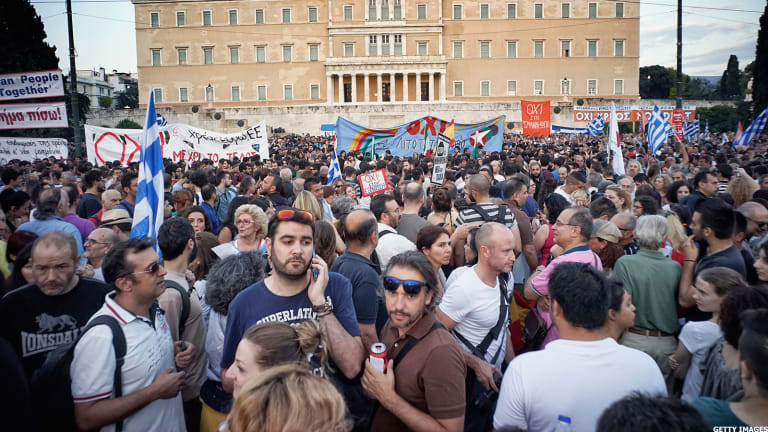 Can We Finally Stop Worrying About Greece?
The new bailout plan hinges on approval from the Greek parliament, and it could decide Alexis Tsipras' future, too
NEW YORK (TheStreet) -- Greece may have a deal with its creditors, but we've seen this movie before.
The $95 billion package of austerity measures and new financing still has to pass not only the Greek Parliament -- which is far from certain -- but also every other eurozone member's parliament. That includes Germany, which has been notoriously stingy about giving further aid to Greece.
We could be right back to where we started by the end of this week.
And even if the plan passes, Greece and the rest of the eurozone need to figure out how the plan would actually work, which could take weeks.
"There are still a variety of details to be agreed upon after the fact," CRT Capital's David Ader and Ian Lyngen wrote in a note. "Greek banks are still closed, and the July 20 ECB (European Central Bank) payment of 4.2 billion euros looms ... We're apprehensive that although ostensibly a compromise has been reached, the market remains vulnerable to headlines related to the ultimate completion of the deal."
For now, Prime Minister Alexis Tsipras has to sell a bailout plan to the Greek parliament that is similar to the one Greek voters rejected just over a week ago.
"He'll certainly face challenges," said William J. Antholis, director and CEO of the University of Virginia's Miller Center of Public Affairs and a former managing director of the Brookings Institution, a Washington, D.C.-based think tank. "There are many within his party and various opposing parties that will ask the question: 'Is it actually worse than where we were six months ago? '"
As he answers that question, it's likely that Tsipras will need to court supporters from beyond his left-leaning Syriza party. Members of other parties in domestic Greek politics may be willing to go along with the deal because they fundamentally agree with more of the proposed reforms than Syriza's members do.
The political jostling to pass the bailout is one part of what's next for Greece. If and when the third bailout is implemented, those familiar with Greece's economic and political situation say, it will determine Tsipras's political future, not to mention that of Greece's economic health.
Though he said austerity measures included in the deal "will inevitably create recessionary trends," Tsipras said in a statement released early Monday that the plan includes debt restructuring and bailout funding for the next three years that "will create market confidence."
"I believe that a large majority of the Greek people will support the effort to return to growth," he said.
But creating that growth will likely be much easier said than done. Getting members of the Greek parliament to agree on plans involving austerity has not proven easy for past prime ministers: Greece's last two both lost their jobs over the issue. In particular, former right-of-center Prime Minister Antonis Samaras lost his job in January amid voter discontent with his government's handling of Greece's bailout.
Now, Tsipras, having done an about-face on some key provisions of the newest bailout proposal in the last few days, could face a similar future, particularly if he is unable to pass the bailout proposal and new elections are called in Greece.
"One government after another has lost at the polls because of these reforms," Antholis said in a phone interview.
If the plan is implemented, those familiar with the Greek economy say there are plenty of barriers to getting growth on track.
Even if Greece remains part of the euro, growth will likely be held back by weak trading partners in Russia and the Middle East," Scott Davis, head of global industrials equity research at Barclays, wrote in a note Monday.
A key hurdle to increasing growth is sparking new foreign investment, particularly from parts of the world where investors might be willing to buy Greek assets at rock-bottom prices with hopes of eventually selling them for a profit, said Linda Lim, a professor of strategy at the University of Michigan's Ross School of Business.
That's a big reason why the €50 billion privatization program included in Monday's agreement, which would put Greek government assets such as utilities up for sale, may work. "There's always people who will pick up distressed assets," she said, especially with labor-market reforms, which could weaken unions and make it easier to make big changes to businesses, part of the deal.
Another economic opportunity the deal is banking on may be created by its new austerity measures. If the "recessionary trends" Tsipras mentioned when he announced the deal materialize, Lim said, that could drive internal deflation, lowering the prices of goods and services and making Greece cheaper for foreigners.
In addition to investors, that could also make the country more attractive to tourists, who have long been important to the export-poor Greek economy. While an exit from the euro could have also made Greece cheaper for foreigners through a new, devalued Greek national currency, deflation could be another way to bring needed revenue from tourists.
But the agreement's impact on prices may not mean much with images of lines at ATMs and advisories to bring extra prescription medications along still fresh in travelers' minds. Plus, for the visitors from other European Union countries who form the base of tourists in Greece, there are other, more stable options. "They've got to be saying, 'Maybe I'll go to Italy or Spain,' " Antholis said.
While the deal may be largely about making Greece accountable, Monday's deal could also have implications for the EU, which "will be up to (its) elbows in implementation of this," said Ronald H. Linden, a professor of political science at the University of Pittsburgh and director of the school's EU Center of Excellence.
With Tsipras agreeing to so many creditor demands, the onus is now on the EU to administer key parts of the reform package, such as the privatization scheme, that were smaller and did not achieve their full potential in past reform deals. If the EU-inspired reforms don't work, Linden said it will be easier for the Greeks to "blame everything on the Germans and the EU," but the EU "can't blame the Greeks anymore."
At the same time, the negotiations leading up to Monday's deal have left little trust between Greece and its creditors -- something that Greece can rebuild only by implementing the agreement, according to Michigan's Lim. "It will only take time and performance" on the part of Tsipras and his government, she said.