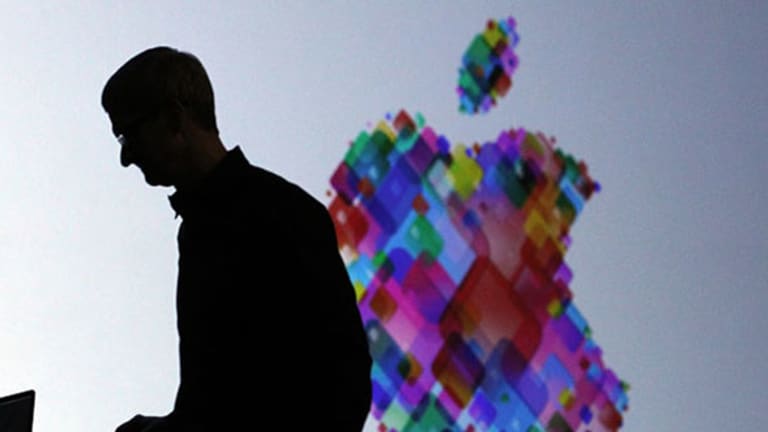 Can Tim Cook Ever Escape the Shadow of Steve Jobs at Apple?
Although it's now the most valuable company in the world, Apple appears to be losing its mojo. We examine whether its best days are behind it.
Listen to Apple co-founder Steve Wozniak when he says Steve Jobs' Apple Inc. (AAPL) and Tim Cook's Apple are vastly different entities.
Wozniak isn't wrong in his thoughts on the company in its current incarnation. With Jobs at the helm, Apple was a giant of innovation and consumer understanding. Cook has yet to truly push any envelope and it's increasingly apparent that better tech stock opportunities lie elsewhere.
Here's the story behind this disappointing reversal of fortune.
Five years before Jobs died, Apple generated sales of $19 billion (in 2006). That number hit $108 billion in 2011 (nearly five-fold in five years). Gross margin climbed to 40.5% from 29%. Net income grew to a mind-boggling $25.9 billion from $1.98 billion (12-fold jump).
Cook took over in August 2011. He has so far grown Apple sales from $108 billion to $233.7 billion (over two-fold) in about four years. Gross margin has been flat. Net profit just doubled.
That's not bad by any standards but the writing is on the wall: Apple is now a slow-growth company compared to what it once used to be. It hasn't lost its mojo in terms of free cash flows, but the pace of free cash flow (FCF) generation has eased off as well. From 2006 to 2011, FCF grew from $1.5 billion to $30 billion -- 20 times. All Cook has been able to manage is a doubling of FCF (from $30 billion to $69 billion in 2015).
But financials tell only a part of the story. The Apple Watch is sadly not a hit. iPhone sales (68% of total Apple sales) are slowing down and the iPhone SE is a poor attempt at "masstiging" he Apple brand. iPad sales have dropped by as much as 25% last quarter.
The stock, which grew from $84 to $405 in the last five years of Jobs' regime, has only doubled during Cook's tenure. Over the last five years, Apple has offered a 109.46% gain. That's almost equal to Microsoft's 109% gain. Alphabet delivered 153.31% in the same time.
Clearly, Cook hasn't been able to deliver what Jobs so seamlessly pulled off. A motley collection of iPhones, then the Apple Watch, Apple Car, and a focus on music and TV all point to Cook's desperation towards recreating the good old Apple magic but with little success to show so far.
Jobs, if you remember, had a strong and persistent focus on technology innovations. Cook, on the other hand, has a vision for large-scale diversification.
Meanwhile, growth continues to flounder. In last five years, Apple's earnings-per-share (EPS) grew by 17.89% per annum. In the next five, its projected to slow to less than 12%, under-performing even the industry's nearly 13% projected run-rate.
It's now well-recognized that the mantle of tech-czar has passed on to Mark Zuckerberg (thought of as the new Steve Jobs) with his Facebook. Although not a hardware and software company like Apple, Facebook is projected to deliver over 30% EPS growth rate in the next half a decade.
Steve Jobs was a maverick, a fire-starter and a one-of-his-kind rock-star inventor, but Cook's too much of a starched shirt to boldly lead the world's most innovative company.
Sometimes, what you need is a hint of creative madness. Cook has yet to leave the shadow of Steve Jobs and he may not ever outrun that shade.
You see Jim Cramer on TV. Now, see where he invests his money and why Apple stock is a core holding of his multimillion-dollar portfolio. Want to be alerted before Jim Cramer buys or sells AAPL? Learn more now.
As we've just explained, you shouldn't buy Apple right now. You should buy this tech stock instead. There's a battle raging in the fast-moving world of Silicon Valley. Just as VHS tapes snuffed out Betamax and CDs killed cassettes, the winner of a new "gold standard" for data is about to be crowned. We've discovered a small company that figured out a way to corner this new $10 billion market, no matter who comes out the winner. Click here to learn more.
This article is commentary by an independent contributor. At the time of publication, the author held no positions in the stocks mentioned.