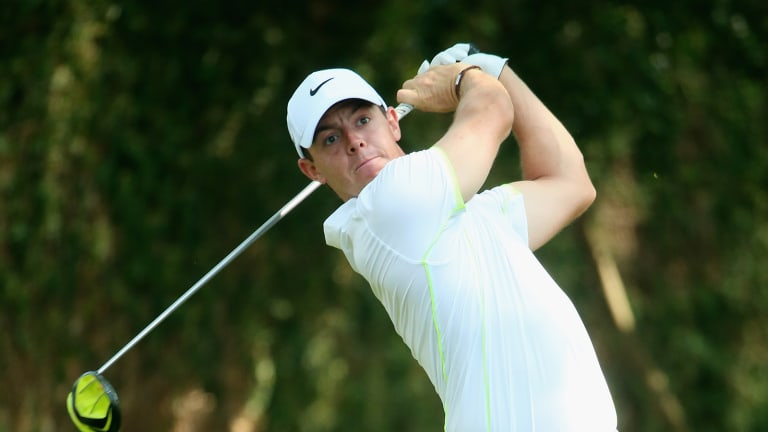 Can the Golf Industry Survive, Even Without Millennials?
Despite a stormy 2014 and few young adults taking up the game, the golf industry may be finding its footing again.
NEW YORK (TheStreet) -- Golf fans may be rooting for Rory McIlroy to win his third consecutive major title at the Masters tournament that begins Thursday in Augusta, Ga. or even cheering a resurgent Tiger Woods to relive his glory days. 
But across the country's golf industry, those with an interest in the sport are taking heart that participation and retail sales are showing signs of stabilizing. Though gradual, the turnaround comes after years of declining participation, exacerbated by a general disinterest from the millennial generation and a retail market overstuffed with inventory. The industry lost a net 400,000 players last year, according to the National Golf Foundation.
Indications that the sport may be righting itself comes as retailers including Dick's Sporting Goods (DKS) - Get Dick's Sporting Goods, Inc. Report have forecast improving golf sales. Dick's, which is a major outlet for TaylorMade, expects average retail prices to increase this year as more clearance items move out of the marketplace, CEO Edward Stack told analysts last month. 
Dick's, along with TaylorMade-Adidas, were at the epicenter of 2014's glut of equipment inventory that led to sweeping mark-downs. The Coraopolis, Pa.-based sports retailer laid off more than 400 golf professionals working at its stores last year as sales of golf products fell, while TaylorMade reported a 28% sales drop to drag down revenue at Adidas (ADDYY) .
"Equipment sales have pretty much stabilized overall," CTR Capital analyst Lee J. Giordano, said in a phone interview. 
Golf club makers have taken the queue by halting their decades-old traditional of introducing a new product each year, said Jim Koppenhaver, president of industry analyst Pellucid Corp. Cutting back on production helped Callaway Golf (ELY) - Get Callaway Golf Company Report turn its first annual profit since 2008. Callaway "has done a very good job of managing the supply chain and what's in the channel," Giordano said.
"Several manufacturers have chosen to stick with last year's models, which is a great sign," Koppenhaver said. 
The shakeout in equipment sales follows the industry's own reckoning that Millennials were largely ignoring the sport, leading some to call it a lost generation. The 20- and 30-somethings that consumer brands covet just aren't playing golf in anywhere near the same numbers as their Baby Boomer parents.
Golf has had to contend with being dismissed by Millennials as an elitist conclave that requires five-hours to complete and high expenses to participate, all of which seem to run at odds with the generation's more egalitarian values.
"Millennials like to do things in groups and share things, and it's just not that kind of sport," said Matt Powell, vice president of sports and leisure trends at market researcher NPD Group. "There are major structural issues that will prevent it from attracting Millennials."
Participation among those aged 18-34 fell about 13% between 2009 and 2013 to 6.5 million, according to the Sports & Fitness Industry Association. Meanwhile, activities like running and yoga grew significantly during that time. The total number of golfers, typically those who report playing at least one round per year, has declined for the past decade to 24 million in 2014, the National Golf Foundation found.
"If you think about the Millennials, they didn't grow up playing outdoors," said Koppenhaver. "They have a much higher bent to video and electronics. They don't have a lot of patience."
Other issues for Millennials, considered a diverse and inclusive generation, is the sport's environmental impact, such as large water usage, and rule-bound country club atmosphere, Powell said.
"Milllennials are a huge force today in retail, and they're not easily moved into doing things they don't want to do," Powell said.
This has become a difficult mix for an industry that was hit hard by the recession in 2008 while Millennials were entering the workforce.
Growth in golf products and services has recovered modestly from that time, according to IBISWorld, a market research company. Revenue for the $22.9 billion golf course and country club industry is expected to grow by an average annual rate of 1.4% to $24.5 billion by 2020, IBIS World said in March.
One way of fixing the Millennial puzzle is meeting them half-way on the time that it takes to play a round of 18 holes by emphasizing playing just nine, Koppenhaver said. The United States Golf Association started its Play 9 campaign last year in an effort to attract more people to the golf course who are worried about the long time commitment.
The Professional Golfers' Association has also expanded its recent PGA Junior League Golf concept where, much like youth baseball and soccer leagues, junior golfers play on teams. Koppenhaver says the sport, which venerates its strict rules on play and equipment, needs to change its product to woo Millennials and others who find golf too difficult or stuffy.
He suggests recreational regulations, like permitting easier to hit clubs or farther-traveling golf balls, separate from the traditional competitive rules that currently govern all players.
"It's not any surprise when you say this is the mindset of this generation and this is the game, and you see how far apart they are," Koppenhaver said.
Although, current realities suggest it would be wishful thinking to count on any boom, perhaps a Tiger Woods-Rory McIlory duel on Sunday at the Masters could be fantastic television and give the industry a much-needed spark.
This article is commentary by an independent contributor. At the time of publication, the author held no positions in the stocks mentioned.