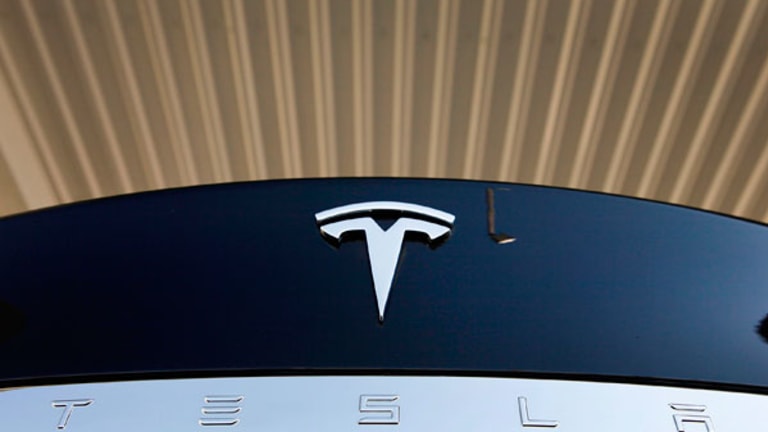 Can Tesla Drive on After NJ Flap? Fuggedaboutit!
New Jersey's auto dealers are one tough crew, Elon Musk.
NEW YORK (TheStreet) -- It's been a long strange trip for Tesla (TSLA) - Get Tesla Inc Report, with several speed bumps. But the battery is about to die.
The latest: New Jersey, where Tesla will not be allowed to sell directly to consumers. This won't be the last salvo. For his part CEO Elon Musk is trying to go head to head with the establishment fighting for the status quo.
It's a waste of time. He would be better off working on the hyper loop...or a "Mr. Fusion" from Back to the Future fame.
Musk outlined a pathway to a 25% gross margin for Tesla in the coming fiscal year on the recent earnings call. Some have suggested that once sales in China charge up, that figure could grow to 30%. Dream on.
Gross margins of 30% in the auto industry are a fanciful wish that no one in their right mind would expect to last. It's a fact. Car manufacturers collect 6%-9% when selling to their dealer network. The dealer's action when sold to buyers is even less, about a third of that.
Gross margins on trucks are better than those on small sedans. The Model S is not an F-150. It seems doubtful people want the risk of selling a car worth $70,000 for a potential of earning 2-3% on their capital.
That's not a lot of margin. Current dealers can boost profits by customizing cars at at a vehicle assembly plant or at the dealer level, but the room for error is small which is why they don't need a genius billionaire messing with their system.
Many if not most dealership groups own several, if not dozens of dealerships, leaving them diversified across the space with lots of cars to sell overall. Remember that.
A recall at General Motors (GM) - Get General Motors Company (GM) Report?, No problem, people head over to the Ford (F) - Get Ford Motor Company Report dealer and pick up the slack. Ownership could not care less. It all goes into one big pocket.

These dealer groups are family owned, likely for generations. Their connections are vast and their pockets are deep. It's a battle that can't be won by anyone, even Musk.
The only reason Tesla showrooms have survived to this point is because Musk had yet to prove the concept. It's proven now. Folks who can afford the Model S love it. It's a threat. You take threats out before they take you out. Such is the Jersey way and others will follow suit.
Could Tesla adopt a dealer model? Sure. There's just one catch. You need inventory to have a dealer. Tesla currently has one model. Imagine your local Ford dealer selling only the Fusion. Not a lot to discuss or haggle over right? Any used models around? Nope. It won't work.
A safe estimate to open a Tesla dealership with one model is probably in the range of $10 million when considering real estate acquisition, overhead and inventory.
Do you know a lot of people ready to invest $10 million looking for a 1%-3% return? Car sales is a volume business and there's not enough volume in Teslas to make it worthwhile. Period.
However, if Tesla is a growth technology stock that may redefine the electrical grid in the country, there's really no price not worth paying. But are you convinced of that?
If indeed Tesla is merely a car manufacturer, well, buckle up because it's about to become a real bumpy ride.
At the time of publication the author is long F.
This article represents the opinion of a contributor and not necessarily that of TheStreet or its editorial staff.