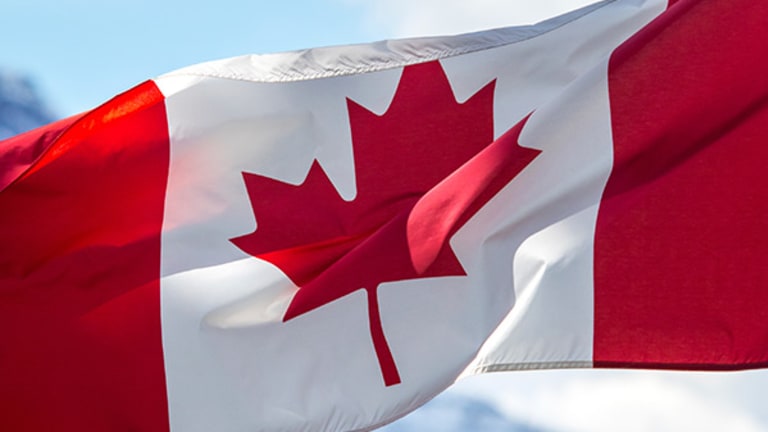 Publish date:
Can't Find a Safe Bank Stock With a Fat, Sustainable Dividend? Look North!
As bank stocks seesaw amid plunging energy prices, we've found a stable Canadian bank that's a cash cow and will see its stock soar this year.
As bank stocks seesaw amid plunging energy prices, we've found a stable Canadian bank that's a cash cow and will see its stock soar this year.
O Canada, you get so little respect from investors. Americans almost consider this vast, English-speaking country as a 51st state, which helps explain why Wall Street tends to give short shrift to Canada-based stocks. But the Great White North has given us more than Sen. Ted Cruz (R., Texas) and William Shatner. It's home to some of the best investment opportunities in the world right now.
With energy prices in long-term decline and volatility gripping U.S. equities, you should look for hidden gems in regions that investors often ignore. North of the border, we've found a bank with a solid balance sheet, growing earnings and a fat dividend: Bank of Nova Scotia (BNS) - Get Report , also called Scotiabank.
With a market cap of $46.3 billion and headquartered in Toronto, Bank of Nova Scotia enjoys a global diversification that gives it an advantage over many of its peers. The bank offers a wide range of products and services, including retail, commercial, corporate and investment banking to more than 21 million customers in more than 55 countries.
On Tuesday, March 1, the bank plans to report results for its first fiscal quarter, which concluded at the end of January. Scotiabank's stock could gain as much as 33% this year, according to Wall Street analysts, and right now it delivers a dividend yield of more than 5%.
More than ever, you should stick to high-quality stocks that are in growth mode but also boast inherent strengths that should hold them in good stead if the market stumbles badly this year. Bank of Nova Scotia fits the bill.
In Canada, prudent financial governance combined with sensible regulatory oversight has spawned a growing but stable economy. Specifically, the country's banking sector emerged relatively unscathed from the damage that still plagues many American banks ever since the bad old days that precipitated the 2008 global financial crisis.
When Scotiabank reports operating results on Tuesday, the consensus estimate is for adjusted earnings per share of C$1.42 and revenue of C$6.27 billion. (The company reports results in Canadian dollars.) The reported EPS for the same quarter a year earlier was C$1.36. The expected 4.4% increase in adjusted EPS is a comparative sign of strength, considering the global banking sector's woes lately as it grapples with plunging oil and gas prices and bad loans in the energy patch. U.S. shale producers are in particularly rough shape, with many of them expected to go belly-up this year.
Scotiabank's strategic decision to focus on Latin America and its rising ranks of middle class consumers has been paying off. Year to date, the Financial Select Sector SPDR is down 12%, and the S&P 500 is down 5.4%, whereas Scotiabank's stock is down only 3.1%.
Scotiabank (Canada's third-largest lender by assets) is coming off a solid year. The bank in December reported full-year fiscal 2015 earnings of C$7.21 billion. Although that was lower than the C$7.29 billion the bank reported for the previous year, adjusted EPS of C$5.67 for fiscal 2015 was up 4.4% from C$5.43 in fiscal 2014. In fiscal 2015, the company enjoyed record earnings for its international business and robust loan growth overall. Scotiabank is among a group of "momentum stocks" poised to beat the bear in 2016.
The large scope of Scotiabank's international operations provides it with exposure to some of the more durable emerging markets in Latin America, particularly Peru and Colombia, without the excessive exposure to Asian countries that are weighing on the balance sheets of other big banks.
This month, Bank of Nova Scotia closed a deal valued at $360 million to acquire Citigroup's consumer and commercial banking operations in Costa Rica and Panama. These acquisitions will roughly triple Scotiabank's customer base in those countries.
And yet, investors aren't giving Scotiabank its due, which spells opportunity for you (in a choppy stock market increasingly bereft of appealing choices). The stock's trailing-12-month price-to-earnings ratio is only 9.5, compared with the average trailing P/E of 12.13 for its peers. 
The bank's NYSE-listed shares now trading at $39.21, and the median 12-month price target from analysts covering the stock is $48.86, suggesting shares could gain nearly 25% in the next year. The highest price target is $52.23, suggesting a gain of 33%. The company's debt-to-equity ratio is 0.12, low compared to the average of 2.56 for the financial services industry and considerably lower than troubled banks that pursued overly aggressive expansion, such as Credit Suisse Group at 4.64.
In addition to its growth prospects, Bank of Nova Scotia's dividend is robust and sustainable. With a dividend yield of 5.2%, Scotiabank should also appeal to income investors.
As we've just explained, Scotiabank is a compelling dividend stock right now. And in these days of 1% CDs, it's tough to find a yield worth getting excited about. But did you know you could be investing in a publicly traded, perfectly legal investment loaded with tax breaks and delivering safe, out-of-this-world yields? I'm talking about cash cows that yield 8%, 9% and 10%. Find out how you could be getting high yields, explosive growth AND tax-free income today. Click here to learn more.
John Persinos is editorial manager and investment analyst at Investing Daily. At the time of publication, the author held no positions in the stocks mentioned.