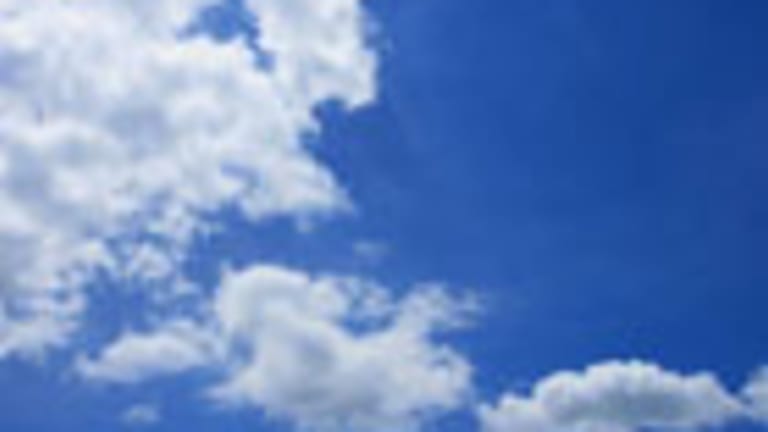 Can Salesforce and Workday Reclaim Their Cloud Dominance in 2015?
Although both Salesforce and Workday have strong positions in the cloud, their growth is slowing, and the competition is catching up, not a good combination for expensive stocks.
NEW YORK (TheStreet) -- With year-to-date gains of just 10.16% and 2.16%, respectively, cloud darlingsSalesforce.com (CRM) - Get salesforce.com, inc. Report and Workday (WDAY) - Get Workday, Inc. (WDAY) Reportwere relative disappointments this year.
Aside from the software companies trailing the 16.02% gain in the iShares North American Tech-Software ETF, both at various points this year lagged the Dow Jones Industrial Average and the S&P 500, which are up 8.91% and 13.01, respectively.
data by
By contrast, both Salesforce and Workday are suffering from slowing growth, the wrong time for that to happen with the competition hot on their heels.
For Salesforce, in the most recent quarter, fiscal third-quarter revenue from subscriptions and support grew 28% year over year. That is eight percentage points slower than last year's growth of 36%.
Likewise, revenue from professional services decelerated from about 50% year over year last year to just 33% year over year in the recent fiscal third quarter.
And if the company's revenue guidance of $6.45 billion to $6.50 billion for fiscal 2016 is any indication, Salesforce expects more growth deceleration.
The guidance fell short of consensus estimates of about $6.52 billion, according to Thomson Reuters.
Still, investors must keep these numbers in proper context.
Although signs of slowing growth have emerged, the company is increasing almost every important metric at impressive rates. The 28% and 33% year-over-year revenue growth in subscriptions and professional services, respectively, shouldn't be taken lightly.
Plus, even the low end of Salesforce's $6.45 billion revenue guidance for fiscal 2016 still suggests year-over-year revenue growth of more than 20%.
All told, this is more of a situation where competitors such as IBM (IBM) - Get International Business Machines (IBM) Report , Microsoft and Oracle have made huge leaps forward in the cloud and less about Salesforce falling backward.
It is more important for investors to focus on Salesforce's profits next year. That will keep its shares climbing.
Unlike in years past, the company has begun to focus more on its bottom line by managing costs to boost operating margins. If Salesforce can continue to expand its non-generally accepted accounting principles operating profits, which rose 47% year over year in the recent quarter, its shares should continue to climb.
To the extent that Salesforce can better balance its research and development costs and continue to increase its profit margins (up from 9.72% last year to 10.61%), Wall Street will pay less attention to revenue deceleration. And at about $60, the stock has a high analyst 12-month price target of $81, which suggests gains of 35%.
For similar reasons, shares of Workday, which specializes in software-as-a-service, have languished while other software stocks thrived. At about $84, the stock is trading almost 30% below its 52-week high of about $116.
The biggest problem for Workday is that the the company makes no money. In the most recent quarter, the operating loss reached $51.5 million, 27% wider than last year's loss of about $40 million.
Still, Workday is posting incredible revenue numbers, including a 68% year-over-year jump in its third quarter, announced Nov. 24.
This suggests that Workday is possibly taking share from Salesforce and bigger rivals such as IBM and SAP (SAP) - Get SAP SE Sponsored ADR Report .
Like Salesforce, however, Workday's revenue has begun to slow, from revenue growth of 74% in the May quarter and down from 76% in the third quarter of 2013. This means that Workday must also focus more on its profitability to get investors excited again about its stock.
Although the company can continue to increase its top line at an impressive rate for several more years, the current rate of GAAP operating loss (above 20%) suggests that Workday won't be profitable for several more years. And though the stock still has a high analyst 12-month target of $121, suggesting gains of more than 42%, investors will be paying too much for that growth as fiscal 2016 estimates project a loss of 20 cents a share.
All told, though both Salesforce and Workday have strong positions in the cloud, the competition is catching up, and their respective growth is slowing, which isn't a good combination for expensive stocks. Although Salesforce looks poised to perform better in 2015 than it did this year, Workday will continue to underperform, given the pace of its profit losses.
This article is commentary by an independent contributor. At the time of publication, the author held no positions in the stocks mentioned.