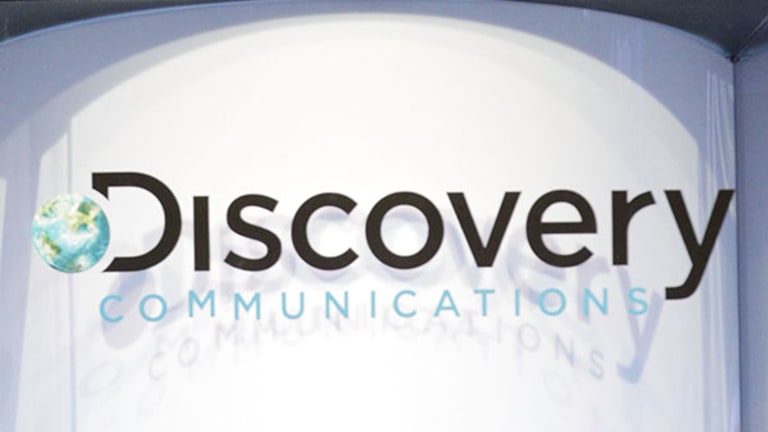 NEW YORK (The Street) -- A new boss is in at Discovery Channel -- part of Discovery Communications' (DISCA) - Get Discovery, Inc. Class A Report  mission to win back viewers -- but it's a tough time for many broadcasters as audiences explore other entertainment options. 
Rich Ross started his job as president of Discovery Channel this month, promising to end the man-eating snake stunts and documentaries about mermaids. But can a renewed focus on science help Discovery rekindle its chemistry with viewers?
"Clearly something is not working," says Vasily Karasyov, research analyst with brokerage Stern Agee. "The ratings have been pretty bad at Discovery, Animal Planet, TLC, which are [Discovery Communications'] three biggest channels."
He rates the company neutral and lowered his estimates recently. Based on his research report, Karasyov believes ratings at those three channels could take up to five months to stabilize.
As of Friday's close at $29.42, Discovery Communications shares have lost about 28% since last August's stock split. On Aug. 7, post-split, shares traded at $40.97.
Across the cable television landscape, broadcasters are feeling ratings pressure,  Jefferies analyst John Janedis said. For reality-show heavy Discovery Communications, that means some reinvestment in its largest channel while figuring out how to deal with an audience more interested in scripted shows.
"With the market looking more towards back-end opportunities, whether it be Netflix (NFLX) - Get Netflix, Inc. (NFLX) Report , Amazon  (AMZN) - Get Amazon.com, Inc. Report , or other networks, reality programming doesn't play as well," Janedis says.
It's not just about cutting the cord with online shows. The common denominator in content on Netflix, said Janedis, is scripted programming, whether it's original or rebroadcast.
So with dramas and comedies on the rise, it remains to be seen how Discovery Communications reacts to this trend.
"They need a couple of big hits to drive more viewers to [Discovery Channel] to then cross promote other shows," said Janedis.
For a channel that was built on shows about science and history, if there is a move toward scripted programming, it could come with some risk, Janedis noted. "They've got to make sure it's high-quality," he said, adding that, "They also have to make sure that it's on point with Discovery's existing stuff."
There are some differing perspectives on what is affecting Discovery, though.
There has been a bit of an irregular flux of advertising revenue shifting to the Web from television, according to Brian Wieser, Pivotal Research Group analyst. "On the margins, there are going to be advertisers who allocate some of their budgets which would have gone to TV to digital," he said.
Though Discovery's ad revenue may be down, Wieser disagreed with the narrative that a direct switch to online ads is hitting the television industry. "It is a cyclical elemental, much more than a secular one," he said.
Moreover, 2013 was a very strong year -- maybe an aberration -- for advertising, with online and television markets outperforming his forecasts by several percentage points. That may have pushed ad revenue expectations for 2014 higher.
Discovery Communications operates 13 cable channels in the U.S., but with viewership down at its three mainstays, it's not hard to see why new leadership was brought in at Discovery Channel.
Ross's pedigree includes time as chairman of Disney's  (DIS) - Get Walt Disney Company Report  Walt Disney Studios and president of the Disney Channel.
Pressure is on Ross to turn things around at Discovery Channel, which could flow into the financials for the overall company.
Obviously something must change, but it's hard to say if Ross's plans will be enough to lift Discovery Communications.
"No one comes in and says 'I am going to do things that will drive ratings down,'" Karasyov said.