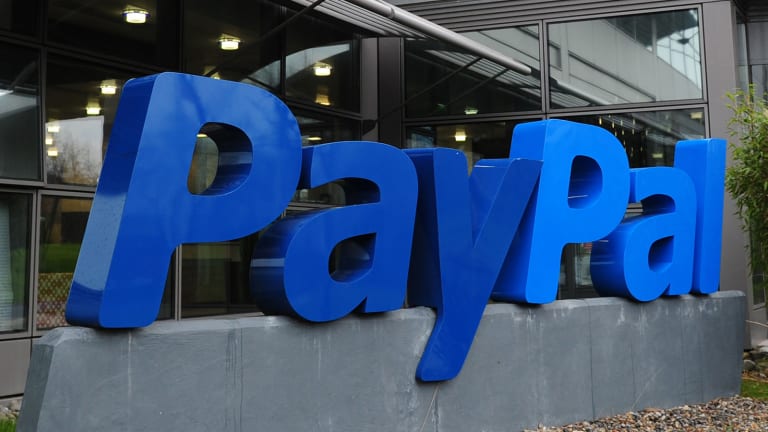 Can PayPal Survive Apple's Onslaught?
The market may have overreacted to the new competition between the two.
The fast-moving world of high-tech moved even faster this week as Apple (AAPL) - Get Apple Inc. Report rolled out several new products and services. And one may pose a threat to San Jose, Cal.-based PayPal (PYPL) - Get PayPal Holdings Inc. Report , which has been doing very well for the last few years. Now that it is facing a challenge from the biggest tech behemoth of them all, can the smaller company survive?
At Apple's new product announcement earlier this week, the tech giant said that its ApplePay service, which lets shoppers complete a purchase on mobile apps with their fingerprint rather than by entering credit card details, is expanding to websites later this year. The goal is to get customers familiar with the expanded process in time for the 2016 holiday shopping season.
Many users of Apple devices are already familiar with the company's Wallet feature that stores boarding passes, tickets, rewards cards, and more. Apple Pay can store credit cards, debit cards, and other payment options in the same place. Apple Pay also lets shoppers complete a purchase on mobile apps with their fingerprint rather than by entering credit card details.
The service will be available using Apple's Safari browser on models of iPhones and iPads that possess Apple's TouchID fingerprint technology, sources told the publication.
Some analysts responded with an immediate call to sell PayPal stock. As a result, PayPal fell more than 8% in just three days.
This will be the first real overlap between Apple Pay and PayPal. One analyst estimates that more than 20% of PayPal's total payments volume in 2015 was conducted on iPhone/Apple operating system mobile devices.
Apple Pay may also introduce peer-to-peer payments this year, potentially competing with PayPal's Venmo service.
But millions of mobile-device users are already familiar with PayPal, which could give it a significant first-mover advantage. The firm has been around since 1998 and many consumers are happy with it. Apple Pay's in-app feature has not had a noticeable impact on PayPal to date.
Of course, even if the new system does make significant inroads on PayPal's market reach with Apple users, there is still a lucrative market out there consisting of Android device users. A majority of smart-phone users in the United States actually use Android-based systems that were developed by Alphabet's Google, although Apple has an advantage with younger users.
PayPal's recent update to its order-ahead function -- which allows customers to have their orders ready and paid for when they arrive at the store -- is helping in the race for digital wallet customers, the company maintains.
PayPal's decision to overhaul its mobile app originated from feedback gathered from over 8,000 customer service reps. The company's new app features a cleaner, more modern color scheme, iconography, fonts, and layout with simplified user navigation.
While the new competition from Apple does pose a substantial challenge for PayPal, its established position in the marketplace and its continuing dominance on Android systems should allow it to thrive. If you already own it, this would be the wrong time to sell, and you may want to use the downturn to increase your position. We think PayPal remains in the vanguard of technology innovators.
You see Jim Cramer on TV. Now, see where he invests his money and why Apple and PayPal stock are core holdings of his multimillion-dollar portfolio. Want to be alerted before Jim Cramer buys or sells AAPL or PYPL? Learn more now.
Being a contrarian is one of the most important elements of successful investing, and nowhere is that more true than in the technology sector. One little-known company is about to revolutionize how data is stored and transmitted, and you can read all about it in this special report.
This article is commentary by an independent contributor. At the time of publication, the author held no positions in the stocks mentioned.