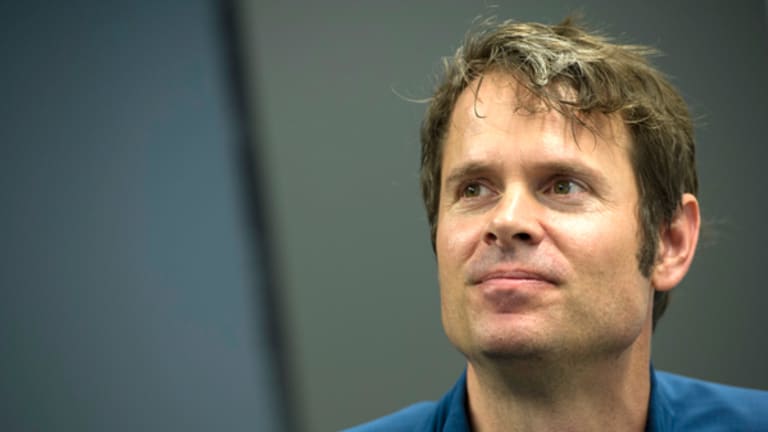 Can Pandora Hit $40 a Share?
There's an arrogance at Pandora, not to be confused with focus, that investors need to keep an eye on.
NEW YORK (TheStreet) -- It's funny. Back when it felt like everybody hated Pandora (P) , I was the stock's biggest bull. No matter how many times Apple (AAPL) - Get Apple Inc. (AAPL) Report was rumored (and then confirmed) to have a "Pandora Killer," I urged calm. This meant getting behind the company, and often the stock, after some scary plunges and lows in the single digits.
That's called conviction.
But you don't just pull conviction out of the air. You do the work. You apply rigor to your analysis. You talk to key people about the business. As a result, you can be relatively confident going against consensus. Sometimes you end up wrong despite the hard work, but, often, you come out vindicated.
These Wall Street analysts waxing bullish on Pandora's business model and mobile advertising revenue potential report the story once it becomes obvious, not when it actually took digging and the application of savvy, smarts and work ethic.
In any event, it often happens this way. Once almost every last person jumps on the bandwagon, I'm looking around to make sure I know where the emergency exits are. That's not to say, I'm down on Pandora, but there's no better time than the present to question the bullish thesis I have articulated since before Pandora bulls even existed.
However, this drivel from Paul La Monica of
CNN/Money
hardly qualifies as serious analysis of Pandora's future:
He uses the verifiably false anecdote that
nobody uses Pandora anymore
(they're all on
Spotify
), an unentertaining bit about Jack Johnson and the standard Pandora trades at 375,000 times 2035 earnings to argue the stock has gotten ahead of itself. Or something like that.
Do I have really have to even cite Pandora and Spotify subscriber numbers
or
explain how the Music Genome Project and pure-play Internet radio works
or
go over how meaningless valuation metrics have become?
I thought
TheStreet's
Chris Ciaccia
did a nice job answering the question Can Pandora hit $40?
Nothing would surprise him with this mobile Web stock. Same here. Sometimes the simple, non-quantitative answer is just the best one.
As Ciaccia noted, people have finally caught on to the notion that local advertising is a windfall for companies such as Pandora and
Yelp
. And that Spotify and even Apple's
iTunes Radio
are complementary to Pandora.
One thing we don't hear about often enough is Pandora's scale.
That's what La Monica failed to mention. And it's a large part of what makes his argument and the leftover Pandora bears' arguments so weak.
Pandora has achieved massive scale. No other Internet radio player -- regardless of delivery style -- comes close to 71.2 million active listeners. It's that scale that allows Pandora to sell advertising. This is how Pandora makes most of its money with a supplemental bump from Pandora One subscriptions.
You simply cannot sell advertising at the national or local level without scale
and
the ability to effectively target key demographics. Even as Spotify continues to grow impressively, it's doubtful it can achieve the critical mass necessary to sell advertising like Pandora does or put together a high-revenue, profitable subscription business.
While I believe people will pay a monthly fee to access unlimited music, that's the crowded space with equally-as-solid, if not higher quality, easier-to-use services such
Rdio
encroaching. Nobody does pure-play Internet radio like Pandora does. There's a difference between traditional radio as redefined by Pandora and on-demand services.
If you fail to realize these distinctions, you fail to realize the power of Pandora's unique model and first-mover advantage.
Now, with that said, I do sense a bit of -- for want of a better word -- arrogance at Pandora. There's an unfortunate unwillingness at the company to
engage adversaries in the royalty fight, work with competitors such as Spotify
or
partner with small startups
to show the music industrial complex just how data and technology can bring the business into the 21st Century.
People at Pandora might use the word focus in lieu of arrogance. I would respond with
Just because Apple will not "kill" you doesn't mean you're Apple
.
So, as was the case when everybody was skeptical and I was certain Pandora would rise, I'm taking something that vaguely resembles the other side. While I still believe in the company's story and, quite honestly, want it to succeed, it doesn't sit well with me that Pandora appears to be standing still. It needs to evolve and innovate more now than ever -- during this time of unprecedented success -- because, as the PC industry and
Blackberry
undefined
have taught us, you can't count on scale forever.
--
Written by Rocco Pendola in Santa Monica, Calif.
Rocco Pendola is
TheStreet's
Director of Social Media. Pendola's daily contributions to
TheStreet
frequently appear on
CNBC
and at various top online properties, such as
Forbes
.