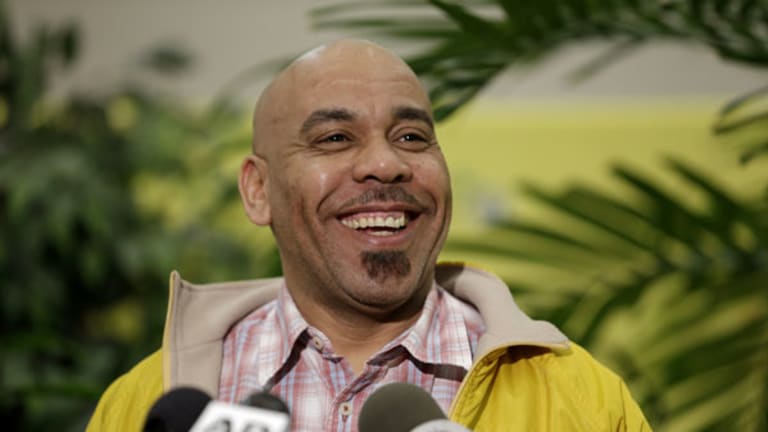 Can Our Newest Millionaire Handle the Job?
Pedro Quezada will take home roughly $152 million after taxes thanks to Powerball. His responsibilities are only beginning.
NEW YORK (TheStreet) -- "When I grow up, I want to be a millionaire." Everyone says this while they're young. In fact, applications to become a millionaire are being filled out every day. However, not everyone can handle the job.
Ask all of those broke athletes who are still playing a sport when they have long passed their retirement age -- risking long-term injury because their $5 million mansion is in foreclosure.
I suppose you can say Pedro Quezada was just "hired" after he, a 45-year-old bodega worker, cashed in a
, the fourth-largest Powerball payout in the lottery game's history.
Also see: Oracle Smokes Out Cloud M&A Hopes >>
According to New Jersey state officials, Quezada will take home roughly $152 million after taxes, which is still quite a bit of money. However, the money is only part of the job. It's a responsibility that very few are ever prepared to handle.
Here's the problem: Quezada's new wealth has also brought him many new responsibilities. Holding the job of millionaire requires more skill sets than what your bank account says. He's going to have to become a politician, a philanthropist, home builder, scholarship funder, wedding planner and, of course, a bank.
Essentially, even millionaires have to abide by the "other duties as assigned" restriction. These are just a few responsibilities that his family members will give him. Whether Quezada realizes this or not, his family is now the boss. They are the ones who will determine how long he holds his millionaire job.
However, to preserve his wealth, he needs to become a corporation. If Quezada is lucky enough to escape the grips of his family, there are still federal and legal battles to deal with. I'm no expert on millionaires, but I've studied large corporations pretty well.
Home economics and the internal operations of large corporations are not that different. No offense to Quezada, but while he seems like a nice guy I don't think he has an MBA. This is the same issue that has plagued broke athletes whose first real understanding of money came from an agent -- not exactly an upstanding industry.
In that regard, I would advise Quezada to immediately hire a tax attorney and a licensed financial planner. This is how he should first build his "corporation." He should ignore the unsolicited opinions of everyone else, and there will be plenty. A good licensed CPA, like a great CFO, can make or break any company. This is what Quezada must realize.
For now, I would congratulate Quezada on his new "gig." It remains to be seen, however, how long his tenure under his millionaire title will last. Statistics show that previous winners get fired at an alarming rate. Infractions include gross incompetence, or this case, fiscal negligence.
Also see: Apple Just Released Another 'Cheap iPhone' >>
That's why millionaires often need so much more than what they have. The fear of losing their wealth is often a bigger burden than not having the money at all. "More money, more problems." While it's sometimes true, Quezada will tell you it's at least better than the alternative.
Let's hope he keeps the "job."
Follow @saintssense
This article was written by an independent contributor, separate from TheStreet's regular news coverage.
Richard Saintvilus is a private investor with an information technology and engineering background and has been investing and trading for over 15 years. He employs conservative strategies in assessing equities and appraising value while minimizing downside risk. His decisions are based in part on management, growth prospects, return on equity and price-to-earnings as well as macroeconomic factors. He is an investor who seeks opportunities whether on the long or short side and believes in changing positions as information changes.