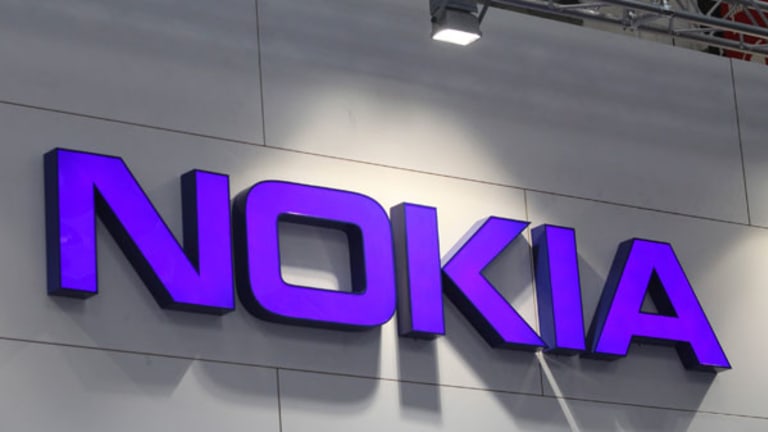 Can Nokia Answer Higher Profits Calls After Hanging Up Phones?
Nokia doesn't need a miracle. It just needs profits.
NEW YORK (TheStreet) -- With Nokia (NOK) - Get Nokia Oyj Report stock down nearly 40% over the last five years, investors wanted a reason to believe in management's long-term commitment to reinvent the company.
Leading up to its second-quarter earnings results Thursday there were questions whether Nokia made the right decision to exit its handset business. Apple (AAPL) - Get Apple Inc. Report and Samsung (SSNLF) left it no choice. But by beating analysts' profit revenue and estimates and offering a rosier-than-expected outlook, Nokia answered the call.
Shares are trading around $8, up 1.4% for the year to date. Investors want to know to what extent can management complete this transformation and become a network-focused company. More important, will it be profitable?
Nokia is no longer Wall Street's punching bag. The company now has a more attractive business -- one that is easier to understand. But the stock's no longer cheap. Shares are trading at their 52-week high. At a price/earnings ratio of 27, investors need to be more careful. Even on next year's estimates of 39 cents per share, these shares are still expensive at a P/E of 21.
With second-quarter profits rising 20% year over year, investors don't care. But things are not as they seem. This quarter had a lot of moving parts that won't be duplicated.
Revenue of 2.94 billion euro ($3.99 billion) topped Wall Street's expectations of 2.93 billion euro ($3.94 billion). Although this represented a 7% year-over-year decline, it also reflected 10% sequential jump.
Investors understood the 7% decline was due to the company's new focus towards its network business, following the sale of its Devices & Services group to Microsoft (MSFT) - Get Microsoft Corporation Report. This means the network business now accounts for 87% of Nokia's total revenue. And this is where investors have to understand the risk/reward tradeoff in Nokia's stock.
First, it was never a matter of "if" Nokia would exit its handset business, it was a matter of "when." Management understood it was their best chance for long-term survival. Microsoft, which bought the handset business for $7.2 billion, was the clear and obvious choice.
But with the network segment now accounting for close to 90% of its business, Nokia must execute to perfection to keep its head above water. It can't afford anymore bad quarters. It's either that or it has to become better diversified.

Second, the network segment just posted a 8% year-over-year decline with operating margin shedding 80 basis points year over year to 11%. Combine this with the 19% revenue decline in its higher-margin Global Services business, which also posted a 80-basis-point operating margin decline, and it's tough to be bullish long term on Nokia's stock.
During the conference call Thursday, management said it can turn the network segment around and deliver year-over-year growth sometime in the second half of this year. That's all well and good. The question is with the persistent declines in operating margins, which suggests lack of network profits.
The good news is, Nokia is no longer strapped for cash thanks to the Microsoft deal. Revenue growth alone, however, is not enough to push these shares higher.
It was at this time last year Nokia bought the remaining portion of its joint venture with Siemens (SI) - Get Silvergate Capital Corp. Class A Report called Nokia Siemens Network. Management had (then) just begun devoting its attention to that business. This means Nokia is approaching a couple of quarters of easier comps.
In other words, Nokia's 2013 network revenue were low enough that it should have no problems exceeding them. It doesn't need a miracle. It just needs profits.
At the time of publication, the author was long AAPL.
This article represents the opinion of a contributor and not necessarily that of TheStreet or its editorial staff.