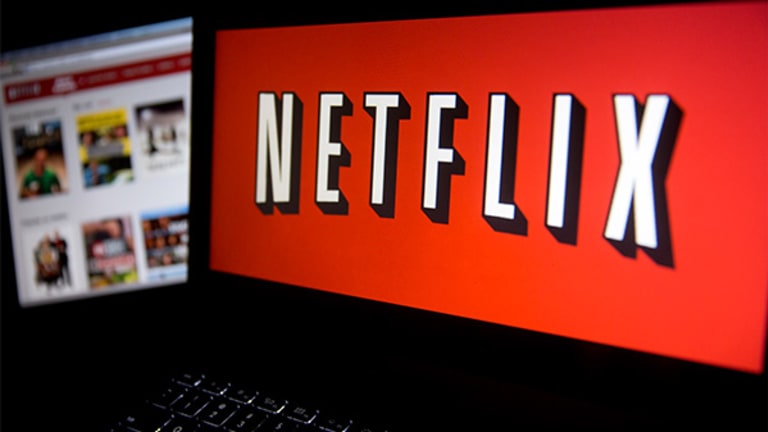 Can Netflix Shares Go Much Higher Amid Soaring Programming Costs?
While shares of the online streaming company soared on better-than-expected subscriber growth, analysts are divided as to whether big spends on original content will eventually send it lower.
NEW YORK (TheStreet) -- Can Netflix (NFLX) - Get Netflix, Inc. Report go much higher?
Netflix surged to an all-time high of $568.75 this week, extending its 2015 advance to a gain of 65%, or nearly a 50-fold increase over the past ten years. Investors continue to buy Netflix shares after the video-streaming service reported subscriber growth in the first quarter that far exceeded Wall Street's estimates. Total subscriptions surpassed 62 million as Netflix added even more users internationally than in the U.S.
The addition of more than five million new subscribers in the quarter overshadowed Netflix's spending on original content, which along with the strong dollar, was blamed for lower-than-expected net income. The miss on earnings has some on Wall Street worried that the rising cost of high-quality television programming, such as  House of Cards and Orange Is the New Black, is likely to continue to drag down profits.
Shahid Khan, chairman of the media monitoring firm Mediamorph, argues that Netflix could be at a pivotal moment as Time Warner (TWX) steps up its marketing of HBO's standalone service HBO NOW, and Appleundefined, Sony (SNE) - Get Sony Corp. Report, DISH Networks (DISH) - Get DISH Network Corporation Class A Report and others roll-out their Internet TV offerings. 
"While Netflix blames unfavorable exchange rates for the profits dip, I think that the increased content costs also play a role and will continue to do so," Khan said, adding that he is still optimistic about the company's prospects.
Netflix is currently committed to $9.8 billion in licensed and original programming, a 30% increase from last year. It issued $1.5 billion in debt last month to fund the creation and acquisition of original content, which has become more expensive as Amazon (AMZN) - Get Amazon.com, Inc. Report, Comcast (CMCSA) - Get Comcast Corporation Class A Report, Fox (FOX) - Get Fox Corporation Class B Report and Disney's (DIS) - Get Walt Disney Company Report joint venture Hulu Plus, aggressively bid on top-flight programming.
Netflix has already paid a reported hefty $12 million for indie film Beast of No Nation, while critical flop Marco Polo cost around $10 million per episode.
Investor opinion, though, is divided on how much higher Netflix can go. Will its trajectory continue to mirror -- or exceed -- Apple or Google (GOOG) - Get Alphabet Inc. Class C Report (GOOGL) - Get Alphabet Inc. Class A Report by growing its subscriber base, or will cash flow issues bring the company back down to earth?
Few analysts are more bullish on Netflix than FBR Capital Market's media analyst Barton Crockett, who raised his price target on the company to $900 a share, predicting that total subscriptions will triple by 2020. The core of Crockett's optimism stems from consumers' favorable use of the service.
"Domestic Netflix subscribers -- nearly 40% of TV households in the U.S. -- love the service more than TV," Crockett wrote, adding that surveys showed more than half of Netflix users would choose it over traditional television.
Similarly, Cowen & Co. analyst David Seaburg said the stock can go higher as the company expands to 200 countries by the end of 2016 from a current number of 50. 
"There's a big growth opportunity here," Seaburg told CNBC. "I think it's being valued wrong. You can make the argument that they're valuing this company like a traditional media company. It's growing much faster than a traditional media company. ...If you want to value it like a tech company it's cheap."
But there's also a contingent of Netflix observers pricing the shares near or below $250 because of its negative cash flow. Adding to the more measured outlook is speculation that Netflix may have to raise its $8 monthly subscription fee to shore up profitability, inviting lower-priced competition.
Free cash flow totaled a negative $163 million in the first quarter, largely due to investment in original content, Netflix said. That's up from a negative $78 million in free cash flow in the fourth quarter and a positive $8 million in cash flow from the first quarter last year.
"At some point, the market stops being a voting machine and becomes a weighing machine, and they're not going to find any cash flows to weigh at Netflix," New Constructs CEO David Trainer told CNBC. "I think there's too much risk here to make a rational argument for owning at this price."
This article is commentary by an independent contributor. At the time of publication, the author held no positions in the stocks mentioned.