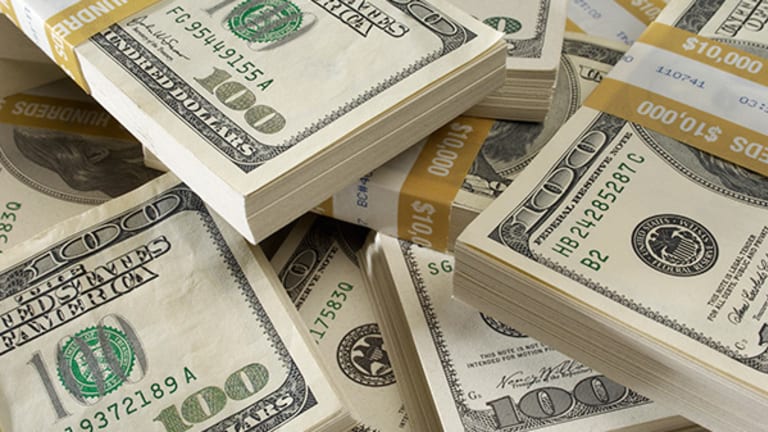 Publish date:
Can Billionaire John Paulson Bounce Back With Health Care?
Billionaire investor John Paulson's portfolio took a beating in 2014. A look at his equities holdings reveals why.
Billionaire investor John Paulson's portfolio took a beating in 2014. A look at his equities holdings reveals why.
NEW YORK (TheStreet) -- After turning in a stellar performance in 2013, billionaire investor John Paulson's portfolio took a turn for the worse in 2014. With investments in health care and pharmaceuticals, can he turn it around in 2015?
Paulson & Co., which oversees about $19 billion in assets, turned in mixed results in 2014. The Paulson Recovery Fund ended November down 15% for the year, and reports indicate it is now undergoing a makeover, including a name change to the Paulson Special Situations Fund and a shift in focus to opportunities in Europe and corporate events. Over the weekend, Bloomberg reported the Paulson Advantage Plus Fund fell 36% last year, and the Paulson Partners Fund ended the year up just 0.8%.
In its entirety, Paulson's portfolio turned in a mediocre performance 2014. The total return of his public equity holdings (devised from 13F filings from the SEC) was just 2.77%. By comparison, the S&P 500 returned double digits last year.
So what's been weighing Paulson's investments down?
Of the 46 stocks the billionaire owned from the start of 2014 through at least the end of the third quarter, 20 ended the year in the red. Allied Nevada Gold (ANV) , Kamada Ltd. (KMDA) - Get Report and Novacopper (NCQ) were his worst performing picks, their prices declining 74.45%, 67.76% and 64.79%, respectively.
Unsurprisingly, energy was an especially sore spot for Paulson in 2014. Comprising over 8% of his public equity portfolio as of the end of the third quarter, Kodiak Oil & Gas Corp. (KOG) , Cobalt International Energy (CIE) , Whiting Pete Corp. (WLL) - Get Report and Oasis Petroleum (OAS) - Get Report lost an average of 50% last year.
Also tough: telecommunications. Paulson holding T-Mobile (TMUS) - Get Report , Vodafone (VOD) - Get Report and Sprint (S) - Get Report tumbled 19.92%, 30.40% and 61.40% in 2014, respectively.
That's not to say it's been all bad news for the billionaire in recent months. One sector benefiting Paulson lately is health care -- which also happens to be among his favorites. In fact, as of his most recently regulatory filing, it is the most heavily weighted sector within his holdings.
Paulson was stung when a potential merger between AbbVie (ABBV) - Get Report and Shire (SHPG) - Get Reportfell through in the fall, though the consequences weren't as dire as they seem. Shire, which has a nearly 10% allocation in Paulson's portfolio, still managed a 50.43% return in 2014, and AbbVie climbed 13.30% during the fourth quarter.
In fact, all of the nine health care stocks John Paulson added to his portfolio during 2014 (including AbbVie) performed well during the fourth quarter of the year - the list includes Allergan (AGN) - Get Report (up 19.31%), Valeant (VRX) (9.08%) and Vanda Pharmaceuticals (VNDA) - Get Report (37.96%).
Two of the aforementioned companies (Allergan and Valeant) point to another major pillar of Paulson's investment strategy: booking gains on mergers and acquisitions.
Last July, Paulson said he expects high levels of corporate merger and acquisition activity to "continue for the foreseeable future." And for the year ahead, he is stacking his chips accordingly. His predictions may already be proving true, as financial activity is already heating up in the pharmaceutical sector. 
The billionaire stands to gain from what could potentially be some of the biggest M&A deals of 2015. More than 4% of his portfolio is allocated to Time Warner Cable (TWC) , which, pending the FCC's approval, will be bought out by Comcast (CMCSA) - Get Report this year.
His 1.5% Verizon (VZ) - Get Report allocation could prove profitable given the communications giant's recent overtures to AOL (AOL) . The billionaire also has a sizable stake in Family Dollar (FDO) as well of one of its acquisition suitors, Dollar General (DG) - Get Report .

This article is commentary by an independent contributor. At the time of publication, the author held no positions in the stocks mentioned.