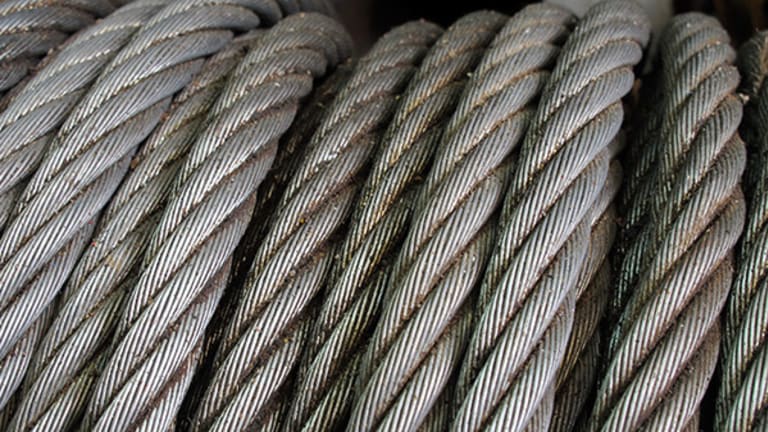 Can Insteel Industries Maintain Its Momentum in 2016?
The continued rise in non-residential construction spending bodes well for Insteel's growth.
With an average daily trading volume of around 79,000 shares during the past three months, concrete steel-making specialist Insteel Industries (IIIN) - Get Report doesn't get a whole lot of attention on the stock market. Not like other commodity-industry darlings like Alcoa (AA) - Get Report , where -- during the past three months -- more than 30 million of its shares on average exchange hands each day.
But in that same three-month span, Insteel investors have seen their wealth surge almost 12%, crushing the 5% decline in the S&P 500 (SPX) index. With Insteel  stock climbing from $15.37 at the beginning of October to its current level of around $20 per share, investors want to know if the company can maintain its growth.
Headquartered in Mount Airy, N.C., Insteel will report first quarter fiscal 2016 earnings results before the opening bell Thursday. For the quarter that ended in December, analysts expect Insteel to earn 35 cents a share, up 59%, on revenue of $103.24 million, down 6.7% from last year. For the full year, ending in September, earnings are projected to be $1.65 a share, up 46%, while revenue of $429.32 million would mark a decline of 4.10%.
Insteel, which competes with prominent steel-making companies likes of Nucor (NUE) - Get Report and U.S.Steel (X) - Get Report , specializes in steel wire reinforcement products -- the type used to build commercial buildings and various public structures, including roads. The company also makes concrete pipes and engineered structural mesh, which are sold to manufacturers to be used in non-residential construction.
But thanks to weak commodity steel prices, which sent the Market Vectors Steel Index ETF Fund (SLX) - Get Report plummeting 45.02% in 2015, revenue has been hard to come by for steel companies. In the case of Insteel, even with its strong stock surge to close out 2015, the shares still ended down 7.22% last year. But 2016 is shaping up to be even better, given the improvements already seen in non-residential construction spending.
And with data from the Associated Builders and Contractors suggesting continued rise in non-residential construction spending, this should bode well for the growth of Insteel, which generates the bulk of its revenue from projects like highways and roads. It also helps that the company already operates a highly profitable business, generating more than $35 million in operating cash flow as of its fiscal fourth quarter, which climbed some 23%.
It's likely for this reason Insteel's stock has a consensus buy rating with an average analysts 12-month price target of $30, implying 53% additional gains from its current level. This would indicate the market expects Insteel's momentum to continue.
This article is commentary by an independent contributor. At the time of publication, the author held no positions in the stocks mentioned.