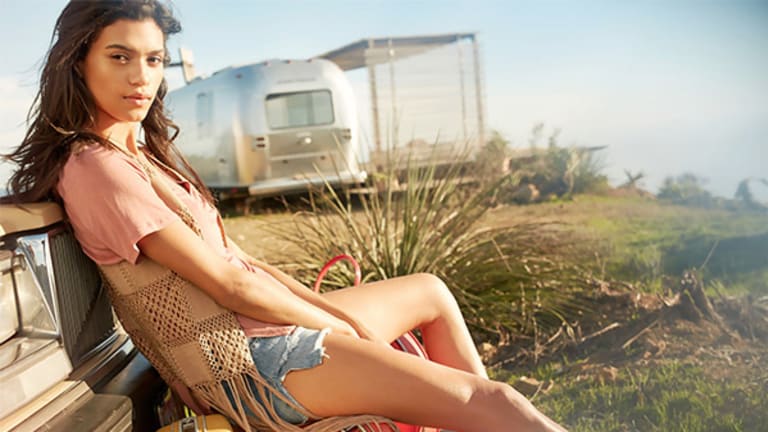 Can Humbled Teen Queen Retailer Wet Seal Pull Off a Comeback?
The once-hot specialty apparel retailer is under new management and is now going after a more sophisticated audience.
Like a once-popular mean girl that's been humbled, Wet Seal, which built its business catering to teen girls, is trying to rise from the ashes.
The company, which emerged from bankruptcy in the summer, is determined to prove to folks that it can be relevant again in what has become a brutally competitive young adult specialty apparel market.
Instead of courting fickle teen girls, Wet Seal is now targeting 18-to-34-year old female customers, swapping out tops and pants that bordered on trashy and replacing them with a return to Wet Seal's roots of selling affordable clothes inspired by the casual cool looks of Southern California. 
Those changes are also reflected in a more sophisticated Wet Seal logo and a newly redesigned website, with a new mobile app on the way as well. The company will also soon begin updating its fleet of 170 stores to get some consistency in their message to consumers, after years of mismanagement and executive turnover led to a hodgepodge of store looks. To top it off, the company just moved into a new headquarters office in California outfitted with ergonomic furniture from West Elm.
"Moving into the new office shook off the bad juju from the old building," said Wet Seal's CEO Melanie Cox in an interview at TheStreet's New York City headquarters. Cox assumed the CEO role when Wet Seal emerged from bankruptcy over the summer. She started her career as a designerat Wet Seal, going on to hold product design roles at Urban Outfitters (URBN) - Get Report .
After leaving Urban Outfitters, Cox served as a consultant to retailers. She was on Wet Seal's board of directors as it went through the bankruptcy process, and provided advice to the executive team. 
Cox arrives following a turbulent run through the bankruptcy process for Wet Seal brought on by years of market share loss to fast fashion retailers such as H&M and Forever 21, as well as preppier names such as Abercrombie & Fitch (ANF) - Get Report and American Eagle Outfitters (AEO) - Get Report .
When private equity firm Versa Capital Management Inc. got the go ahead to buy Wet Seal LLC's assets out of bankruptcy almost a year ago in early April, it paid $7.5 million in cash and assumed $20 million in debt-financing.
Today, Versa -- which also owns retailers such as Avenue, Bob's Stores, and Polartec -- owns a Wet Seal banner with 170 stores and revenue north of $140 million, according to Cox, as well as an e-commerce platform. The company would not disclose any other financial specifics.


Old Wet Seal (top) versus new Wet Seal (bottom).
Cox has moved quickly to instill processes back into the business across marketing and merchandise planning, such as relying more on data to decide which to styles to sell. She has also hired new merchants that are open to embracing the changes the company is undertaking. 
"When you have a gun to your head and are going into bankruptcy you have to make a ton of tough decisions -- when I came in and looked at it, they [the prior team] decimated every area of the business that was customer-facing," explained Cox. According to Cox, there was "no marketing" upon her arrival, "store operations was decimated to the skeletal remains" and the merchandise planning department had been drastically cut.
Cox is not opposed to getting in the trenches to make sure Wet Seal's reset is done correctly. "Refreshing the stores may be even involve me with paint brushes as we are taking the swat-team approach to refresh while we develop the new prototype," she said.
Wet Seal hopes to reverse the trajectory of the last couple of years and, as a result, make a return on Versa's investment.
When Wet Seal filed for bankruptcy in 2015, it had close to $450 million in revenue but negative adjusted earnings before interest, taxes, depreciation and amortization (EBITDA) of almost $60 million for the fiscal year ended Jan. 31, 2015. It operated over 500 stores at the time, according to data provided by Bloomberg.
That was several steps down from one of the retailer's high points, when it had revenue of about $620 million and adjusted EBITDA of nearly $50 million from about 558 stores for the fiscal year ended Jan. 28, 2012.
But since Versa looks to have only sunk in about $7.5 million of its own cash, if it can return Wet Seal to mild profitability on the reduced amount of revenue, the private equity firm could reasonably expect to more than recover its money.
If Wet Seal becomes profitable enough, there is always the option that it could raise debt to fund a dividend payment to Versa. The chain is opening one new store in the coming weeks, but has no plans to aggressively expand.
An exit in two to three years isn't out of the question, with options such as going public or selling itself. Being acquired by another private equity firm or a strategic would be the more likely scenario, though.
But there is no guarantee Wet Seal's new direction brings its fortune.
"You can't underestimate how difficult these turnarounds are -- usually when a business has gone in this direction, there are a lot of things that have gone wrong," concedes Cox.
When asked point blank if Wet Seal has a chance against its fast-fashion rivals, Cox bristles. "Big is the enemy of cool -- I think consumers have gone to these big huge giant [fast fashion] stores and now the small little boutique feels interesting and intimate -- we have the opportunity to capitalize on that."