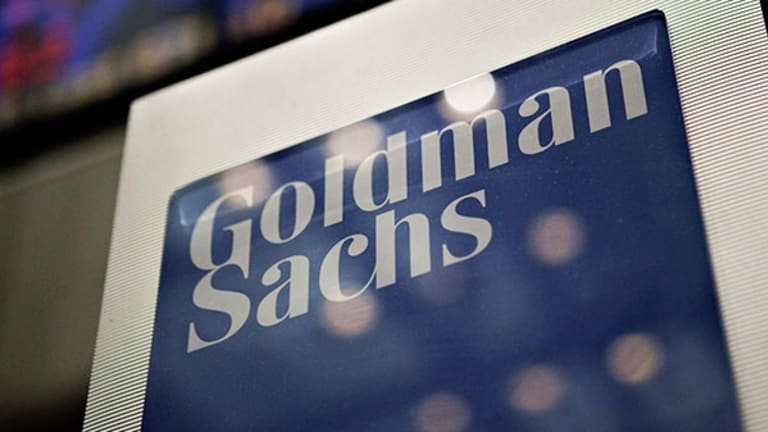 Can Goldman Sachs' Women Make the Cut in 'Extreme Jobs?'
An expert for Goldman Sachs & Co. says it's possible that women don't make as much as the men do because they don't do as well at 'extreme jobs.'
This article was originally posted on TheStreet Foundation Web site.
NEW YORK (TheStreet) -- Could it be that women at Goldman Sachs (GS) - Get Goldman Sachs Group, Inc. Report   just don't have what it takes to be winners at their "extreme jobs?"
That's a question that's come under discussion in the long-running battle between Goldman and three women who sued the firm for sex discrimination in 2010.
Among dozens of briefs and exhibits filed in Manhattan federal court over the past month in the H. Cristina Chen-Oster et al. v. Goldman Sachs case are expert reports and snippets of depositions that ponder whether pay differences between men and women might be related to how tough the job is.
Nope, we haven't time-traveled back to the 1980s and women who wear suits with bowties. This stuff was getting discussed late last year by a big-shot management professor at Purdue University who was hired by Goldman as an expert witness.
"We cannot deny the fact that there are differences between men and women and those differences possibly can show up in extreme jobs like this and it's a very plausible issue," said Purdue professor Michael A. Campion in a Dec. 30, 2013 deposition that hit the court file on Aug. 12. "But I'm not concluding that it's the case or why it's the case or whether it's happening here."
An emergency room nurse in a for-profit hospital is "not normally" performing an "extreme job," Campion said in the deposition. But ER doctors are, he said.
And so are the associates and vice presidents in revenue-producing divisions of Goldman Sachs, Campion testified. That's of importance in the Chen-Oster case because the plaintiffs are seeking to have the court certify them as representatives of a class of 2,300 current and former associates and vice presidents -- aka "extreme" workers -- who say they were discriminated against when it came to pay and promotions at the firm.
In Campion's view, an "extreme" job is one that involves "long work hours, responsibility for profit and loss, a fast pace work environment, events outside of regular work hours and related features common to Goldman Sachs," according to his report. While he testified that he did not have the data to draw a conclusion as to whether women make less because of the demands of an extreme job, he said it is "plausible" and that "it's a consideration that's not minor."
The women's experts have come up with statistics that show statistically significant differences in pay and promotion levels between men and women at Goldman, so the other side needs to come up with some sort of explanation. So why not put the idea out there that maybe women can't cut it in high-demand jobs?
The two sides in the Chen-Oster case recently filed briefs arguing for and against allowing the case to proceed as a class action. An expert for the women said female associates at Goldman are paid 8% less than males and female vice presidents are paid 21% less. The women's expert also said that 23% fewer female vice presidents were promoted to managing director than their male counterparts.
Goldman said in a brief dated July 4 and added to the court docket on July 25 that those statistics were "essentially meaningless."
Goldman's experts crunched the numbers differently, examining smaller groups of employees and concluding that compensation differences were "insignificant or favorable" for female associates in 90% of the business units and for female vice presidents in 76% of the business units.
In a brief dated July 29, the women's lawyers said that Goldman's slicing and dicing of the data "all but guarantees that the results are not statistically significant" because it produces data cells "too small to analyze."
Goldman argues in its court filings that it's wrong to consider pay differences among associates and vice presidents at all, given the range of jobs an associate or vice president could be doing among the company's 140 business units. An associate or vice president could be working on mergers and acquisitions in the health care industry, or trading petroleum futures or structuring financial derivatives, among other assignments, according to Goldman. Thus, the firm argues that pay and promotion assessments should be made by business unit -- not job title.
The plaintiffs don't buy that idea. David L. Yermack, a finance professor at New York University's Stern School of Business hired by the women, said in a report dated Jan. 28, 2014 that no matter what business unit an entry-level associate works in, he or she needs "strong knowledge of financial statement analysis, discount rates and the time value of money, risk measurement, compounding and the like."
At the levels of associate and vice president -- the two job categories the plaintiffs are trying to represent in a class action -- "most staff have a common set of skills," Yermack wrote.
As for the question of whether those associates and vice presidents have the talent to make the cut at an "extreme" Goldman job, one expert for the plaintiffs put it this way in a July 25 report. "Dr. Campion completely ignores the self-selection of the population of women who choose to apply for and work at Goldman Sachs" wrote Wayne Cascio, who holds the Robert H. Reynolds Chair in Global Leadership at the University of Colorado Denver.
In other words, mediocre talent would be smart enough to know better than to pitch for one of Goldman's "extreme" jobs. Even if they were mediocre women.
Susan Antilla is an award-winning journalist and the Founding Fellow of TheStreet Foundation, a nonprofit organization with the goal of supporting and expanding financial literacy for consumers through investigative journalism and custom research on high-impact financial topics. She has been a financial journalist for 30 years, writing for The New York Times, USA Today and Bloomberg View, among others. Antilla is author of Tales From the Boom-Boom Room, the 2002 book that exposed a culture of sexual harassment at financial companies. She received a bachelor of arts degree from Manhattanville College and a master of arts in journalism degree from New York University. Antilla is an adjunct professor of journalism at Fairfield University.