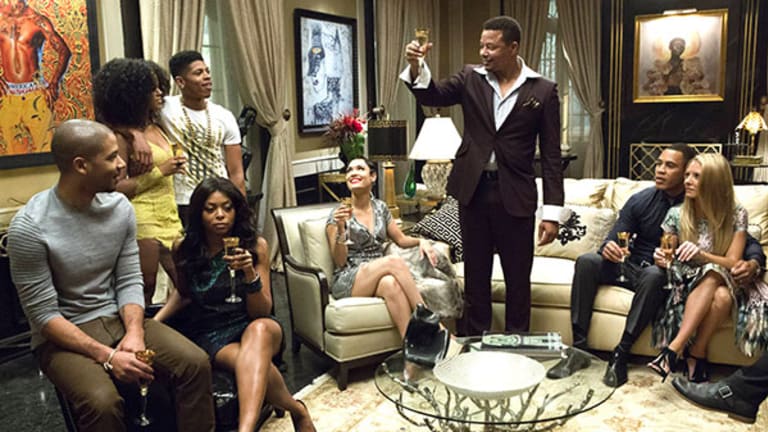 Can Fox Find a New 'American Idol' Cash Cow in 'Empire' or 'Scream Queens' ?
Fox has turned to surprise hit 'Empire' to anchor its upcoming slate and woo back advertisers who may have doubts about the broadcaster.
LOS ANGELES (TheStreet) -- On the verge of finishing fourth among broadcasters for the current television season and in search of a cash cow, Fox has pinned its hopes on ratings revelation Empire and horror-comedy Scream Queens to lift the network out of its recent malaise.
In its Monday upfront pitch to ad buyers -- complete with a slightly off-key musical performance from Empire cast -- the 21st Century Fox-owned (FOXA) - Get Fox Corporation Class A Report broadcaster plotted a course heavy on rerun-free programming, aging actors, Empire and more Empire as a way to stave off declining advertising revenues.
Its path forward: Have faith in Fox's marketing machine, particularly after the unexpected hit hip-hop drama Empire, said Fox TV Group co-chairwoman and CEO Dana Walden.
"But great programming, it's not enough," Walden said during a presentation at New York's Beacon Theatre. "There's simply too much competition out there for us to simply wait for an audience to find it."
Fox has placed bets on ditching off-weeks for some series as a way to keep audiences engaged, with staple comedy The New Girl to return midseason in January to run uninterrupted through May. The network will also revive 1990's sci-fi drama The X-Files as a six-episode midseason event.
"Contemporary viewers demand more strategic scheduling," Walden said.
Fox is also laying down its cards on comedies starring Rob Lowe (The Grinder) and John Stamos (Grandfathered). But such plans to attract the younger viewers needed to prop up ad rates may be living on a prayer.
The company stock has slipped 14% on the year to $32.45 in early Tuesday trading, as its broadcast TV division has been hit hard by poor-performing shows, declining viewership across all of linear television, and the resulting fall in ad revenues. Fox's broadcast ad revenue shrank 7% in its most recently completed quarter.
21st Century Fox Chief Operating Officer Chase Carey has said the network is "clearly in a turnaround."
Once upon a time Fox couldn't be beat among the 18- to 49-year-old demographic advertisers covet most and the age group that determines ad rates. Thanks to ratings juggernaut American Idol, the network reigned supreme among 18-49 for eight consecutive seasons until Idol viewership started its own steep declines in 2013.
Now, Fox will jettison the former revenue engine -- once TV's most expensive show for advertisers and a launching pad for music stars like Carrie Underwood, Jennifer Hudson and Kelly Clarkson -- after next year.
Even if a show like Empire or Scream Queens, an anthology series from Glee creator Ryan Murphy, catches fire, it would have to start bringing in more than $600 million in ad sales per season to compare to Idol, according to data from Kantar Media. At one time, Idol commanded more than $700,000 for a 30-second ad.
Between its premiere in 2002 and 2014, the competition took in $7.9 billion, according to Kantar.
As it currently stands, NBC (CMCSA) - Get Comcast Corporation Class A Report should win the 18-49 crown for the season, followed by CBS (CBS) - Get CBS Corporation Class B Report, ABC (DIS) - Get Walt Disney Company Report and Fox.
But despite pressure from online streaming and DVRs, Fox does have a huge hit on its hands with Empire. The March 18 season finale drew a leading 6.9 rating in 18-49 and 17.6 million same-day viewers.
"Empire proved that broadcast is still the best place to launch an event," said Fox's Gary Newman, who shares chairman and CEO duties with Walden. "From the morning after its launch through its entire run, we heard one consistent message from our colleagues, our clients and even some of our competitors: Empire is great for the business."
Unluckily for Fox, the show's midseason start in January prevented the network from entering the year's pilot season knowing it had a hit it could program around. But with a full season of Empire on tap and an always strong slate of NFL football, Fox could soon be edging upward in the ratings again.
This article is commentary by an independent contributor. At the time of publication, the author held no positions in the stocks mentioned.