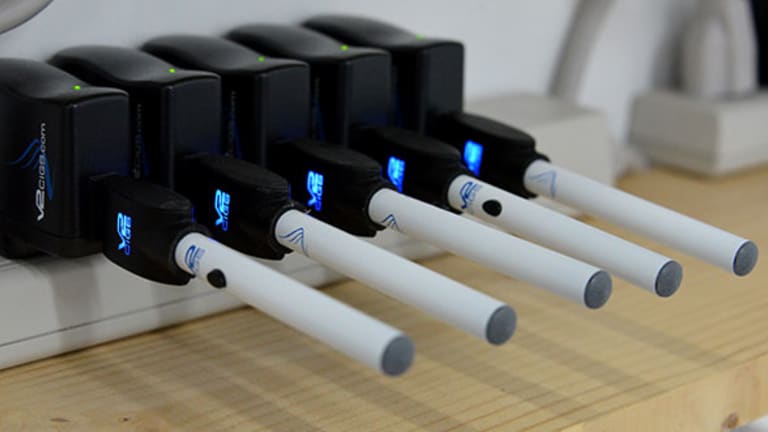 Publish date:
Can E-Cigarettes Really Help Save the Tobacco Industry?
Altria, Reynolds America, and Lorillard are trying to get a piece of the electronic cigarette pie as usage explodes among teenagers.
Altria, Reynolds America, and Lorillard are trying to get a piece of the electronic cigarette pie as usage explodes among teenagers.
NEW YORK (TheStreet.com) -- For the biggest players in the $100 billion U.S. tobacco industry, the rise in electronic cigarette usage and so-called e-vapor companies has meant one thing: either change with the times and enter the market or be left behind in fumes.
A recent report from the Centers for Disease Control and Prevention found e-cigarette use among middle and high school students tripled from 2013 to 2014, exceeding traditional cigarettes. At the same time, the number of high school students who smoked conventional cigarettes declined significantly, from 16% to 9% from 2011 to 2014, according to the organization's annual youth tobacco survey.
Big Tobacco has been busy making its bets on the new technology. Industry leader Altria (MO) - Get Altria Group Inc Report owns e-vapor company Nu Mark and its e-cigarette MarkTen. The country's second-largest cigarette maker, Reynolds American (RAI) , distributes the No. 1 convenience store-selling Vuse e-cigarette through its subsidiary R.J. Reynolds Vapor Company. The country's third-largest tobacco manufacturer, Lorillard (LO) , whose $27 billion purchase by Reynolds awaits approval by the Federal Trade Commission, acquired popular blu eCigs in 2012.
"With each of the three tobacco companies entering the category, they're positioned to capitalize on it," said Cowen analyst Vivien Azer.
The companies' efforts are starting to pay off. Total e-cigarette sales in food, drug, convenience and mass merchandise stores rose 10% in 2014, according to a recent analysis by Cowen. These figures don't include online sales of e-cigarettes, which are booming (no specific figures on online sales of e-cigarettes are available).
Vuse has seen strong sales growth of 17% over the past 12-week time period, relative to the prior 12 weeks, while MarkTen's sales have been weaker; both brands launched nationally last year, according to Cowen. MarkTen e-cigarettes are already being sold in roughly 130,000 stores while Vuse e-cigs are sold in about 100,000 stores; neither are being sold online.
Whether Big Tobacco companies will see a boost in growth from e-cigarette sales in the long run remains to be seen. Altria, which holds a 40% share of the tobacco market, earned 63 cents per share during the first quarter of 2015, and topped analysts' expectations by 1 cent. Earnings for the current year are expected to grow between 7% and 9% over fiscal 2014 to between $2.75 and $2.80 per share.
According to Reynolds American's recent 2015 first-quarter earnings report, the company had net sales of $2.05 billion, up from $1.93 billion reported the same time last year, and an adjusted net income of $457 million, about 18% above the $386 million reported in 2014.
"Part of our focus is meeting and exceeding adult tobacco users expectations with our products," said Altria spokesman Bill Phelps. "Our research shows that about half of those who smoke are interested in alternatives to cigarettes. We offer a variety of products that will evolve as those preferences evolve."
While traditional cigarettes involve burning tobacco, battery-powered e-cigarettes convert heated-up liquid, dosed with or without nicotine, into vapor that evaporates more quickly than smoke. Feedback from tobacco users prompted Nu Mark to change MarkTen over the past year, Phelps said, with a newer version including a higher amount of nicotine by weight. Nu Mark also is planning to introduce MarkTen XL, with a bigger battery and more e-vapor, he added.
The Food and Drug Administration started taking steps last year to regulate e-cigarettes, with researchers looking into its long-term health effects. "Altria has supported giving the FDA regulatory authority over tobacco products," Phelps said.
The CDC reports that cigarette smoking causes more than 480,000 deaths in the U.S. each year, with smokers more likely than nonsmokers to develop heart disease, stroke and lung cancer.
Reynolds sees its Vuse e-cigarette, which containes 4.8% nicotine and comes in menthol and nonmenthol, as positioning the company well within the e-vapor industry. Vuse has expanded from statewide distribution in Colorado in June 2013 to nationwide distribution about a year later, said R.J. Reynolds Vapor Co. spokesman David Howard. He emphasized that Vuse is only sold in stores, not online, and required to be behind the counter, age-restricted and non-self-serve. Reynolds also supports federal restrictions on sales of vapor products to minors, he said.
"When you look at the vapor category, there was very high adult interest, very high trial, but very low adoption," said Howard. "We felt we could make a product for adult tobacco consumers, and we're very pleased with the results."
A growing number of other e-cigarette companies are now seeking to appeal to younger smokers by providing ways for users to customize their own nicotine dosage, heat level and flavors. But pricing in the traditional cigarette industry remains robust, according to Cowen's Azer, and Big Tobacco isn't yet feeling the impact from the rise of e-cigarette usage. 
Traditional cigarettes, she said, still deliver nicotine quicker and more immediately compared to e-cigarettes, which may experience issues with battery performance and nicotine uptake.
This article is commentary by an independent contributor. At the time of publication, the author held no positions in the stocks mentioned.