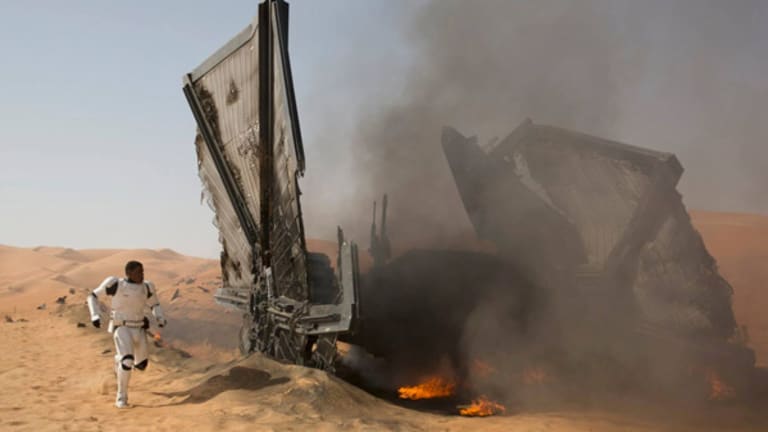 Can Disney's Stock Awaken?
Star Wars has been a big boost for Disney, but will it help the company ultimately battle the larger secular trend of 'cord cutting?'
Editor's pick: Originally published Jan. 4.
Disney
(DIS)
shares have come under pressure recently, despite the huge success of its December release of
. Shares started the year around $94 and as of December 28th traded around $107. However, shares have traded as high as $122 in August, before falling after the third quarter 2015 earnings report. This report showed a chink in Disney's armor. Shares recovered and traded as high as $120 in the middle of November but have recently stumbled. After all, anticipation for the release of
Star Wars
had built for quite some time. One would think that with a billion dollars in sales in the first 12 days and box office records shattered, Disney would be surging higher.
data by
It all started in August, when Bob Iger mentioned that Disney was seeing a slowdown in ESPN's growth due to "cord cutting." Cord cutting? Yes, cord cutting. This is when TV viewers cut ties with their cable providers and go to watch media via streaming Web services like Netflix. Disney gets nearly 45% of its revenue from its media segment and it had 10% growth in 2014. Certainly, this could be an area of concern. 
Then the company revealed in November through a filing that the ESPN subscriber base had fallen to 92 million, down from 95 million in 2014, a loss of 3 million. The concern? Did Disney overpay for NFL and NBA multi-year deals. It is most likely too early in the contracts to know if the strategy will pay off or not.
It didn't help when on the morning of the big Star Wars release when BTIG downgraded the stock to sell with a $90 target. The analyst cited subscriber loses at ESPN and the overpayment of contracts to sports rights. Share once again tumbled and have yet to recover. So, now, the fate of Disney rests on the shoulders or Star Wars; no pressure.
It seems there is confusion on the street about who cord cutting affects, if anyone at all. We are in the early innings of a shift in consumer habits when it comes to consuming content. Certainly, technology is changing the TV landscape, much like it did in the late 90's and early 2000's for the music business. Does anyone remember Napster? Everyone was going to get music for free and there was no way to control it. Similarly, there are unjustified fears of people migrating away from cable and getting TV from the Web for free.
There are only a few ways to watch content via the Web, a mobile device, computer, a smart TV, or a device such as a Roku. When you go to ESPN's channel, do you suddenly get the content for free. No, usually it requires one to select a cable provider and then to log into an account. Does that make it free? Not a chance. You need to have the cable service to get the content and you pay for that. If you want to use Netflix, is that free? No, you pay for it. So, if all these people are cutting cords, what are they watching? If you get rid of cable, you can't stream live ESPN, because you have no service provider. You aren't going to get it for free. This is where the street is wrong.
You have content providers such as Disney, which will profit from this trend, and you have service providers such as Comcast, which could get hurt. When someone cuts the "cord" they are indirectly hurting Disney but the service provider is really getting hurt. Chances are if someone gets rid of cable, they probably were not watching ESPN anyway. Estimates say subscribers pay about $6 for ESPN through cable. Netflix standard plan starts at $9.99; it has become the service provider, replacing the cable company. (It's also worth noting that Netflix is inaccessible without a high-speed internet connection, often provided by the same company that provided the cable to begin with.) People can still access Disney content on Netflix or any of these new age service providers. The content providers should benefit vastly from this new model, after all they have what the people want, not the other way around.
Disney is in control as it owns all the content and all the rights to the content. Disney could simply decide to launch its own bundle via the Web and bypass everyone. It can dictate price and perhaps push the boundaries of the viewer's experience. Time will tell, but I for one am not worried.
Disclosure: The author and the clients of Mott Capital Management are long shares DIS.
Mott Capital Management, LLC is a registered investment adviser. Information presented is for educational purposes only and does not intend to make an offer or solicitation for the sale or purchase of any specific securities, investments, or investment strategies. Investments involve risk and unless otherwise stated, are not guaranteed. Be sure to first consult with a qualified financial adviser and/or tax professional before implementing any strategy discussed herein. Upon request the advisor will provide a list of all recommendation made during the past twelve months. Past performance is not indicative of future performance.