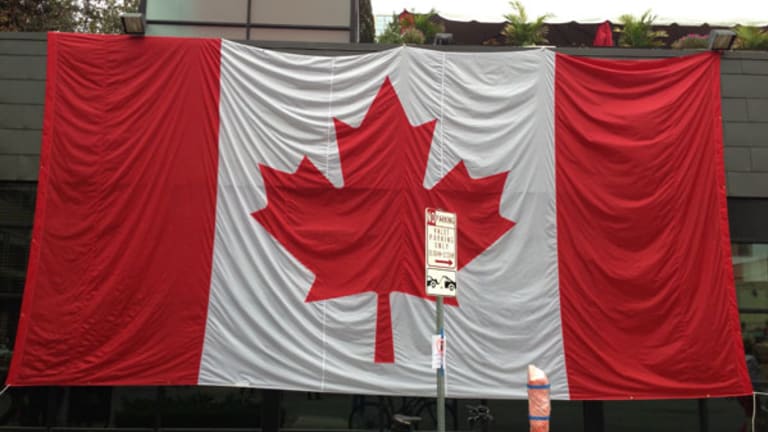 Can Blackberry Rise From the Dead and Win Back Canada?
Rocco Pendola can't see a scenario where Blackberry does not pull away from Windows Phone and solidify itself as a strong third horse in the smartphone marketshare race.
NEW YORK (TheStreet) -- I spent some time in Canada this past summer -- in Toronto and Niagara Falls, Ontario -- and noticed a scarcity of Blackberryundefined smartphones on the streets.
That's a big deal because it not only reflects the abrupt end of North America's Crackberry addiction, but it shows, if only anecdotally, that Canadians, somewhere along the line, broke the ties that once bind them to
the artist formerly known as RIM
.
And now, at least according to
, the numbers bear out my anecdote.
In Canada, only one in five smartphone subscribers use the Blackberry platform.
Google's
(GOOG) - Get Alphabet Inc. Class C Report
Android
and
Apple's
(AAPL) - Get Apple Inc. Report
iOS
combine for 75% of the Canadian market at 40% and 35%, respectively.
Canada is not a throwaway market. In the same report, comScore shows that Canadians lead the way in terms of uptake and engagement metrics across platforms:
The number of Canadian smartphone subscribers increased by 17% in 2012. Thirty-seven percent of Canadian smartphone subs watch TV and/or video on their device; up 21 percentage points year-over-year. Canadians spend more than 41 hours online on the desktop each month; that's second worldwide. They lead the world in terms of number of pageviews and visits per visitor.
I liken Blackberry to
my
Toronto Maple Leafs. Over the weekend at (excuse while I attempt to make myself look cool) #SXSW, I talked to a Canadian who made a good point about the Leafs. They have been a pretty bad team to watch these last few years, but, finally, this season they're playing with some grit. They're fun to watch and going about what remains a tough slog the right way.
Coaches from other teams -- most recently Boston Bruins head coach Claude Julien -- now praise the Leafs as a formidable, hard working opponent. If they make the playoffs -- and it looks like they will -- they could make some noise. And, really, at this stage of the Leafs' development, you can't ask for much more than a hard-fought visit to round one of the postseason. Anything more is unexpected gravy.
You don't need to be a sports fan to see the analogy. Blackberry operates in a similar situation. Canadians have a special place in their hearts for the company and the device. They'll come back to it out of, if nothing else, comfort and national pride. And, as much as the Canadian market is growing, there's still millions about to make the switch from feature phone to smartphone.
But, here's the beauty . . . as I articulated earlier this week in
Will Microsoft (MSFT) - Get Microsoft Corporation Report Fire Ballmer When Blackberry Crushes Windows?
, the stars have aligned for RIM. (I call them RIM from the cockles of my heart).
From the Maple Leafs analogy, consider the rampant ineptitude of Ballmer and Windows Mobile. If I'm battling to solidify myself as No. 3 to Apple and Android, I would choose Microsoft as my foe any day of the week. Add to the mix,
-- at least from a marketing standpoint -- and a still fragmented Android market and significant opportunity exists for Blackberry to stand out.
Remember, Blackberry, through all of the crap they put themselves, Canadians and the world through, has always made good phones. I never questioned the quality of the company's hardware. In fact, I have owned Blackberry smartphones in the past. Marketing has always been the issue since Steve Jobs came along and schooled James Balsillie.
Based on what I saw at
South by
(I am so
hip
!), Blackberry has part turned the corner and part taken advantage of overall weakness from the competition that once crushed it. No doubt, it's still crushing it from a marketshare standpoint, but I expect that to change . . . first in Canada and then in the U.S. as the Blackberry Z10 goes on sale later this month.
Look at it this way, all Blackberry has to do to be considered a minor, but impressive success is pull further away from Windows Phone. I cannot imagine a scenario where that does not happen in 2013.
--
Written by Rocco Pendola in Santa Monica, Calif.
Rocco Pendola is
TheStreet's
Director of Social Media. Pendola's daily contributions to
TheStreet
frequently appear on
CNBC
and at various top online properties, such as
Forbes
.