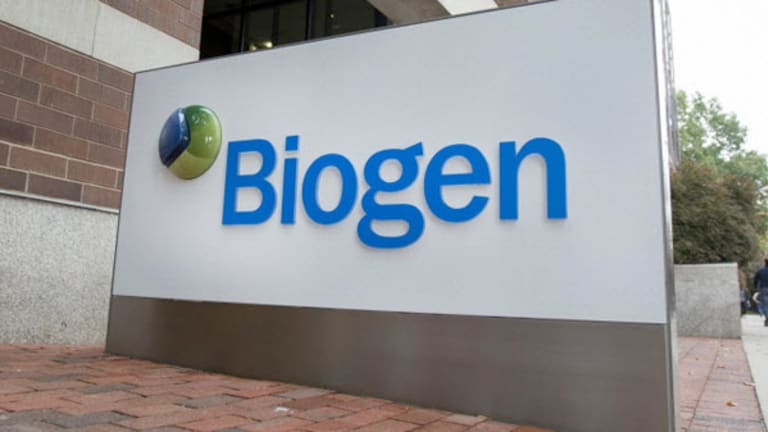 Can Biotechnology Company Biogen Beat the Industry's Patent Woes?
After a year of less-than-stellar results, the drug maker is facing even more headwinds. Is all lost for 2016?
As with many biotechnology stocks, Biogen (BIIB) has been facing patent headwinds this year.
The maker of multiple sclerosis and hemophilia drugs trades below $249 a share, close to its 52-week low of $242.07 last month and a far cry from its 52-week high of $437 barely a year ago. Negative news has driven investors away from the stock, but will it bounce back?
Last summer, disappointing second-quarter sales results sent the company's market value plummeting by nearly $20 billion in a single day. Biogen responded by beefing up its efforts to market its existing portfolio of drugs, as well as continuing to develop exciting new therapies.
But the biotech sector as a whole has seen a flurry of patent-related activity, with Amgen, Editas Medicine, Gilead Sciences, Merck and Regeneron embroiled in continuing lawsuits.
And though Biogen's blockbuster MS drug Tecfidera saw a year-over-year sales increase of 16% in the fourth quarter, to $993 million, the European Union this month invalidated the therapy's EU patent, which expires in 2028. The patent in question covers the 480 milligram-per-day dose of the drug, which was introduced in 2013.
The patent has been challenged by Forward Pharma, which claims that it had filed a similar patent on a similar product at an earlier date. Biogen plans to appeal the decision, but it could lose as much as $1 billion in sales.
And just last week, the U.S. Patent and Trademark Office said that it had changed its mind on a previous decision and will review the patent on Tecfidera. The review has been requested by the Coalition for Affordable Drugs, led by Kyle Bass.
You see Jim Cramer on TV. Now, see where he invests his money and why Biogen stock is a core holding of his multimillion-dollar portfolio. Want to be alerted before Jim Cramer buys or sells BIIB? Learn more now.
If the patent is revoked, the drug could be going generic very soon. The stock fell 1.6% immediately on the news.
In response to the stock's plunge and the discouraging patent news, several institutions such as Leerink slashed their target prices for the stock.
Meanwhile, Biogen has also been working to develop a treatment for Alzheimer's disease.
Although this drug is in the early stages of development, it received positive initial trial results. Final-stage results should come in 2019, with an estimated launch of 2020 for the drug.
That is a while to wait, but Alzheimer's affects more than 5 million Americans and represents an estimated $15 billion in annual sales for an effective drug. If Biogen's Alzheimer's therapy comes to market, that could present a significant revenue windfall.
Biogen isn't going to experience a quick turnaround in its stock price, but over the longer term, patient investors who get in while the stock is this low may see profits on the chances that the company is able to successfully appeal its patent cases. And if
Biogen's Alzheimer's drug comes to market, it could present an additional profit opportunity.
However, for now, unless they are willing to wait for the very long term, investors should approach Biogen's stock with caution. There are other biotech companies poised for quicker gains in the short term.
Best biotechnology stock under $10: Here is a small-cap biotech "rocket stock" that is about to take off. UCLA researchers are stunned by a Nobel Prize-winning cancer breakthrough that has proven in clinical trials to eliminate lethal forms of cancer with a single dose. One small company owns the patent to this life-saving treatment. Now trading at about $5 a share, the stock of this innovative company is projected to surge 2,700% on an imminent Food and Drug Administration announcement. To download the full report, click here.
This article is commentary by an independent contributor. At the time of publication, the author held no positions in the stocks mentioned.