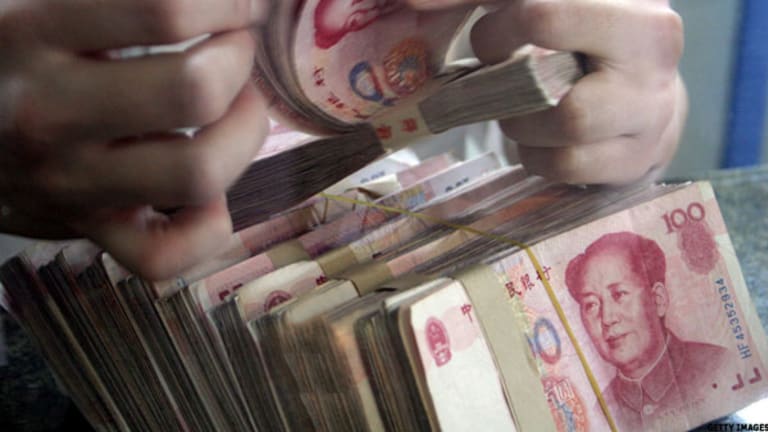 Can Anyone Trust China's Trade Data?
If you're doing business in China you must go beyond official figures and look at other data sources to confirm the reported trends are actually in place.
NEW YORK (TheStreet) -- Chinese export data report for the month of April, released May 8, is being met with skepticism from cross-sections of the market.
The data showed that exports rose by roughly 15%, even though product shipments to Europe and the U.S. actually dropped during the month. Another problematic factor is that most of the trade increases are based on a 57% rise in shipments to Hong Kong, in a period which saw a major port worker strike that closed many shipping ports in the region.
The questionable strength in these numbers has raised concerns that China is "cooking its books," and reporting its economic data inaccurately.
One argument for the apparent discrepancies comes from the idea that export companies are functioning as a conduit for currency speculation. Some estimates show that between 5% and 9% of April's 15% growth in exports can be attributed to activities related to expected changes in the value of the Chinese yuan.
>>Also see: Bloomberg Privacy Breach Angers Wall Street Traders >>
These arguments rest on the idea that exporter companies have found ways to avoid capital restrictions by overstating business activity and sneaking funds back into China in anticipation of rising values in the yuan. Because of this, exporters have an incentive to over-invoice and report transactions as exports when, in fact, they are not exports. If this is the case, it would go far in explaining the questionable export inflation seen in the month of April.
Reporting Trade Data
There are other factors at work. When dealing with trade data, long lags can be seen in the processing of invoices going in and out of the system. In this way, trade data is similar to cash flow statements rather than income statements. Companies might choose to hold back their invoices if there might be beneficial changes in expected currency values.
In many cases, trade data are not a completely accurate snapshot of the reporting period, and this can complicate the validity of the reported numbers. In the longer term, trade data smooth out and more accurate assessments can be made when looking at the historical averages.
When dealing with monthly trade data, it is important to remember that figures can change when looking at things from the perspective of another country, and this can create short-term deviations in the numbers tallied. These altering views tend to sort themselves out when viewed over longer time frames.
In China, exporters will often report their transactions once shipments are placed into the system, regardless of whether or not the item has been received. This can create gaps of several weeks, and adds to the potential for discrepancies.
Transparency Questions
When we look at China's reported trade data, it is not surprising some concerns are raised when questionable figures are released. This can make it difficult to commit to long-term investments in Chinese stock markets.
So what does this mean for American companies looking to do business in China?
Primarily, this complicates the supply and demand picture for Chinese goods and makes it difficult to accurately assess the performance prospects for individual industries over shorter-term time horizons. To remedy this, investors must look at additional data sources in order to confirm that the reported trends are actually in place.
As an alternative barometer, investors can watch for data that track transactions in the other direction. For example, current U.S. or eurozone trade figures with China still show that both imports and exports have bottomed out and that we are returning to a period of moderate growth.
With Chinese GDP still expected to come in at 7.5-8%, it is clear that the country has managed to avoid a hard landing. Other indicators detailing more specific trends in the economy (like freight volumes and industrial manufacturing activities) are showing stable improvements as well.
So while there is a good chance we are seeing some artificial inflation in Chinese trade data on the back of currency speculation and the tendency of Chinese companies to look for tax incentives with early bookings of export transactions, it is still possible for American companies to assess the broader economic climate with a good degree of accuracy. At the moment, there is enough alternative data to suggest these trade figure distortions are not entirely reflective of a regional slowdown in the Chinese economy.
>>Also see: When It Pays to Hire a Financial Planner >>
Clearly, the questionable nature of the April figures will lead to greater scrutiny of Chinese macro data in the coming months. But even if we do see larger evidence of a slowdown in the country, weaker results will not be a complete negative -- either for the Chinese economy or for American companies with significant risk exposure in the country.
The Chinese central bank will start to look for ways to move forward at a more moderate pace of growth, as the government looks to slow the pace of inflation and rebalance its fiscal policy into the second half of the year. April's trade data, while still largely suspect, is unlikely to change these trends in coming months.
This article was written by an independent contributor, separate from TheStreet's regular news coverage.
Richard Cox is a university teacher in international trade and finance. His articles appear on a variety of Web sites, including
,
, FX Street and others. Investing strategies are based on technical and fundamental analysis of all the major asset classes (stock indices, currencies and commodities). Trade ideas are generally based on time horizons of one to six months.