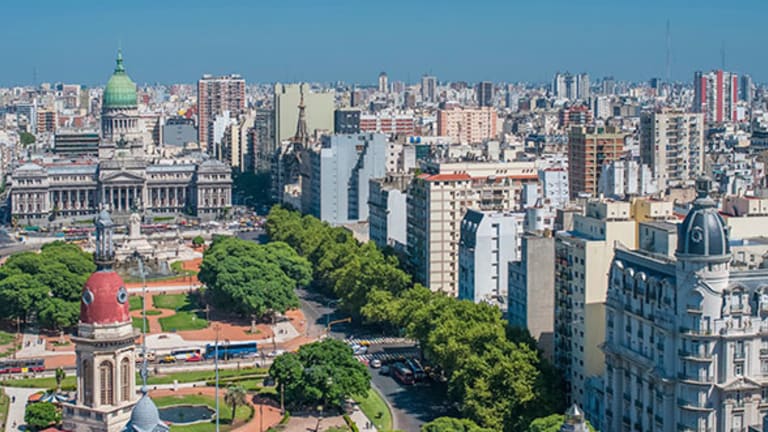 Can a New President Fix Argentina's Crazy Economy?
Argentina's next president can't help but lead the country onto a better economic path, both out of desire and out of necessity.
Argentines head to the polls on Sunday to elect the country's next president, and for the first time in more than a decade, the name "Kirchner" will not be on the ballot -- a fact that bodes well for the Argentine economy, regardless of the outcome.
Since assuming the Argentine presidency in 2007 as the successor of her now-deceased husband, Néstor Kirchner, Cristina Fernández de Kirchner has taken the country -- and its economy -- on a roller coaster ride.
Under her watch and so-called "kirchnerismo," currency controls and trade restrictions have caused Argentina's reserves to dwindle to next to nothing. Her administration has consistently failed to come clean about inflation, leading Argentina to be the first nation to be sanctioned by the IMF, and her refusal to negotiate with holdout creditors, which she calls "vulture funds," has essentially closed the country off from access to debt. The Argentine peso's value is essentially a mystery, with the official (and impossible to find) rate being about $9.50 to the dollar, while the parallel market (and much more widely accessible) figure is closer to $16.
"It has been a manual of what not to do," said Pablo Schiaffino, economist and professor at Universidad Torcuato di Tella in Buenos Aires.
Since losing her bid to amend the Argentine constitution to run for a third consecutive term, the situation has only worsened. Inflation is running at 25% year-over-year according to private estimates (the official ones can't be trusted), and the fiscal deficit will amount to about 7% of the GDP by the end of the year.
Fernández appears to have decided to do absolutely nothing about it.
Instead, she focused on popular entitlement policies that keep her approval ratings high. Under her populist policies, 40% of the population receives a pension, salary or welfare from the government, and Argentines receive enormous subsidies for energy, natural gas and transportation that in the long run are impossible to maintain.
Sooner or later, Argentina will have to pay the price for its irresponsible economic policies, and Fernández -- who could make another presidential bid in 2019 -- doesn't want her name in the mix. "She's spent the last two years of her administration kicking the can down the road, and just to December 10 [when she leaves office]," said Mark Jones, a professor of political science at Rice University's Baker Institute. "She's leaving her successor to deal with the disaster that she has, effectively, created."
The Candidates
There are three candidates in the running to replace Fernández: Daniel Scioli, governor of the Buenos Aires province, Mauricio Macri, mayor of the City of Buenos Aires, and Sergio Massa, Chamber of Deputies representative from the Buenos Aires province. To win the presidency, a candidate needs to garner 45% of the vote or at least 40% with a 10% lead on the runner-up. Otherwise, a runoff election will be held in November.
Scioli, part of Fernández's Front for Victory party and her hand-picked successor, is considered the likely victor by many, followed by Macri, part of the We Can Change party, who is trailing Scioli by about 10% in the polls. But no matter who wins, the economic and political tides in Argentina will change.
"Without question, the next president will begin to take Argentina on a better path than it's been on for the past few years, both out of desire and out of necessity," said Jones.
"Any alternative offering a minimum amount of rationality will be better, whoever wins," said Schiaffino.
But Argentina's next president faces an uphill battle. The fiscal and monetary imbalances driving inflation and undermining confidence, which are at the root of Argentina's problems, have no easy fix. And Fernández's rogue attitude hasn't helped, either.
She had refused to negotiate with holdout creditors who have sued the country to get full payments on bonds it defaulted on in 2001, and her successor will have to get the ball rolling again. It is the only way to begin to restore its international reputation and start to dig itself out of its deficit hole by regaining the ability to issue debt internationally. "[Argentina] can't continue to have closed access to international capital markets," said Alejo Czerwonko, emerging markets investment strategist at UBS.
"The only way to get reserves is through debt, and the only way they get credit is by agreeing with the holdouts to get loans at a reasonable rate," said Jones.
Currency Problems
The country's next president will need to find a way to dismantle currency controls in place since 2011 that render it virtually impossible to move foreign currencies in and out of the country (at least legally). Restrictions have driven investors and businesses out of Argentina in droves and have fueled already prevalent distrust of the wobbly Argentine peso among the country's people.
"They are going to have fix the FX market," said Schiaffino. "Without that, it will be hard for the dollars Argentina needs to invest to appear in the reserves."
Lifting currency restrictions will also mean Argentina has to admit what most already know: the peso is not worth what the government says it is and has to be devalued. "Devaluation is necessary. It's not well-perceived in political terms, but the market is already expecting it," Schiaffino said.
Under Scioli, devaluation will likely be more gradual, while under Macri, it will be more abrupt. Regardless, normalizing the situation won't happen overnight. "It will take time for the FX market to go back to a single, well-functioning exchange rate system," said Czerwonko. "Of course, I think Scioli will be reticent to meaningfully devalue the currency. He will try to adjust very gradually in a similar nature to what's been happening as of late. We'll see whether international conditions allow him to take this gradual approach."
Inflation
Devaluing the currency will help Argentina to become more competitive internationally and give relief to exporters who have been hurt by the overvalued peso. Along with other economy-saving measures, it may also fuel inflation -- another of Argentina's big issues.
"The heart of inflation problems are fiscal imbalances," said Czerwonko.
"The treasury is currently financing its deficit mostly through monetary emission. The problem is that the bulk of the government's deficit is explained by subsidized energy and transportation tariffs. An adjustment in these tariffs, a necessary step to reduce treasury's reliance on monetary emission as a source of financing, paradoxically should lead to an acceleration of the inflation rate in the near term," said Ignacio Labaqui, senior analyst at Medley Global Advisors.
But in simply conceding that inflation is an issue, Argentina's next president will take an important step toward a resolution, even if it does get worse before it gets better. Fernández's government has refused to even acknowledge the country's real inflation rate and instead continues to put out numbers that are not in concert with reality (this The Bubblecolumn highlights the impossibility of surviving in Argentina spending what the administration has suggested is a livable amount on food -- $10 pesos, or about one dollar, a day).
"First, you have to start to measure [inflation] like you're supposed to, and once you've measured, look for tools to make it more reasonable," said Schiaffino.
This article is commentary by an independent contributor. At the time of publication, the author held no positions in the stocks mentioned.