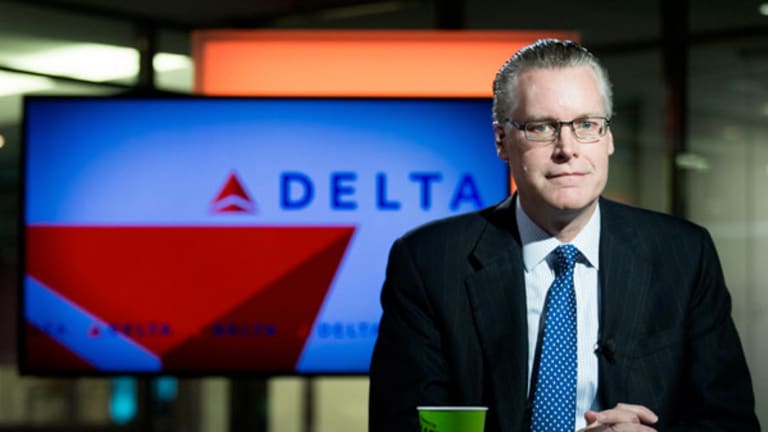 Publish date:
Can a New CEO Give Shares of This Airline Industry Leader a Lift?
A change at the top comes at a critical time for Delta Air Lines. Here is what it means for shareholders.
A change at the top comes at a critical time for Delta Air Lines. Here is what it means for shareholders.
Ed Bastian, former president of Delta Air Lines (DAL) - Get Delta Air Lines, Inc. Report , slid into the company's left seat on Monday, taking the controls after former Chief Executive Richard Anderson retired.
The 58-year-old industry veteran is taking the helm of a strong airline: Delta reported a 34% rise in first-quarter earnings per share, topping consensus estimates. But investors still worry that it could become a struggling stock, as shares are down more than 15% for the year to date.
To be sure, there could be turbulence ahead.
Jet fuel prices are the No. 1 concern.
Fuel was Delta's second-biggest cost in the first quarter, and lower fuel prices were the main reason for higher profits. But even though fuel prices are still down from a year ago, they have soared 59% since hitting 12-year lows in January.
Meanwhile, trouble could be brewing on the labor front. The company and its pilots are deadlocked on a new contract and have filed for federal mediation.
The pilots are looking for a 40% pay hike over the next three years, which would bring salaries back to where they were in 2004, before Delta and Northwest Airlines filed for bankruptcy, then merged, according to the union.
The company's salaries were up 10% in the first quarter from a year earlier.
But despite these pressures, shares of Delta look like a buy because, though there is little management can do to control fuel prices, it can use the cash it is saving to swap its old fuel hogs for new planes. Delta is doing just that and in the most cost-effective way possible.
Last month, Delta ordered 75 CSeries jets from Canada's Bombardier, with an option for 50 more. With the CSeries years behind schedule and far over budget, Bombardier was desperate to nail down a marquee client.
That handed Delta plenty of leverage, which it deftly used to snag discounts of up to 75%, according to Canada's Financial Post.
Delta pulled off a similar deal with Airbus.
Just a day before it announced the Bombardier purchase, Delta said that it had ordered 37 A321neo single-aisle planes as the European plane maker was looking to shift production ahead of the A321's next iteration. The result was a likely 50% discount on the sticker price.
Meantime, management is taking a careful approach to international expansion, with Bastian recently saying that Delta is considering cutting back on some overseas routes after the terrorist attacks in Brussels and a weak euro dented European sales in the first quarter.
Such a move would help stem a decline in revenue passenger miles, a key metric that has been falling for the past five quarters.
Delta should also attract customers with its plan to roll out a premium-economy class in its newer planes, featuring wider seats, more room to recline and better food. The service, which starts next year, fits perfectly between business and economy.
Delta is also getting the drop on competitors American Airlines and United Airlines, neither of which has announced plans to offer it.
Analysts, for their part, are convinced that Delta shares will gain altitude, with an average 12-month price target of $62, which would represent a gain of 45%. And the stock's price-to-earnings ratio clocks in at just 6.4, compared with 9.1 for the industry.
The dividend is also in a vertical climb. Even though Delta shares yield just 1.27%, the company has more than doubled its payout since it restarted dividend payments in 2013.
So ignore the short-term bumpiness. With competent management and a solid plan, Delta is a strong airline set to fly high in the long run.
---
Do we face a repeat of a 2008-style debacle? Prepare now, by weeding out the fundamentally flawed stocks that could ruin a portfolio. We have done the homework, by putting together a report on the world's most dangerous stocks. These equities are poised to collapse, so don't get left holding the bag. To download a free copy, click here.
This article is commentary by an independent contributor. At the time of publication, the author held no positions in the stocks mentioned.