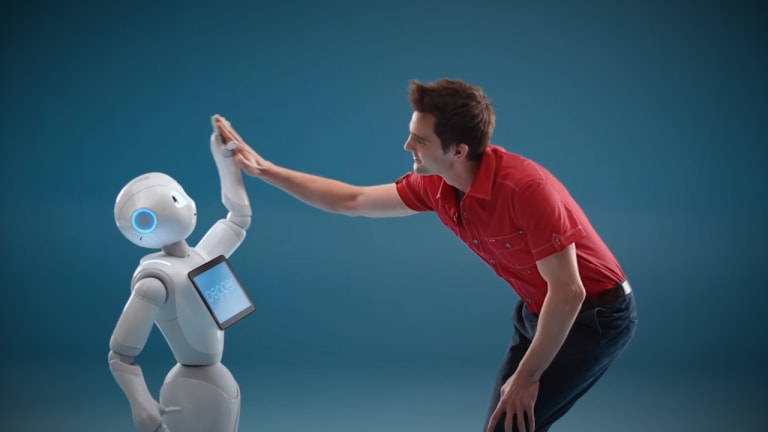 A New Four-Foot-Tall Robot May Save the Dying Shopping Mall
Pepper is the creation of Softbank Robotics America, and it might just be what the mall needs.
Can a four-foot-tall humanoid robot with big eyes and a sly smile somehow lure Amazon (AMZN) - Get Free Report addicted consumers back into the shopping mall? One company thinks so.
The robot, known as Pepper, is the creation of Softbank Robotics America, and she was on display at the National Retail Federation show in New York last week.
Developed in Paris, Pepper's home base is now San Francisco, where she's been deployed at two malls owned by Westfield. "There's a couple things that we know about Pepper," explained Chris Norris, head of marketing at Softbank Robotics America. "People will engage. Pepper attracts people whether by curiosity or just to see what Pepper's talking about."
Yep, Pepper talks. At the National Retail Federation, she was trying to sell shoes by describing the products while they were being displayed electronically on a screen on her chest. Softbank Robotics says tests have shown Pepper has helped increase foot traffic by 20%, and boost revenue at retail stores.
Indeed Pepper will have a tough task trying to save the mall. 
Macy's (M) - Get Free Report is fresh off announcing the closure of 68 stores (as part of a plan to slash 100 more) by early spring in an effort to save money amid weak store traffic. Meanwhile, Sears Holdings Corp. (SHLD) is smack in the middle of a plan to close 150 Sears and Kmart stores by the spring. And, J.C. Penney (JCP) - Get Free Report is reportedly exploring store closures of its own.