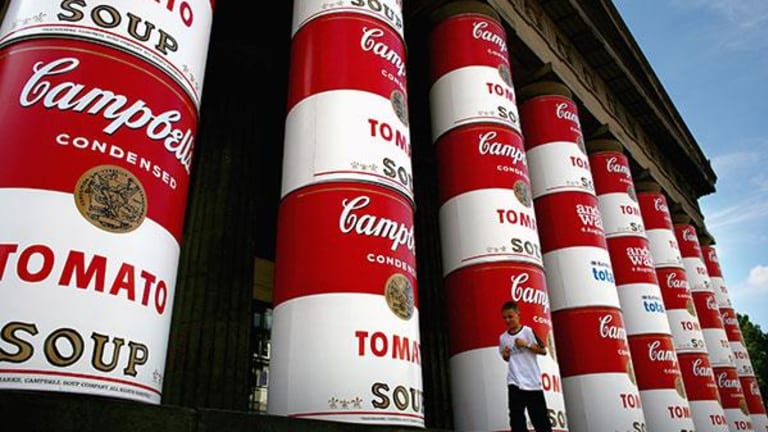 Campbell's Commits to 'Clean' Soups, Lowers Sales Outlook
'The truth is non-negotiable,' said Denise Morrison as the giant soupmaker tries to win over more U.S. consumers.
'The truth is non-negotiable,' said Denise Morrison as the giant soupmaker tries to win over more U.S. consumers.
Editors' pick: Originally published July 20. Updated to include revised company guidance, comments from interview with Campbell's executive and closing stock price.
With more health-conscious U.S. consumers frowning upon big packaged food companies and their processed ingredients that dominate supermarkets, Campbell Soup (CPB) - Get Report has a new plan to win their trust.
Over the next 12 months, the iconic maker of Campbell's chicken noodle soup will debut a host of new soups free of artificial colors and flavors (a designation known as "clean"), smoothies under its new 1915 by Bolthouse Farms brand and a pea-based milk that dons the Bolthouse Farms name. As part of these initiatives, Campbell's will introduce a new soup label called "Well Yes" that will be "clean" right from the get-go when it launches in January 2017.
Unveiled at Campbell's annual investor day Wednesday, the host of new better-for-you offerings are an attempt by the company to generate some $2 billion in sales by 2020 from what it calls packaged fresh products. Also, the company promised to bring transparency to consumers on the source of its carrots, poultry and wheat.
"The truth is non-negotiable," Campbell Soup's President and CEO Denise Morrison told investors and analysts in attendance regarding the need to share more information to consumers on ingredients. Campbell's previously committed to removing artificial colors and flavors from nearly all of its North American products by the end of fiscal 2018.
Campbell's new soup brand 'Well Yes'
Indeed, the product news comes at a pivotal moment for Campbell's, which continues to see pressure from consumers shopping for fresh foods such as veggies and prepared salads, snacking more frequently and spending less per supermarket visit.
Campbell's sales declined 2% from the prior year to $1.87 billion in the third quarter ended May 1. Earnings before interest and taxes, adjusted for one-time items, fell 5%, to $312 million. Sales of soup in the U.S. dropped 5% in the quarter, while sales for the V8 line of juices also declined.
Campbell's saw some of its best performance in its line of Bolthouse Farms beverages and salad dressing, as well as in its Plum Organics line, which includes baby food and various snack food items.
When asked by TheStreet Wednesday if the soup business will ever return to growth, a Campbell's exec struck a realistic tone. "Look, I understand why investors would be skeptical. I mean it has been a challenged category for a number of years," said Mark Alexander, president of Campbell's Americas Simple Meals and Beverages segment.
According to Alexander, Campbell's has to do a better job in promoting health and wellness within the soup category, while also improving its Chunky soup business. To that end, Campbell's plans to air six new TV commercials soon in concert with National Football League stars including Drew Brees and Odell Beckham that promote Chunky soup. 
Concluded Alexander, "I believe that soup can grow. We have done it in the past and I am confident with our plans that we will get some growth next year."
The company cut its fiscal year 2016 sales guidance Wednesday to a decline of 1% to 2%. Previously, execs anticipated sales to remain unchanged to fall by 1%. Earnings, adjusted for one-time items, are still seen in a range of $2.93 a share to $3.00 a share. Wall Street anticipated $2.98 a share.
Shares of Campbell's closed 3.1% lower Wednesday to $64.58. 
But the company has managed to rise about 32% over the past year as Wall Street has bought into its plan to improve ingredient quality, while also slashing about $300 million in costs over time. The S&P 500 is up roughly 3% during that same span.