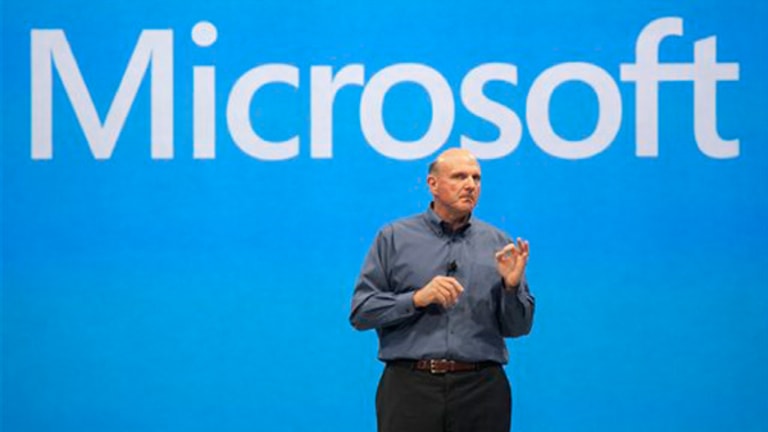 Call the Cops: Steve Ballmer's About to Murder Microsoft
Rocco Pendola calls a Microsoft bid for partial control of Dell <I>the blind leading the blind</I>.
NEW YORK (TheStreet) -- OK, this will make it sound like I've got a boulder on my shoulder (that's stolen from Springsteen, by the way, not Manfred Mann or Eminem), but, from time to time, it's tough not to wonder how initial media reaction to big tech stories can be so brainless.
Microsoft
(MSFT) - Get Free Report
might pony up $1 billion to $3 billion to help take Dell (DELL) - Get Free Report private
, and more than one person (Steve Ballmer) thinks it's a brilliant strategic move.
>>> Also see: Earnings Roll, and the Beats Go On
Here's a headline representative of the brainless reaction:
Microsoft buying a chunk of Dell would be smart (for Microsoft)
. This thought process posits (
I hate that word!
) that Microsoft wants more control over hardware that runs Windows 8. It wants to ensure that these devices jibe with CEO Steve Ballmer's grand plan (trust him, he has one), so if Microsoft calls the shots or, at the very least, has some influence at Dell, this takes care of that.
First, Michael Dell will likely retain a large enough stake in his company to keep Ballmer at bay. So what we'll have is a case of the blind leading the blind. Even if Ballmer ends up able to make all of the key Microsoft-related decisions at Dell, well, that's not good. In fact, it might be worse. Like a blind man trying to use a crosswalk where the Walk/Don't Walk signals don't talk.
Excitement over the prospects of Microsoft involvement in a bid for Dell starts from a faulty premise. That, beyond Xbox, any even remotely redeeming (or, more so, actionable) qualities exist between the two companies.
>>> Also see: 5 Cash Rich Stocks to Buy in 2013
I'm not sure why a company that makes hardware -- Microsoft -- buying another company that makes (out-of-favor) hardware appears as some sort of magic bullet to a surprising number of people. It's not like these two companies will get together and bring innovation and wildly popular consumer/enterprise products to market like
Apple
(AAPL) - Get Free Report
,
Amazon.com
(AMZN) - Get Free Report
or even
Google
(GOOG) - Get Free Report
.
Microsoft isn't dying because Dell stinks. Microsoft is dying because Microsoft stinks and Steve Ballmer continues to play make believe that he's the right guy to be CEO of a company in desperate need of wholesale transformation.
Don't Blame Facebook For Your Problems
Ballmer is killing Microsoft by keeping up the charade that, after five years of stagnation and
an abject cluelessness regarding how to integrate and leverage the fantastic Xbox
, he not only deserves to keep his job, but that what another company does ultimately holds Microsoft back.
--Written by Rocco Pendola in Santa Monica, Calif.
Rocco Pendola is
TheStreet's
Director of Social Media. Pendola's daily contributions to
TheStreet
frequently appear on
CNBC
and at various top online properties, such as
Forbes
.