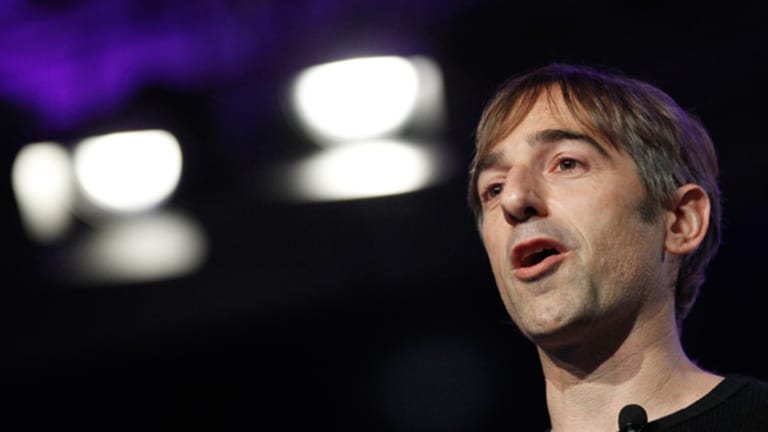 Call the Cops, Mark Zuckerberg Just Killed Zynga
Facebook means business, and it needs to put the hammer down on Zynga.
NEW YORK (TheStreet) -- This is the last thing Zynga (ZNGA) CEO Mark Pincus wanted to hear Facebook (FB) CEO Mark Zuckerberg say on his Tuesday earnings call:
Now, I want to talk specifically about Games for a bit, because I think the story here is a little misunderstood as well. Overall, gaming on Facebook isn't doing as well as I'd like, but the reality is that there are actually two different stories playing out here. On the one hand, our Payments revenue from Zynga decreased by 20% this quarter compared to last year. But the interesting thing is that the rest of the Games ecosystem has actually been growing. Our monthly Payments revenue from the rest of the ecosystem increased 40% over the past year since Payments has been adopted. This evolution is pretty encouraging.
Wow.
Just a few weeks ago, I suggested that
Facebook Should Put Zynga Out of Business Immediately
. While the social network didn't quite do that yesterday, it flashed serious signals.
Of course, this slap across the face comes on the same day as the multi-millionaire Pincus sent a memo to staff detailing austerity plans, which include blowing out 5% of the company's workforce.
It must feel awesome to work at Zynga these days.
You have a front row seat to an all-out implosion that just so happened to begin shortly after insiders sold your company's stock into a secondary offering for roughly $12 a share. Here's hoping Pincus will at least invite some of the recently fired to his recently purchased San Francisco mansion for a meal.
Zynga stock closed at $2.20 on Tuesday.
Remaining Zynga staffers must be wondering if the company will reprice their stock options, again, on the way down the sub-$2.00 abyss. If I'm a Zynga wage slave, I have given up. But I know I have talent and deserve better, so I'm burning through company time on
LinkedIn
and
Monster.com
(do they still exist?).
In any event, the
New York Post
was a bit harsh when it reacted to the end of baseball season in New York with the headline:
Dear Yankees, We Don't Date Losers
. It's only a game. Don't be such self-entitled sports fans.
Zuckerberg ain't playing, though. There's no time and no reason to be nice. He sent that message, loud and clear, not only to Pincus, but to Wall Street on Tuesday's call.
... we want to build a strong monetization and economic engine to build Facebook into one of the world's most valuable companies.
... we're focused on executing on our advertising, Payments, and new business opportunities to translate our product successes into a strong and valuable business
"Valuable."
The word only came up once in Facebook's first conference call as a public company, though not as an adjective to describe the business.
And, while Facebook did refer to building "a strong and valuable company" one time in its last pre-IPO public filing, it wasn't used in quite the same context as it was yesterday.
Zuckerberg hit a crossroads. He decided to take both routes.
He'll execute Facebook's social mission at the same time as making monetization the focal point of his vision.
The media and many Wall Street analysts turned on Facebook after its IPO. That, as it turns out, challenged Zuckerberg. That much is obvious based on how well and how aggressively he has answered the call.
He sure as heck isn't going to let some here-today, gone-tomorrow spare social gaming company get in his way.
At the time of publication, the author was long FB
.
This article is commentary by an independent contributor, separate from TheStreet's regular news coverage.
Rocco Pendola is a private investor with nearly 20 years experience in various forms of media, ranging from radio to print. His work has appeared in academic journals as well as dozens of online and offline publications. He uses his broad experience to help inform his coverage of the stock market, primarily in the technology, Internet and new media spaces. He has taken a long-term approach to investing, focusing on dividend-paying stocks, since he opened his first account as a teenager. Pendola, 37, is based in Santa Monica, Calif., where he lives with his wife and child.