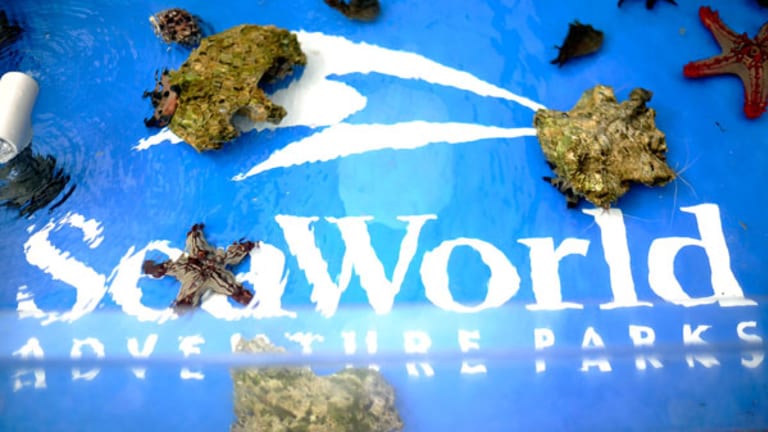 California Legislation Aimed at SeaWorld
A new California bill would make it illegal to hold orca circus shows at theme parks, like SeaWorld San Diego.
A new California bill would make it illegal to hold orca circus shows at theme parks, like SeaWorld San Diego.
NEW YORK (TheStreet) -- SeaWorld Entertainment (SEAS) - Get Report saw its shares plummet last Friday on news of California legislation that could hurt the company. A legislator from the Hollywood/Malibu region of California proposed legislation that would forbid orca shows in the state. With SeaWorld San Diego one of 12 destinations owned by the parent company, the effects of this law would directly impact revenue and earnings.
Richard Bloom, of California's 50th district, proposed a bill that would end shows featuring captive marine animals. Destinations like SeaWorld would only be able to keep orcas in captivity for research, rescue and rehabilitation purposes. The bill also forbids these attractions from breeding in captivity or importing/exporting orcas. The orcas held in captivity would have to eventually be released back into the wild.
The bill is merely the latest step in the controversial practice of keeping orcas in captivity. The documentary Blackfish, which I discussed back in December, continues to put pressure on shares of SeaWorld. The movie discusses the dangers of holding whales in captivity and how it led to the death of SeaWorld trainer Dawn Brancheau in 2010. The movie, which gained viewers after being aired on CNN and Netflix ( (NFLX) - Get Report), also caused musicians to pull out of performances at the SeaWorld parks.
Shares of SeaWorld are up more than 17% in 2014 after reporting strong third quarter and preliminary full year earnings. In the third quarter, the company reported a 3% increase in revenue after seeing per user revenue increase. For the full year, the company sees revenue hitting a company record of $1.46 billion. The company cited strong performance from SeaWorld properties in San Diego and Orlando as key growth drivers.
One worrisome note on the company's earnings: Attendance. Paid admittance at SeaWorld parks increased in the third quarter, but overall attendance is down due to declining numbers and poor weather near the company's other assets like Busch Gardens. Through the first nine months, overall attendance at the company's attractions declined 4.7% to 18.9 million people. The trends seemed to be improving as third quarter attendance dropped only 3.6% compared to a decline of 9.5% in the second quarter.
It will be interesting to see attendance figures when the company reports fourth-quarter earnings later this month. That quarter will include the November and December periods that saw the release of Blackfish on CNN and Netflix, respectively.
Another item to watch is the move by SeaWorld Entertainment to file a complaint against the Occupational Safety and Health Administration investigator who conducted the report after Brancheau's death. The fact that the investigator attended film premieres of Blackfish and posted pictures online might show there was a conflict of interest.
This wasn't the best move by SeaWorld. Filing a complaint several years later and drawing attention the documentary isn't good for business. It just brings up the captivity concerns and a trainer's death once again to the general public.
Keep an eye on fourth quarter attendance figures from SeaWorld Entertainment. This legislation will take a little while to get going, but could cause big problems for the company. The SeaWorld San Diego park would have to make major compliance changes and could see huge declines in attendance. Also, consider that other states may begin to feel pressure to get bills going on similar issues.
At the time of publication, the author held no positions in any of the stocks mentioned.
This article represents the opinion of a contributor and not necessarily that of TheStreet or its editorial staff.