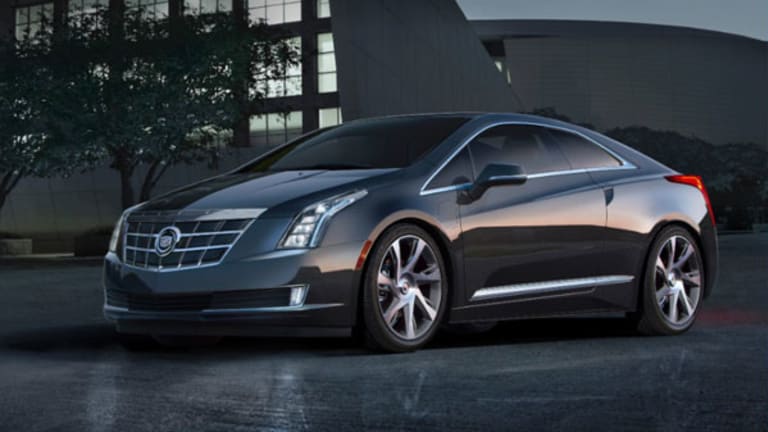 Cadillac ELR vs. Chevrolet Volt 2.0
Here's how GM could hit or miss with its upcoming releases.
NEW YORK (TheStreet) -- General Motors (GM) - Get General Motors Company Report recently introduced the Cadillac ELR, which is a 2-door coupe thatbuilds on GM's current Chevrolet Volt. It enters production in thesecond half of 2013; the first deliveries are expected no laterthan January 2014.
It is now clear that the Cadillac ELR is
not
the Chevrolet Volt 2.0under the skin. The changes, in terms of the drivetrain, from thecurrent Volt are simply relatively minimal. Basically, there was somerelatively modest tinkering in terms of how the battery interacts withthe main electric motor, so as to squeeze out a little more power, that'sall. But really all the essential parts of the current Voltdrivetrain remain the same in the ELR.
The reason you want an ELR over the current Volt has to do withstyling and an upgraded, plush interior of the highest caliber.The ELR loses back-seat space, and perhaps some luggage flexibility,but gains huge 20-inch wheels and spectacular "Bat-mobile" looks.
Cadillac has yet to announce how much it will charge for this newbeauty, but it will surely be more than $50,000, especially consideringthat it looks as if it will only come one way: Fully loaded. The ELR will be in a class of its own in the market, and that gives itsome pricing power. Cadillac hopes to sell 5,000 to 10,000 per year,and the car will be made on the same assembly line as the Chevy Volt.
So what does this mean for the Chevy Volt 2.0? It is now clear thatthe Volt 2.0 will be something completely different than the CadillacELR.
What is the No. 1 gating factor delaying the release of the Volt 2.0? The cost. Its battery, for one, costs several thousand dollars.
GM's chief objective with the Volt is to trim at least $4,000 off the cost of the Volt's battery. This will be possible -- the question isjust when, and which supplier will help GM do it. Surely GM has beenworking on this for years already, the Volt 1.0 having enteredproduction in November 2010, after engineering started in 2006-07.
Once GM has decided on this new lower-cost battery, the rest of thecar is relatively easy to put together around it; it takes typicallyaround 2-3 years. At this point, it's not yet known whether the Volt2.0 will enter production in 2014 or if it will take all the way to2015.
So what about this new battery in the Volt 2.0? There are severalvariables GM needs to consider:
1. Chemistry. This is as totally unknown as can be. It's a maindriver of cost. There is a tremendous amount of research anddevelopment in this area. GM's current supplier is
LG
, the Koreancompany, but GM also uses
A123
-- now a Chinese company -- for thebattery in the Chevy Spark EV, which enters production this spring.There is no insight into what GM has picked -- or will pick -- for theVolt 2.0.
2. Cooling/heating. One big driver of cost is how much active(liquid) cooling and heating the battery needs. The cooling/heatingof the Volt/ELR battery is very elaborate, most likely the best in thebusiness. This means more cost and weight, but also a chance that thebattery will perform strongly not just 8 or 10 years from now, but 20 or 30 years from now. A new battery chemistry could reducethe need for this expensive cooling/heating.
3. Enclosure and placement:
A) Will GM use the current T-shaped enclosure? It could usethe same one as the current Volt (and ELR). This one is proven. Butif there's a new reduced need for cooling/heating, the enclosure ofthe battery must also most likely change, because it's possible forlower cost.
In other words, GM could still use a fundamental T-shaped battery, butit could be a new one. I think this is, at a minimum, very likely.
B) Placement: What if GM decides not to keep the T-shaped battery atall? What if it decides to layer it in the floor, just like the TeslaModel S? Then all bets are out the window.
Much will also depend on what GM thinks about the Volt being a"one-product car" or if it is going to be a family of cars. Thecurrent Volt is much-beloved by its owners, but many current andpotential owners want additional body styles. Most people tell methey want versions of the Volt that fit five, six, or seven people -- not just four. They want good old-fashioned minivans -- with the Volt powertrain.
Even in a minimalist scenario, where the Volt continues to be "onemodel," GM may want it to fit five people instead of four. If so, it willhave to ditch the T-shaped (or straight) tunnel battery in favor of analternative placement. This makes some sense, in any case, as it wouldincrease the appeal of the "basic" Volt model.
Naturally, the Volt 2.0 will see all sorts of other improvements aswell: Interior plastics, instrument panel and telematics immediatelycome to mind.
What GM had better not change is the basic drivetrain concept: Astrong electric car, with a range-extending internal combustionengine. This is still unique in the industry -- and I'm not countingthe $100,000+ Fisker Karma exception.
All other plug-in hybrids in the market -- primarily those from
Ford
(F) - Get Ford Motor Company Report
and
Toyota
(TM) - Get Toyota Motor Corp. Report
-- are "hybrids" first, requiring somewhat frequent use ofthe petrol engine. This totally takes away the "fun" factor fromdriving an otherwise supposedly "electrified" car. The Volt canaccelerate 100% and up to its 100 MPH speed limit, 100% on electricpower. The competition does not do this.
Conclusion: GM can't afford to skimp on the Volt's "hard core"electric power. The electric motor in the Volt 2.0 can't be any lesspowerful than in the current Volt. If GM fails to understand this,the Volt will go from being a success in customer satisfaction, to afailure.
GM has a winner on its hands, with the current Volt having the highestcustomer satisfaction of any car in the market. The main reason forthis is the powerful all-electric feeling of the electric motor, in combination with the class-leading average electric range of35-40 miles.
GM's To-Do List for Volt 2.0:
1. Keep the powerful all-electric part of the drivetrain.
2. Lower the cost of the battery.
3. Keep the average electric range of 35-40 miles the same orincrease it, even if slightly.
4. Improve interior materials/plastics and the dash/infotainment controls.
5. Look into making a 5-seat model?
6. Perhaps make 6- and 7-seat models? Minivan, SUV.
At the time of publication, the author held no positions in stocks mentioned.
This article was written by an independent contributor, separate from TheStreet's regular news coverage.
This contributor reads:
On Twitter, this contributor follows: