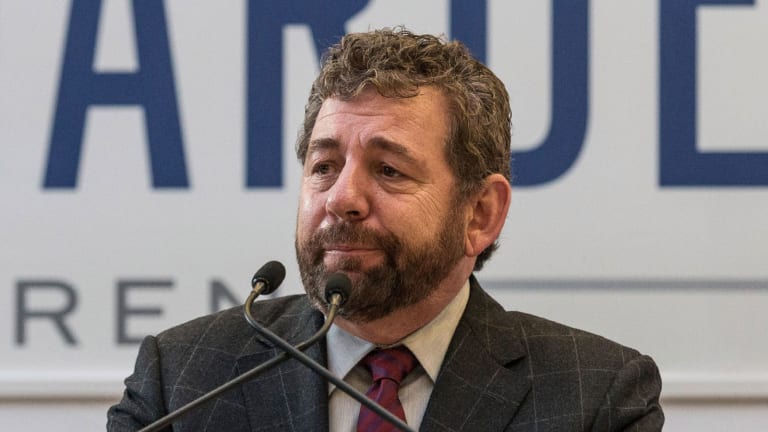 Cablevision Poised to Join the Media Merger Fray as Buyer or Seller
New York-based Cablevision is looking to make a deal, giving CEO James Dolan the choice between an acquisition or selling the company.
NEW YORK (TheStreet) -- Shares of Cablevision Systems (CVC)  have surged over 20% so this year, and that's not because New York Knicks fans love CEO James Dolan, who also controls Madison Square Garden (MSG) - Get Free Report. 
In the wake of Charter Communication's (CHTR) - Get Free Report proposed $55 billion takeover of Time Warner Cable (TWC) , Cablevision stands as one of the few companies of scale without a partner. A deal involving Cablevision -- either as a buyer or seller -- appears to be a matter of when, not if.
One possible suitor could be France's Altice  (ATCEY) , which last week secured a $9.1 billion deal to buy St. Louis-based Suddenlink Communications, the country's seventh largest cable-TV provider. In announcing the deal, Altice CEO Dexter Goei said his company would like to balance its revenue equally between the U.S. and Europe.
That Cablevision, which has 3.1 million subscribers in New York, New Jersey and Connecticut, is open to a deal is public knowledge. Earlier this month, Dolan expressed a desire for consolidation of cable-service providers in New York City, Cablevision's main market.
"I think consolidation of that marketplace would provide a great deal of ingenuity and more access to resources for customers and lower prices," he said a recent media conference in Las Vegas. A consolidated New York market, Dolan added, would make it easier to offer wireless and other advanced services to consumers, providing "a lot of opportunity for innovation." 
Cablevision could buy Time Warner Cable's New York City subscribers if Charter wanted -- or was forced by regulators -- to shed it. That would allow Dolan to better compete in the New York region with Verizon (VZ) - Get Free Report, said Chris Marangi, a portfolio manager for Gamco Investors.
"Eventually the New York market will get consolidated, but the time frame is always in question," Marangi says.
Charter could conceivably buy Cablevision, but that's unlikely to happen this year given the regulatory review of both the Time Warner Cable deal and Charter's proposed purchase of Bright House Communications for $10.4 billion.
Still, if regulators are comfortable with Charter's share of the U.S. broadband market, the company could seek Cablevision, said William Power, a media analyst at R.W. Baird, in a note to investors. 
"We believe Cablevision makes more sense with Time Warner Cable," Power said. "And [we] would view a separate Altice transaction as less likely."
The Charter-Time Warner Cable deal implies a price  for Cablevision in the mid-$30s per share, Marangi says. That would put the deal's total price tag at about $9.6 billion. Cablevision stock recently traded close to $25.
Alternatively, Cablevision could turn away from Charter and Altice and sell itself to Comcast (CMCSA) - Get Free Report. But the country's largest broadband provider doesn't appear eager to enter another deal after last month's unraveling of its $45 billion bid for Time Warner Cable.
This article is commentary by an independent contributor. At the time of publication, the author held a position in CMCSA.