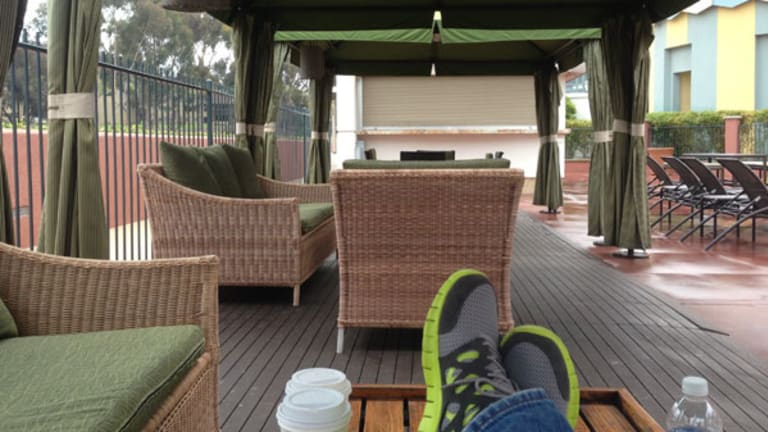 Cable TV Will Soon Resemble a Sushi Menu
Cable subscribers are about to get what they want -- a bento box with a la carte options.
NEW YORK (TheStreet) -- What's the biggest complaint of cable and satellite customers?
I have to pay all of this money for a whole bunch of channels I don't even watch.
That era's about to come to an end after approval of the Time Warner Cable (TWC) /Comcast (CMCSA) - Get Free Reportdeal.
The combined company has unprecedented leverage over cable networks.
If you're Time Warner's (TWX) Home Box Office (HBO) or Disney's (DIS) - Get Free ReportESPN you have very little, if anything, to worry about.
That's because not only do subscribers want your programming, there would be massive cries of outrage if it was taken away or somehow messed with. The deals between these desirable networks consumers don't mind paying for and TWC/CMCSA will roll on unfettered.
However, if you're a network riding piggy back on your conglomerate's premier networks ... if you're a network subscribers subscribe to only because it comes as part of their bloated package, you're screwed.
Expect what DIRECTV (DTV) did to The Weather Channel to happen 100 times over.
Consider CNN.
At this point, it has some life left. However, if it becomes much more irrelevant than it is now, it's parent company, Time Warner, loses all leverage when it negotiates with the TWC/CMCSA behemoth. It could end up The Weather Channel of news.
DIRECTV dropped The Weather Channel and nobody blinked an eye. That's because the notion of a 24-hour weather channel, without any other compelling content (though they tried to add some), has become obsolete. You pull out your phone, tap the screen and, within five seconds, you have all the weather information you could possibly need. Even in severe weather situations.
And, really, why should a cable or satellite provider waste time and resources on rebroadcasting what amounts to a useless signal?
In an age where we can access an unprecedented amount of news the same way we do weather, cable news networks must differentiate themselves in one way or another or they risk going the way of The Weather Channel.
Say what you want about the bi-partisan hackery of Twenty-First Century Fox's (FOX) - Get Free ReportFox News or NBCUniversal'sMSNBC, but they, along with, say, Viacom's (VIAB) - Get Free ReportComedy Central, have carved out niches for themselves in the infotainment space.
If one or the other went away, there'd be outrage.

Look at it another way ... one thing I argued when Apple (AAPL) - Get Free Report launched iTunes Radio was that it wouldn't go too hard after Pandora (P) . And it certainly wasn't about to remove or even lower Pandora's status on iOS devices. That's because Pandora carries cachet with consumers. If Pandora disappeared from Apple's iPhone, there'd be a whole bunch of angry people Tweeting, sending emails, writing their Congressperson, collecting petition signatures and organizing hunger strikes.
Not so much so if your cable company decides they're going to pull Bravo from your package. Or if Apple yanked some random app from the App Store.
So, on one hand, consumers will end up getting what they've been dreaming about forever. They're about to come a whole lot closer to a la carte, if not arrive exactly there. But, OTOH, they'll still complain.
This leverage means the little guy gets boxed out. There's probably some programming on Bravo that adds something to some hardly-covered corner of the world. You're not going to have four or five music channels to kick around anymore (I'm talking to you MTV2 and Fuse) or niche networks such as Logo.
So the most diehard music fan or LGBT activist screaming for a la carte cable will ultimately take up another cause when TWC/CMCSA and other cable companies no longer accept the inclusion of these thrown-in networks that, relatively speaking, nobody watches.
These fringe networks will not have to go away, though. They can stay. If you're willing pay for them.
True a la carte, baby! Survival of the fittest.
TWC/CMCSA will end up looking something like the Best Buy (BBY) - Get Free Report of entertainment.
The one-stop shop for anything you want.
So, as I noted last week, expect TWC/CMCSA to make Netflix (NFLX) - Get Free Report an option for your cable package. And any other network or streamer or whatever we call them that wants on. If you're a cable network that doesn't get a guaranteed spot like ESPN and HBO, that's cool, TWC/CMCSA will offer you a la carte.
That means a lot of these cable networks will fold because their subscriber numbers will not be large enough to justify Viacom or NBCUniversal or whomever bankrolling them.
And, as this scenario shakes out, we'll have the same people who kicked and screamed for a la carte complaining that there's no longer a place for the voices on the fringe. For the networks and random media outlets that do not play directly to the mainstream.
But just remember, it's not TWC/CMCSA's fault that they'll be gone, it's yours. You got what you asked for -- a cable package that looks like a sushi menu. One where you get your bento box of local channels, ESPN, HBO and such ... then you get to check off the boxes for as many a la carte options as your budget and appetite for entertainment will allow.
Get ready to enjoy it. Having this much choice will make your head spin. So much so I reckon more than a few people will long for the old days.
--Written by Rocco Pendola in Santa Monica, Calif.
Disclosure: TheStreet's editorial policy prohibits staff editors, reporters and analysts from holding positions in any individual stocks. Rocco Pendola is a columnist for
TheStreet
. Whenever possible, Pendola uses hockey, Springsteen or Southern California references in his work. He lives in Santa Monica.