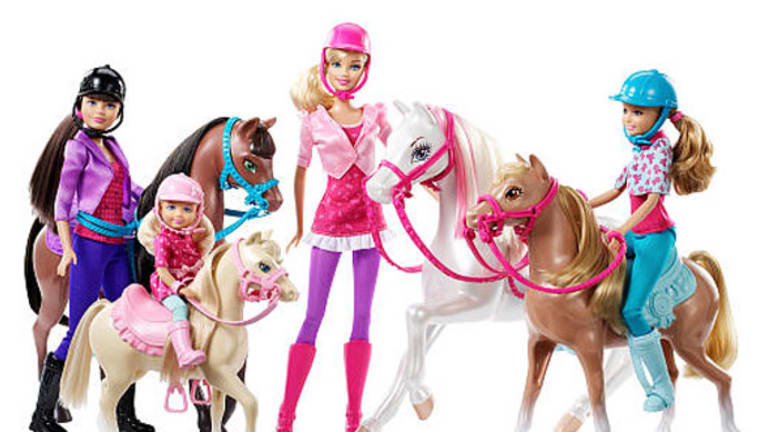 By the Power of Grayskull: Mattel Reinvents Itself
Once burdened by the pink shadow of Barbie, the toymaker is branching out into new licenses and product lines. Here's how investors will profit.
Once burdened by the pink shadow of Barbie, the toymaker is branching out into new licenses and product lines. Here's how investors will profit.
Editors' pick: Originally published July 15.
Mattel (MAT) - Get Report  is getting ready to expand. In the offing is a new collaboration with DC Comics for the He-Man and ThunderCats universes. Plus, Mattel has brought out a new low-priced 3-D printer for kids that looks like a great idea.
We also feel that Mattel bagging the master toy license for the latest film in the massive multi-billion-dollar Fast & Furious franchise could literally transform its prospects.
And that's not all: Mattel is releasing WWE Zombie superstar action figures.
There's no questioning this meteoric and unstoppable rise. The stock has rallied 26%-plus in the last six months, more than rival Hasbro (HAS) - Get Report in the same time.
Wall Street may have to now finally give Mattel its dues: a sustainable higher valuation.
As we saw in April, Barbie dolls can really weigh on Mattel's earnings. Even though its Fisher-Price, construction, arts and crafts, and Power Wheels toys recorded positive growth, Barbie continued to languish in negative territory.
But before you cast Barbie out the window, remember Mattel has done its fair share to return Barbie to her glory days.
After witnessing a steady plummet -- the iconic doll's market share has shrunk every year from 2009 -- Mattel chose to push for a major revamp of the doll, complete with alternative body types, skin tones, and hair variants.
That said, the fact is Barbie is no longer No. 1 with girls. And this is precisely why Mattel's move to reinvent itself and emerge out of the fast-fading Barbie world is a great idea.
Mattel and DC Comics, owned by Warner Brothers, are partnering together on a six-book comic story bend that could have vast implications. The crossover will see He-Man and the Masters of the Universe join the ThunderCats world. This could herald a merchandizing and action-figure blitzkrieg like none other -- with new toys flooding the market (if the crossover is accepted), as well as boosting original model sales.
Remember, Mattel has always successfully been able to sell merchandise and toys based on movies. As mentioned, even as audiences gear up for the next chapter in the Fast & Furious franchise, NBCUniversal (owned by Comcast) has chosen Mattel as the master toy licensee for the upcoming movie.
Comcast is a holding in Jim Cramer's Action Alerts PLUS Charitable Trust Portfolio. See how Cramer rates the stocks here. Want to be alerted before Cramer buys or sells CMCSA? Learn more now.
The eighth film will be out sometime in 2017. Mattel is expected to debut a new vehicle toy line. The strong consumer recognition and appeal for the brand from fans of all ages could be a huge lift for Mattel.
However, there is a chink in Mattel's armor: it's the loss of the WaltDisney princess partnership. The company's plan to replace the $400 million in revenue, which will evaporate with the loss of the Disney Princess license, is based on smaller brands and innovation. Mattel is moving fast to replace that gap.
Fisher Price's Code-a-Pillar toy, a preschooler coding platform, is now a standout tech toy. Scheduled to be priced around $50, this is a big bet if it swings through.
The already-out 3-D printer is also another game-changer. Starting this fall, Mattel's printer will help kids make small plastic toys at home. Printers are a useful step for toy companies to stay relevant to today's hands-on and tech-savvy kids. It uses software by Autodesk. The under $300 ThingMaker is a throw-back to a 1960s Mattel namesake product -- one that helped kids make toys with molds.
Mattel (which announces quarterly earnings on July 20) is not expected to unveil anything spectacular. Sales are projected to slip by 5.1% year-over-year, and earnings-per-share (EPS) will most likely come in at a loss of 5 cents versus a gain of 1 cent a year ago.
Instead, expect a recovery in the next quarter, when Mattel might report an 11.3% rise in EPS. This year, Mattel is expected to post 8.7% EPS growth, which is projected to become bigger at an industry-leading 30%-plus in 2017 backed by a 7%-plus topline rise.
Mattel has cut costs and attempted to redefine itself and transform its image. The stock trades at a PEG ratio of 2.01, a premium to Hasbro (1.43) and the much smaller JAKKSPacific (0.72).
Looks like this toy story is finally turning around. Investors should get in now, before the happy ending.
---
85% Accurate Trader gives his Personal Guarantee: "Give Me 9 Minutes a Week and I Guarantee You $67,548 a Year." As you can see, now's the time to get into Mattel. But what if I told you about a way to make a steady income this year... guaranteed? A trader I know turned $50,000 into $5 million trading this way and for a limited time, he's guaranteeing you at least $67,548 per year in profitable trades if you follow this simple step-by-step process.Click here to see how easy it is to collect thousands of dollars in "Free Money" every month.
This article is commentary by an independent contributor. At the time of publication, the author held no positions in the stocks mentioned.