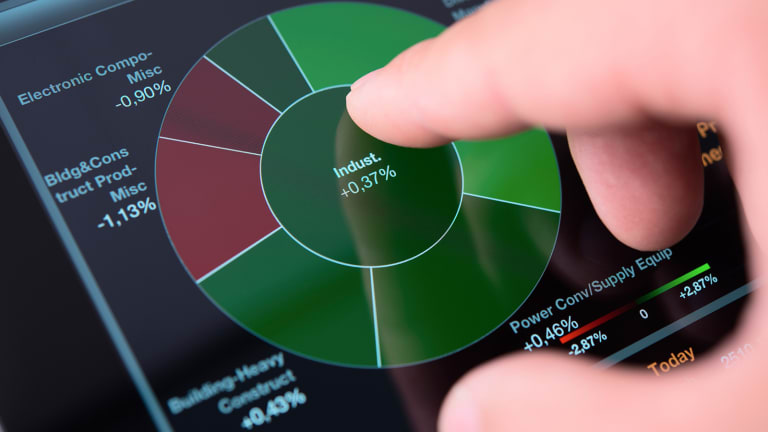 Buy This Undervalued LCD Display Stock for A 20% Gain
AU Optronics is a growing manufacturer of flat panel displays. The company is now undervalued and oversold.
NEW YORK (TheStreet) -- A good $5 stock is hard to find, especially one that is sitting in the middle of an enormous growth curve in the red-hot tech sector.
Buy AU Optronics (AUO) now for a quick jump up to $6, where it traded back in January 2015. AUO is in the top 20% of all stocks based on its book value to market value ratio. And once the market figures this out, the stock price will jump.
This nearly $4.9 billion company is a Taiwanese manufacturer of flat panel displays used in a wide variety of consumer electronics products such as high-def televisions, smartphones, notebook computers, and the touch-screen technology now being used in automobiles and payment-processing terminals. 
Roughly 20% of large thin-film transistor LCD (TFT) panels in the world are produced by AU Optronics. Almost all Sonyundefined televisions in 2014 used AU Optronics flat panels, while Panasonic, LG (LG) , Toshiba, Philips (PHG) - Get Free Report and others also use AU Optronics panels. And the company is one of only two manufacturers of curved LCD panels used in the fast-growing curved display market.
Furthermore, the company's factories are invested in green manufacturing, utilizing wind power and achieving 90%-plus water recycling rates.
With worldwide television, laptop, smartphone, and car display sales continuing to rise, AU Optronics is well-positioned to grow sales over the long run. However, the company's stock has been beaten down in 2015 due to a 0.7% year-to-date sales decline versus 2014.
Why AU Optronics Is Undervalued But Strong
From a book to market perspective, AU Optronics earns a perfect score of 100% from Baton Investing's Joseph Piotroski model. Piotroski is a college accounting professor who has become legendary for discovering undervalued stocks by examining their financial statements.
The reason our Piotroski model ranks AU Optronics so highly is that it aces four of his most critical tests, the first of which compares a company's book value to its current stock market capitalization. In this case, the company has a book-to-market ratio of 1.05, placing it in the top 20% of the more than 6,000 stocks that we measure. A ratio in excess of 1.0 implies that a stock is currently priced at less than the company's actual value from a balance sheet perspective, suggesting that sooner or later that excess value will be recognized by the market.
But Piotroski wants to know that the reason a company is trading at less than book value is not due to declining performance, so he also wants to see that it is still financially healthy. For that reason he demands that the company have a positive return on assets, which AU Optronics does with an return of 3.7%.
In addition, the company must have positive cash flow from operations in the most recent year, which AU Optronics did to the tune of more than $2 million. The company must have improved its "current ratio" (current assets minus current liabilities) in the most recent year versus the previous year, which the company increased from 0.94 to 1.07. Lastly, the company's gross margin must be growing, which AU Optronic's has to 12% from 8%.
In short, AU Optronics is one of those very rare stocks that has been improving its financial condition while providing a product that is in huge demand, yet appears to still be undervalued and is priced at only $5.
At the moment AUO does not pay a dividend, and it probably won't in the near future as it feels it can earn a higher return on that cash by reinvesting it into the growth of its core business.
In its quarterly earnings report released on April 28, the company revealed that it has recently implemented a series of cost and expense controls designed to improve profitability. Already, that is showing up in the numbers, as witnessed by the company's sharp increase in operating margins during the most recent quarter -- to 23.4% from 9.4%, the highest it has been in almost five years.
Here's a short video for more.
Why Did Baton Sell AU Optronics?
Baton Investing members held AU Optronics from April 10 to May 8, for a 2.5% gain. Some Baton members (and I) still hold AU Optronics in Baton's longer-term Winners portfolio, but our other three portfolios use a successful trading model with average holding periods of just two months.
Regardless, you can confidently acquire AU Optronics now for a strong gain, with good downside protection, as the market brings the the company's stock price in line with its book value.
This article is commentary by an independent contributor. At the time of publication, the author held AUO.